Targeting Truth In The Misinformation Age
Gen Z schools America once again. Twenty-three-year old Peter McIndoe from Memphis started a movement that went viral: Birds Aren't Real. The movement propagated a conspiracy theory that the US government replaced all birds with drones sent to spy on its citizens. The movement drew thousands of followers, including 75,000 on Twitter, 363,000 on Instagram, and 636,000 on TikTok. The catch is that none of these followers actually believe in the conspiracy. As reported by The New York Times, Peter McIndoe said, "It basically became an experiment in misinformation. We were able to construct an entirely fictional world that was reported on as fact by local media and questioned by members of the public." Gen Z's parody sheds light on the conspiracies and misinformation that prevail across the internet. 
B2C Marketers Fund The Misinformation Industry
Comscore and NewsGuard conducted a study that revealed that top brands spent $2.6 billion on misinformation websites via programmatic media. This investment, albeit unintentional, is substantial. B2C marketers are operating in a misinformation age in which:
Consumer trust is destabilizing.

Amplification of misinformation

is one of the five external market forces transforming trust. In Forrester's Consumer Technographics® Technology, Media, And Telecom Topic Insights Survey, 2020, US online adults were asked about their response to news stories and videos created to misinform and deceive readers on social media platforms. Forty percent said the trend concerns them a lot, and 22% have either decreased use or stopped using social media altogether as a result.

Misinformation is a brand reputation management issue. Forty-two percent of US online adults consider brand reputation when making purchase decisions

. Brands that aren't actively managing misinformation are one screenshot away from a public relations crisis.

The Bureau of Investigative Journalism

revealed that some of the biggest global brands, including Amazon and Nike, advertised on websites that spread COVID-19 misinformation.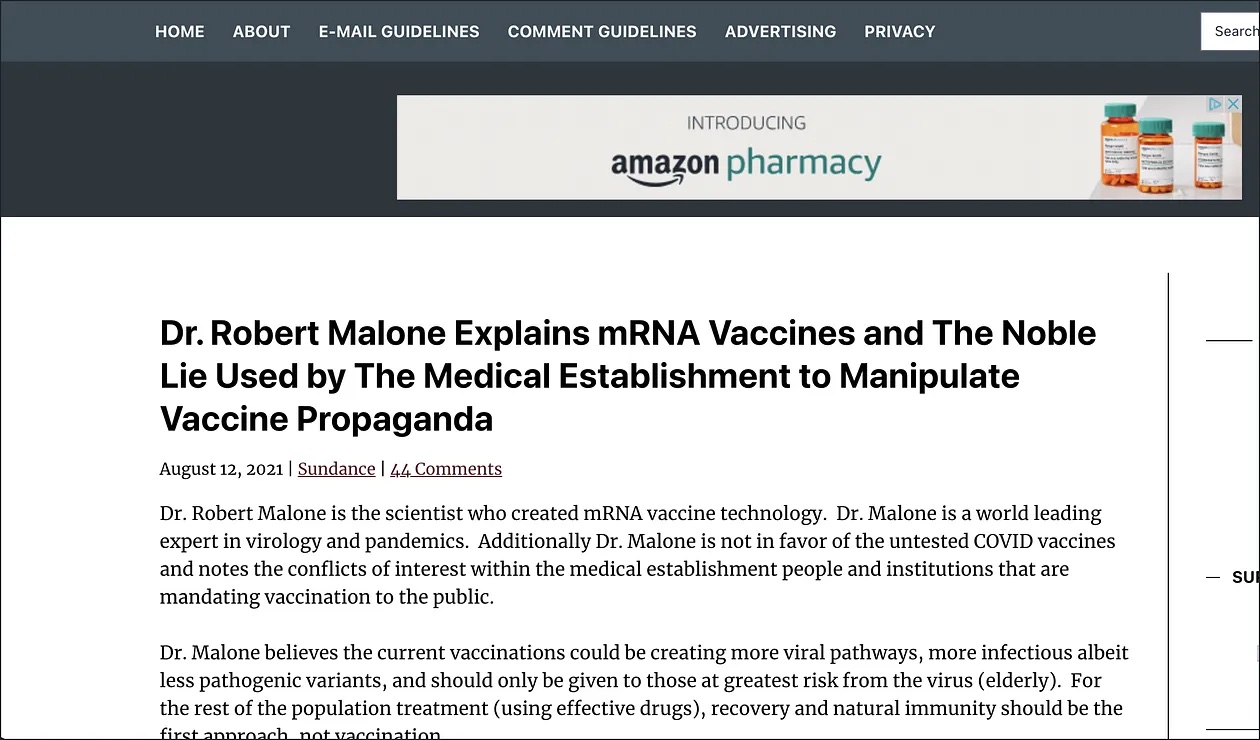 Traditional brand safety measures miss the misinformation mark.

The existing tools offered to protect brands from appearing alongside undesired content are effective at blocking explicit content, such as violence or pornography. However, they aren't well equipped to detect misinformation. Supply-side platforms and contextual networks — such as 

GumGum,

PubMatic

, and

Teads

 — began implementing changes this year through partnerships with NewsG

uard, but the media industry still has a long road to pave in developing consistent misinformation ad standards.
Brands Must Clean Up Their Media Plans To Dismantle Misinformation
The onus lies with brands to take responsibility for their ad placements. IPG Mediabrands recently announced a partnership with NewsGuard to create a tool that evaluates and rates broadcast and cable news programs before you buy them. The goal is to give media planners greater insight into how trustworthy the content is while they plan, before they make an investment. Omnicom and Publicis also incorporate NewsGuard tools into their media planning process. When considering measures to avoid appearing within "misinformation media," B2C marketers should:
Consider misinformation as an evaluative measure within inclusion/exclusion buy lists.

Run with ad networks and/or publishers that take action against misinformation.

Partner with companies, like NewsGuard, that license tools to combat misinformation.
We'd love to hear how your company is managing misinformation. Let's discuss more via a Forrester guidance session.
Related Forrester Content