The French Tech Ecosystem Is Booming, But …
In 2020, 620 French startups raised €5.4 billion. This is more than in Germany but still way less than the UK (1,136 firms raised €12.7bn, according to EY).
Last year, fund raising was much more significant, with several firms raising hundreds of millions: Voodoo (€400 million), Mirakl (€256M), Ynsect (€224M), EcoVadis (€182M), Contentsquare (€173M), and Lydia (€112M) are examples.
The 2021 #FrenchTech champions were announced at the beginning of the week (see below). The French Tech Next40/120 program offers support to French scaleups with the potential to become global technology leaders. Every year, 120 French startups are selected to take part in the program.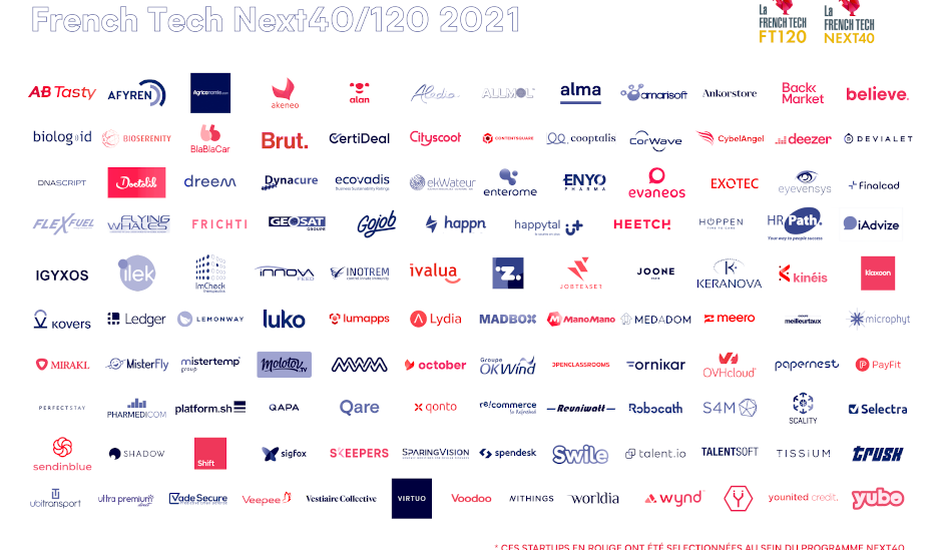 Total turnover raised €8.8 billion (+55% year over year), and they created 10,000 new jobs.
There are now about 10 unicorns, including BlaBlaCar, Contentsquare, Dataiku, Ivalua, Kyriba, Meero, Mirakl, OVHcloud, Voodoo, and counting.
Among the new entrants are several players such as AB Tasty, Akeneo, Exotec, Lydia, Qonto, and Skeepers but also Yubo (a social network), Brut (a media company), CybelAngel, Kinéis, and Heetch.
Some of these players already have some good visibility globally, such as SendinBlue (digital marketing platform for small- and medium-sized businesses), Yubo (social network), LumApps (collaboration software), AB Tasty (experience optimization), or Akeneo (product experience management and product information management software).
Having said that, and despite the great news, I wanted to share some broader thoughts along the lines of a report I published recently claiming that if political and business leaders don't act boldly in the next five years, the European digital economy will die slowly.
French and European startups still depend too often on US investors or end up being acquired by US firms. The good news is that there are more and more French investors, such as Idinvest or Partech. The French government is pushing for a European Nasdaq, and several promising firms such as Believe Digital could launch an IPO on the French stock exchange. That said, many entrepreneurs still think that to become a global company in tech, they must be in the Silicon Valley or New York City. Indeed, US investors tend to take more risks and to have more rewarding exit strategies. For example, while founded by two French entrepreneurs, Snowflake — the largest software IPO ever — is listed on Wall Street.
Entrepreneurs have to be bolder — take more risks and shoot for global leadership. Europe's fragmented nature limits firms: Its different cultures, languages, and regulations prevent firms from taking advantage of the large European market. (In contrast, US tech firms often make the mistake of thinking of Europe as a homogeneous region.) European brands must be more ambitious and leverage their ability to adapt to local markets. Their proven ability to localize marketing and adapt to complex regulations, such as GDPR, open banking, and PSD2, are key to success. The new generation of digital and mobile entrepreneurs, including figures such as Spotify cofounder Daniel Ek, has a risk-driven mindset; they want to reach global audiences from the outset and don't limit themselves to single markets like France or Germany. Having helped several of the Next40 and French Tech 120 firms in their international go-to-market approach, I definitely think some of them are bold entrepreneurs while others are still shy of marketing their approach outside of France.
The main challenge is that European leaders at larger firms struggle to drive enterprisewide transformation. Our data shows that digital transformation is happening at a faster rate in Asia and in the US than in Europe. In France, I think there is specifically a leadership and management issue. In a recent survey we conducted, French employees were the least likely in Europe to think that their companies will take the opportunity afforded by the crisis to improve; just 32% of French employees think that their firm will explore new business models, while 60% of Italian employees think their company will do so.
And while collaboration between startups and large firms increases, there is still a lot of room to grow. The recent example of Pfizer and BioNTech demonstrates the huge potential.