Media Agency Reviews Are Coming In 2022
Forty-one percent of CMOs will conduct a media agency review in 2022, because reaching and influencing customers and prospects is fundamental to success, yet engaging consumers has never been more complex. From increasingly strict data privacy in government and big tech to tectonic shifts in consumers' digital behaviors to the innovation programs to meet consumers wherever they are, media management services sit at the nexus of companies and customers. We define media management providers as:
Partners that amplify media investments through audience understanding, communication strategy, channel planning, publisher negotiation/buying, and continuous optimization to provide brands with efficient and effective customer engagement.
While media has always been fundamental to marketing, it has never been more dynamic and evolving. Our analysis of 30 diverse media management companies — from the largest global providers to new, digitally centric upstarts — shows a marketplace transforming beyond planning and buying for campaigns to providing martech, commerce media, and connected engagement solutions.
Three key themes emerge from our research to help CMOs and media leads identify the best possible media partners.
Individual Agencies Give Way To Group Solutions
The days of individual media agencies developing and providing the strategy, execution, technology, and data services required to manage paid media for enterprise advertisers are waning. They're giving way to centralized services for investment, data, technology, and innovation. In our Now Tech research, several holding companies reported their media offerings in aggregate, including GroupM, Havas Media, Publicis Media, Quad, Serviceplan Group, and Stagwell Media Network. Dentsu, IPG Mediabrands, and Omnicom Media Group also go to market as media groups. In fact, analysis of 2021 new-business activity shows that six out of 10 major media assignment reviews were awarded to teams comprised of holding companies' media groups.
Consequently, in 2022, Forrester will evaluate the media management category at the group level. It's the most accurate representation of today's media services and reflects the emerging pattern of media buying behavior.
All Media Is Performance Media
As the lines between awareness and conversion vanish in today's digital-/commerce-first reality, so have the lines between brand and performance media. Forrester's Predictions 2022: Agencies report foretells the collision of persuasion and precision, citing examples such as the merger of performance media agency iProspect with brand agency Vizeum. Our analysis of media capabilities further shows that performance media offered by every agency in the study was the top "most important" response for all types of media management companies, dissolving the distinction between brand agency and performance agency.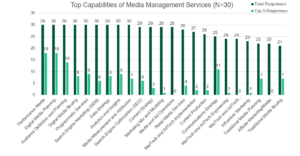 For the 41% of CMOs planning to reevaluate their media agencies in 2022, this raises the prospect of consolidating relationships to achieve efficiencies in agency partnerships and the ability to strengthen campaign impact through unified strategies and executions across the marketing funnel.
A Media Agency Decision Is A Technology Decision
CMOs dependent upon agencies for media management services are also dependent upon the technology agencies used to deliver and enhance those services. From audience definition to path to purchase, channel and budget optimization software has always played an appreciable role in media. And now, as media agencies take on a consultative role with data, publisher partnerships, and retail media infrastructure, the agency's technology (whether built, licensed, or acquired) grows in importance. Our research shows that all technology categories are pervasive across media agencies, with nearly two-thirds of all agencies operating most martech and adtech categories.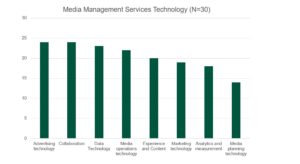 Selecting a media agency requires an evaluation of data capabilities, technology partnerships, and owned/built technology infrastructure inside the agency and the broader holding company structure. As you go about this, consider these three questions:
Does the agency's technology strategy and media management style match your marketing strategy? Agencies take different approaches to technology and to delivering media management. What style of media management best meets your marketing need? Let your strategy help determine the right resource.
Which elements of data, martech, and marketing must also be included in a media agency review? There are more elements to evaluate, resulting in higher-stakes decisions and longer reviews. As you consider your media management needs for the future, ready the organization for a more detailed evaluation that reaches further into the organization.
How should we compensate for multiple services, including technology? Ensure that you have access to tools to scale your budget and services by setting contracts that account for both human and technology labor.
Forrester clients can review the analysis of 30 media providers in the Now Tech: Media Management Services, Q4 2021 report and can set up a guidance session to review the results and data gathered.