The Sales Engagement Landscape And The Case For The Single Pane Of Glass
Sales engagement platforms play a leading role in optimizing and improving sales and revenue development, operational efficiency, and outcomes. These platforms and their insights are enabling revenue teams with a single pane of glass to work from. This is how we define the category:
Solutions that help sales, marketing, and post-sales personnel understand and manage their omnichannel touchpoints across the buying cycle. By automating and orchestrating manual repetitive tasks, sales engagement solutions deliver insights and tools that improve efficiency and effectiveness. Embedded AI can help users understand preferred engagement channels, identify missing contacts, and surface important account, contact, and opportunity insights.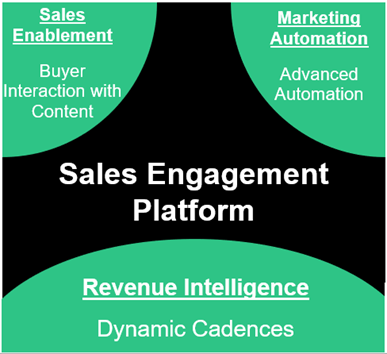 Our recent Now Tech on the sales engagement space shows that different categories are adding useful sales engagement capabilities to their products. This is blurring the lines of the category, making it harder to define the required capabilities.
Feature overlap and ongoing technology consolidation will continue in the foreseeable future. This benefits sales engagement users by pushing providers to innovate beyond interaction efficiency capabilities such as cadences, dialers, etc., and into areas like conversation intelligence and recommended next-best actions.
While no other category provides all sales engagement platform capabilities, three are giving sellers features that solve key engagement use cases. For many companies, this is enough to justify the value of using a platform from an alternative category over purchasing a full sales engagement platform.
Marketing automation platforms

are extending past marketing and looking at solutions that allow sales to take advantage of their automation capabilities and ability to create email templates and social engagement posts for sales and revenue development teams to prospect.


Sales enablement platforms

are allowing sellers and revenue development teams to email prospects with links to content that notify sellers when a buyer engages. Tracked interactions are used to trigger direct contact that can now be customized based on how the buyer interacted with the content.

Revenue intelligence platforms

are capturing interactions and using AI capabilities such as natural language processing to provide enhanced opportunity insights and next best actions that were previously invisible or forgotten.
In this fast-moving sales technology environment, the sales engagement feature set has never been more valuable. The question is whether this set of features will continue to merge into a single platform or be dispersed across multiple alternative platforms. Our belief is that they should be merged into a single platform that provides automation, engagement visibility, and insights in one place for the seller (e.g., a single pane of glass). Businesses need a platform with these merged capabilities, as this can create a force multiplier for sales execution.
Check out our recent report, Now Tech: Sales Engagement Solutions, Q2 2022, to learn more about our perspective on the market and the overlapping capabilities we're seeing with marketing automation, sales enablement, and revenue intelligence platforms. In addition, over the next few months, we will conduct a Forrester Wave™ report to evaluate the top sales engagement providers and determine how they are progressing toward a single pane of glass for a seller. We look forward to sharing our results.
Related Forrester Content