The State Of Marketing Talent In Asia Pacific In 2022
The "great resignation" — a period during which employees are voluntarily resigning from their jobs at historic rates — is a reality in Asia Pacific, making addressing the marketing talent gap one of marketing leaders' most urgent priorities for 2022. My recently published report, The State Of Marketing Talent In Asia Pacific In 2022, details the key talent-related challenges that marketers face in 2022 in the region. It also explains the four levers they can pull to attract and retain talent in a competitive market.
To understand the state of marketing talent in Asia Pacific, Forrester collaborated with Campaign Asia Pacific and the World Federation of Advertisers to survey marketing leaders from brands and agencies across the region. We found that:
Marketing organizations in Asia Pacific face a talent crisis. Two-thirds of marketing leaders in APAC reported that they have experienced a negative effect from the great resignation: Filling open positions is more challenging; finding talent with new and niche capabilities is harder; and employee satisfaction is down. What's more, talent underpins three of the top five challenges stopping APAC marketers from achieving their marketing goals in the next 12 months (see figure), so it's no surprise to see 45% of APAC marketers making enhancing team skills and capabilities a top marketing priority for 2022.
Leaders plan to invest in technology to fill the gaps, but that alone isn't enough. Marketing leaders in APAC are committing to technology in their marketing budget planning: 70% of them plan to increase their budget for technology in the next 12 months, compared to 50% planning to increase in headcount and 46% in services. They won't fully realize the benefits of these technology investments, however, without the relevant talent to support these initiatives.
Digital and tech-related skills see the highest demand. Echoing their interest in technology, marketing leaders identified digital business/e-commerce, data analysis and reporting, and martech/adtech as the top three skill sets that their organization will need in the next 12 months. Organizations plan to train, hire, or outsource to fill the marketing talent gap.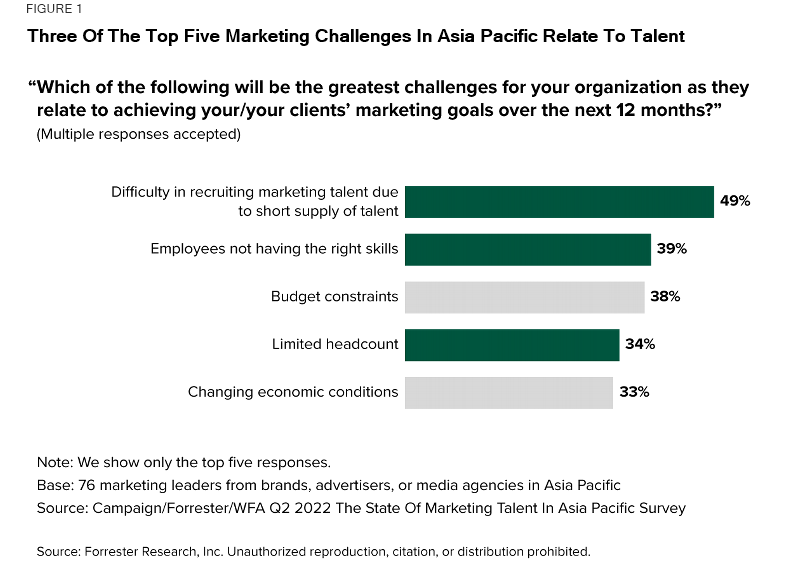 Marketers In APAC Should Focus On Four Levers To Retain Marketing Talent
Retention is just as important as talent acquisition, if not more so. Some 33% of the marketing professionals we surveyed are planning to leave their current job within the next two years; 34% are planning to stay; and the remaining third are on the fence. How marketing leaders approach their talent strategy in the next 12 months will determine whether those fence-sitters become quitters. In a fast-paced digital world, lacking the right number of highly skilled employees will mean falling behind the competition. To retain marketing talent effectively, APAC marketing leaders should focus on four levers to retain marketing talent:
Invest in future fit training.
Improve their management style.
Embrace values and purpose.
Elevate the employee experience.
To learn more details of the state of marketing talent in APAC and how to focus on four levers to retain marketing talent effectively, Forrester clients can read the full report.