The Ukraine War Galvanizes Consumers Into Demanding Action
We are about three months into a conflict that has shaken the world. Many, such as the people of France and the UK, are on edge as the specter of war returns to haunt the European continent. For others, like those in the United States, virtual proximity has brought a war being fought far away to every device and platform in their screen-tethered lives. An always-on war and its naked aggression and heartbreak are being seared indelibly into people's memories.
In countries around the world, feelings about the war run deep. To understand just how deep, we surveyed 1,520 online adults in the US, UK, and France in March 2022 and tapped the members of Forrester's ConsumerVoices Market Research Online Community (MROC) in the US, the UK, and Canada. We found that:

Everyone everywhere is anxious — some more about their personal safety and security and others about their financial situation.

Most consumers want brands to speak out against the Russian invasion — this sentiment is strongest in the UK and weakest in France.

Consumers have greater expectations from brands than they do from the government to do more to help the people of Ukraine. In the US, for example, 68% want the government to act versus 72% who want brands to step up.

Donating money toward humanitarian efforts and boycotting Russian and non-Russian brands not taking action are among the top actions US consumers have taken (although sometimes good intentions go awry, as in the case of Latvian vodka Stolichnaya being dumped).

Rising energy prices somewhat dull consumer enthusiasm for action, and only half of US adults are willing to pay more for energy to support sanctions on Russia.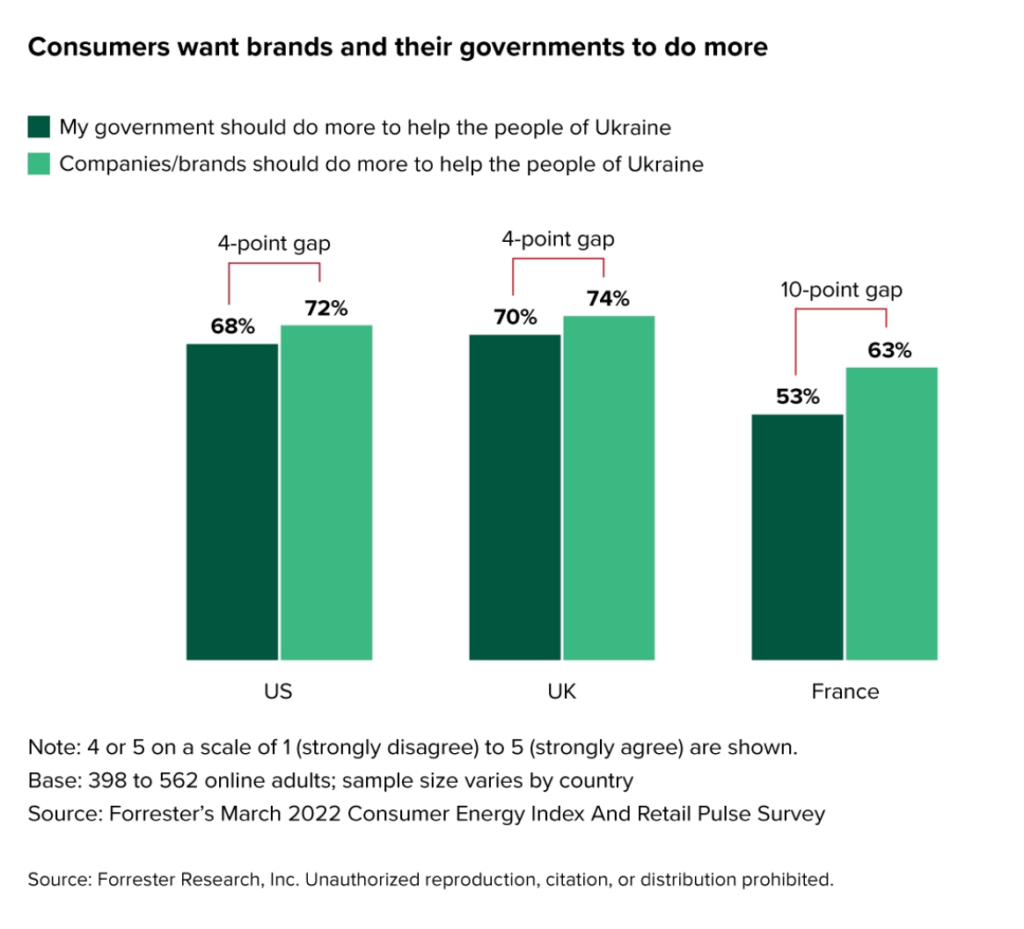 As War Rages In Ukraine, Consumers Want Brands To Act is our latest report on the Ukrainian crisis. It delves into insights from our survey and conversations with our online communities. Furthermore, recognizing that unexpected political, social, and economic crises are inevitable, we gather our learning from this crisis and begin to lay the foundations for a framework to help brands address any future crisis. This framework is anchored by the idea of "proximity" — physical, emotional, business impact, and more. Our future research will expand on this idea.
If you have questions about this research, or if you want to explore how your company can better prepare to address future crises, please request a guidance session.