Twitter Blue Is Still Singing A Sad Tune
Once a badge for legitimacy, Twitter's blue checkmark has become a badge for mockery. Elon Musk's controversial pay-for-play "verification" rolled out yesterday. In Musk's own words, the bar (now) to become verified, requires only that "Someone has to have a phone, a credit card, and $8 a month. That's the bar." This means that Twitter verification has effectively become meaningless, for now.
As a result, within hours of launch, many accounts that are fake, pushing scams, inciting hate, and spreading disinformation now boast a blue checkmark that signals verification. Even brands are being impersonated — coming across as their official accounts. This latest chaotic activity only underscores Forrester's previous guidance to marketers to take a wait-and-see approach to media investments on Twitter.
Most Twitter Users "Definitely" Won't Pay For Twitter Blue
We've posted in the past that unless there's a material value exchange, Twitter users aren't going to pay en masse for Twitter Blue. And most of what's being offered as "value" is labeled as "coming soon" on the Twitter Blue sign-up page.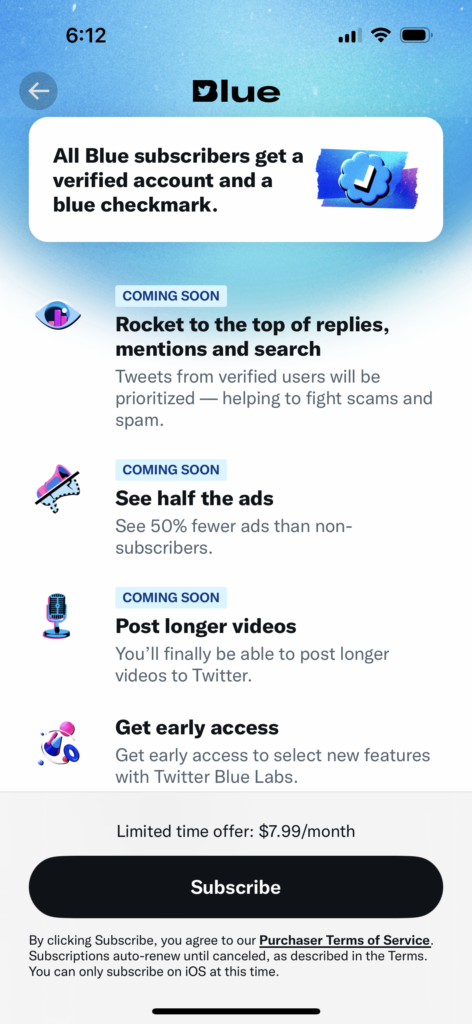 Over the past three days, Forrester fielded a quick "pulse check" poll* of 751 adults in our ConsumerVoices Market Research Online Community (MROC) across the US, Canada, and the UK to gauge user intent to subscribe to Twitter Blue. We segmented the respondents to isolate only those who use Twitter (414 online adults) and asked, "To what degree would you pay $8 per month for the following features?" The results of the poll indicate that about three-quarters of respondents who are Twitter users would "definitely NOT pay for":
The ability to be "verified" on Twitter and have a blue checkmark badge on their profile. (77%)
Priority placement in Twitter replies, mentions, and search results. (77%)
The ability to post long-form video and audio on Twitter. (77%)
A 50% reduction in ads that they see on Twitter. (73%)
The ability to bypass paywalls from select news/entertainment publishers on Twitter. (74%)
We then asked: "Up to how much money would you really be willing to pay per month for a Twitter premium subscription that's inclusive of all of the above features?"
78% said "Nothing at all."
12% indicated "$1 to $5 per month."
7% indicated "5 to $10 per month."
*Note: This poll was administered to a random sample of 751 online consumers in the US, the UK, and Canada in Forrester's qualitative ConsumerVoices online community. This data is not weighted to be representative of total country populations.
Advertisers: For Now, Twitter's Troubles Aren't Worth The Hassle
Within two weeks since Musk took the reins, Twitter has devolved into a company and platform fraught with chaos and confusion. There's no upside for brands to advertise on Twitter in its current state. And the company's attempts to appeal to the advertising community only exacerbate their concerns.
"Please note that Twitter will do lots of dumb things in coming months.

We will keep what works & change what doesn't."

— Elon Musk (@elonmusk) November 9, 2022
Twitter users are equally as skeptical: Just 23% of Forrester's MROC members who use Twitter indicated in our quick pulse-check poll that they "feel positive about the future of Twitter." Nearly half (41%) think that "Twitter is moving in a negative/downhill direction." And less than a quarter (24%) feel that Elon Musk will make Twitter better.
Tweet me your thoughts at @McProulx. Forrester clients: Let's chat more about this via a Forrester guidance session.