Grounding Twitter Ad Dollars Is Common Sense, Not Activism
Elon Musk's Twitter takeover has been — at best — chaotic and tumultuous. Advertisers are uncertain about what direction the company will take: What will happen with content moderation? Will Twitter become a mainstream Gab with a steady flow of disinformation? While Musk has tweeted that "nothing has changed with content moderation," racist tweets have surged since Musk took over as CEO exactly one week ago as users test the boundaries of "free speech" (see Figure 1).
Major advertisers — including General Motors, Audi, Mondelēz, and Pfizer — have all paused their Twitter advertising. Agencies, such as IPG's Mediabrands, are recommending that their clients drop Twitter spend, for now. Forrester has also advised that brands take a "wait and see" approach to their Twitter ad spend. Although Musk points to "activist groups" for Twitter's sudden revenue drop (see Figure 2), what's happening to Twitter isn't because of pressure from outside organizations (like in the short-lived Facebook boycott in 2020); it's the actions of Musk being put on display for every CMO to see. This is all about brand safety — while simply avoiding the unnecessary risk that most mainstream brands don't need to take in already turbulent times.
The very public chaos and uncertainty being played out at Twitter right now is compounding previously held skepticism around Twitter's return on ad spend and lack of ad efficiency. The reality is that advertisers have never needed Twitter to meet their business goals. Meanwhile, marketing teams face budget cuts during this time of economic uncertainty and are consolidating their media spend to fewer, proven media properties. The decision to drop Twitter (at least, for now) is a rational and responsible one.
Figure 1 — Racist Tweets Surge On Twitter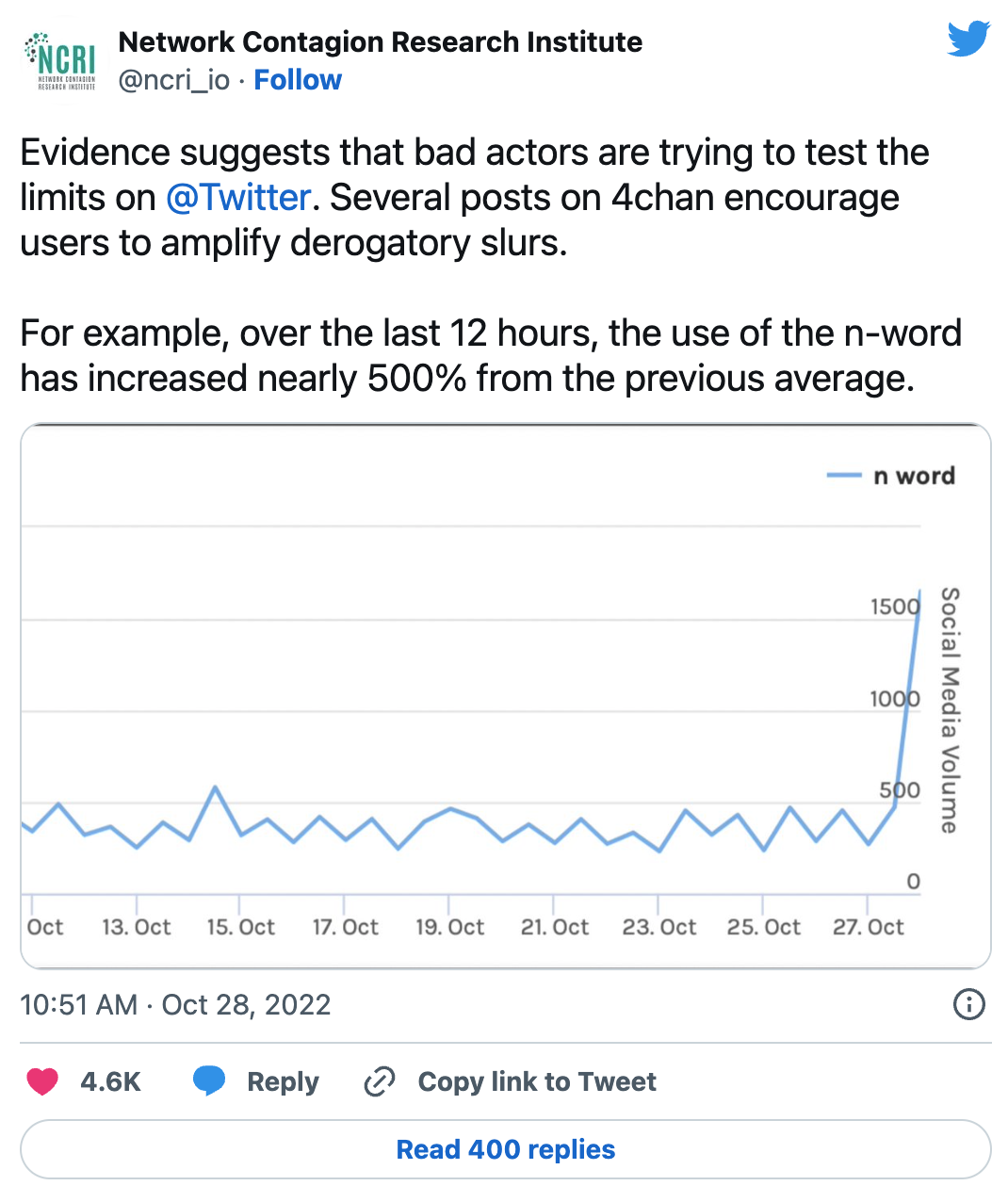 Figure 2 — Elon Musk Blames Activists For Advertiser Pull-Back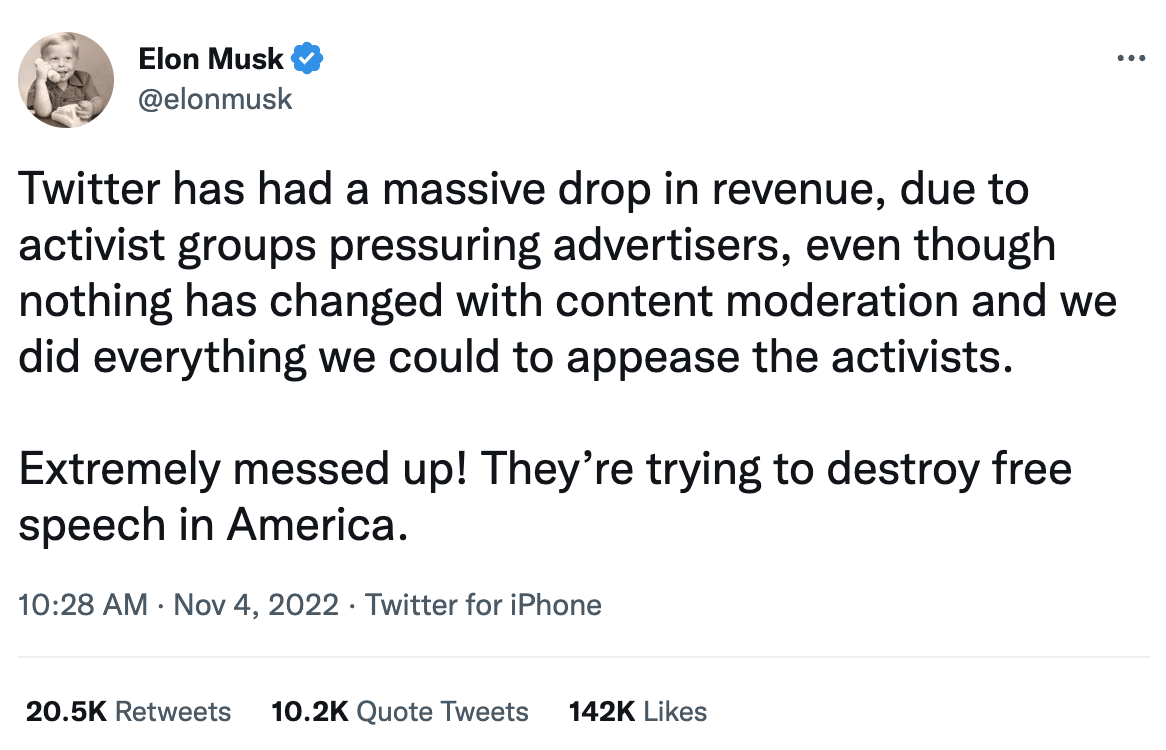 Twitter Was Never A Media Plan Necessity
Twitter has never consistently captured those precious "always on" media dollars from advertisers in the same way that Meta or Alphabet has. In Forrester's interviews with social media strategists and agency executives, we found that most advertisers use Twitter to surround tentpole events and big cultural moments. In contrast, Meta has been their social media "go to" for efficient sales-driving and high-reaching media activations. Advertisers have been underwhelmed by Twitter for its:
Lack of efficiency. The bulk of social media ad dollars go to Meta for a reason: It efficiently drives everything from awareness to sales volume. According to social media strategists and buyers who we spoke to, Twitter is seen as not being as efficient as the Facebook/Instagram duo, in part because it doesn't have the same scale or dynamic auctions available.
Weak ad product innovation. Twitter's ad products have not changed significantly over the years. Brands want to use social media channels across the full customer lifecycle, but Twitter hasn't advanced their direct response offerings at pace with their competition.
Nothing Short Of An Overhaul Will Recapture Ad Spend
The big question on the ad industry's mind is: What would it take for Twitter to regain advertisers' trust and dollars? Twitter requires a level of self-awareness to reassure advertisers that it's a safe place to showcase their brand and grow their business by:
Doubling down on content moderation. Brand safety and suitability are crucial evaluative measures when brands are deciding where to invest their dollars. Twitter will need to show (through action) versus tell (through words) that it's serious about its handling of disinformation and hate speech.
Engaging creators and influencers. Twitter is only as good as the voices who spend time talking there. Many prominent voices are threatening to leave the platform, but as we've seen with TikTok, creators are the lifeblood to a platform's success. Twitter will need to extend an olive branch to its creator community and demonstrate a value exchange.
Innovating hard-working ad products. Brands require ad experiences that consistently deliver. Twitter must lean in to what's unique about its platform — co-viewing, live events, diverse communities — and innovate ad products around its differentiation.
Proving ROI. Heading into 2023, every single marketing dollar is getting scrutinized. Twitter will need to deploy measurement solutions that prove that Twitter advertising unequivocally drives sales. And it'll need to show that Twitter can deliver sales as well as, or better than, other social media channels.
Forrester clients, to chat more about this topic and how to build your media strategy, you can schedule a guidance session.
Related Forrester Content