US Offline Retail Sales Will Reach $4.2 Trillion By 2028
Our newly published research, US Online Retail Forecast, 2023 To 2028, shows that both offline and online US sales will reach record levels this year. As we've said many times, the store is flourishing and far from "dead!"
In this post, I'll focus on our forecast findings for offline sales specifically. Let us take a quick look at the offline retail sales growth trends:
In 2022, US offline retail sales reached a record high of $3.6 trillion (excluding automotive and gasoline sales), driven by decades-high inflation. By 2028, Forrester expects US offline retail sales to reach $4.2 trillion and account for 72% of the market.
In 2019 and earlier (pre-COVID-19), online retail sales grew at a higher rate than offline retail sales. That's because of numerous advantages to buyers when they shop online, including an extensive product assortment, competitive pricing, round-the-clock availability, valuable customer reviews and comparison tools, and increased transaction convenience. Not surprisingly, in 2020, online retail sales grew much faster when most stores were closed due to the COVID-19 pandemic.
2021 was a breakout year for US offline retail sales. In 2021, US offline retail sales (which primarily consist of store-based retail sales) saw record-breaking year-over-year (YoY) growth of 14% (see figure below). This growth erupted as consumers flocked to stores when COVID-19 restrictions were lifted and social distancing eased.
The offline retail sales growth momentum continued in 2022 from 2021. US offline retail sales grew by 6% YoY in 2022, much higher growth than pre-pandemic. As retailers offered more discounts to clear inventory backlogs, consumers found attractive deals in stores. Consumers also hunted for more deals offline due to inflationary pressures.
From 2023 onwards, we expect offline retail sales growth rates to settle back at pre-COVID levels. The core advantages of offline retail — tangible experiences, immediate gratification, physical product comparison, social interaction, and personalized assistance — will continue to drive the sales. Social interaction has been one of the key drivers for offline retail sales in recent years. Nearly one-third of the US consumers surveyed in Forrester's Retail Benchmark Recontact Survey, 2022, say that they enjoy getting out of the house and shopping in physical stores.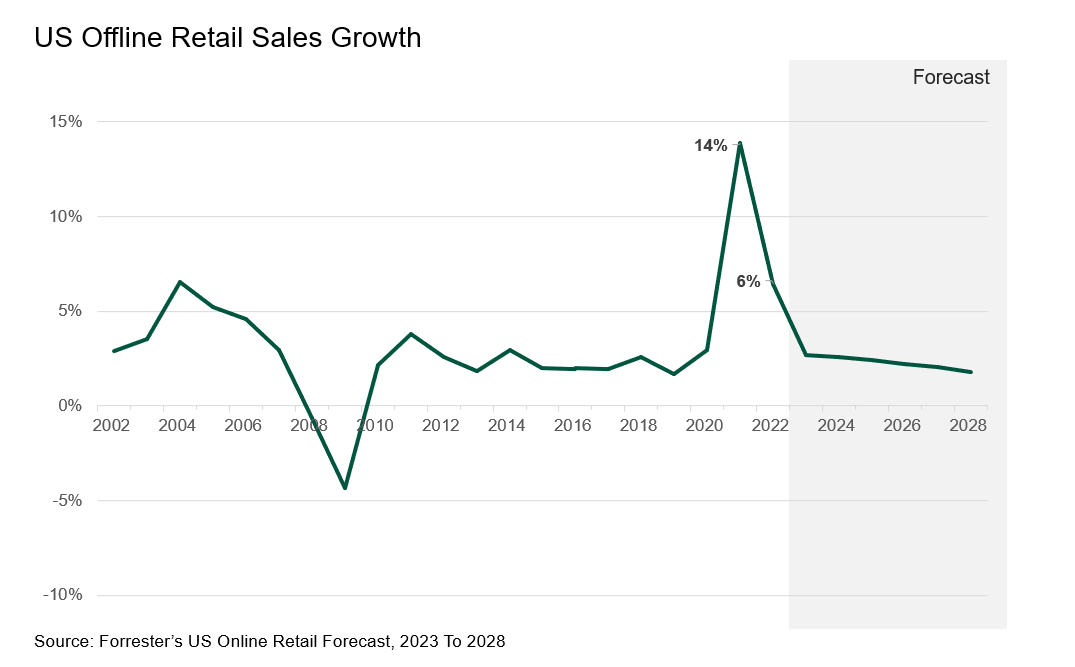 What About Digital/Physical Integration In Retail?
In 2023, Forrester estimates that click-and-collect sales will exceed $100 billion. The store is driving click-and-collect sales, which include both "buy online, pick up in the store" and curbside pickup. The volume of click-and-collect sales will double by 2028 to exceed $200 billion — and that year will account for 12% of US online retail sales.
Over the past three years, retailers have continued to invest in improving physical and technological infrastructure to increase click-and-collect sales. In addition to convenience and time-saving benefits to consumers, click-and-collect also helps retailers manage order fulfillment more cost-effectively and helps them to foster strong customer relationships.
Learn More About Our US Retail Forecast!
Our newly published US Online Retail Forecast, 2023 To 2028 provides insights about US total retail sales, online retail sales, and offline retail sales for 30 product categories for the next five years, with the historical data going back to 1998. Be sure to download the Excel spreadsheet for the full details.
Our recent webinar, US Consumer Spending Trends And Outlook, provides Forrester clients a holistic view of US consumer spending by category and the impact of inflation on different categories.
Want to talk to us about this research? Please schedule an inquiry with me!