What To Expect From CES 2021
For the first time ever, the Consumer Electronics Show will be a digital-only event.
Like Mobile World Congress in Barcelona, Viva Tech in Paris, or IFA in Berlin, this is one of the few key global technology and innovation events. Physical networking usually enables both startups and large companies to meet prospects, generate leads, sign deals, and create buzz. Standing out from the crowd and showcasing products will be tougher this year, especially for startups, and will require a smart PR and social media strategy.
That said, because CES is the first event of the year (taking place next week from January 11 to January 14 — more details here), it's a great opportunity for CMOs and business teams to step back from daily operations to get the pulse of innovation and be inspired. Technology is now so pervasive that it impacts any industry and any vertical. Innovation DNA is at the core of brand building. Thus, no surprise here to have the CEOs of Best Buy, General Motors, or Walmart as top keynote speakers.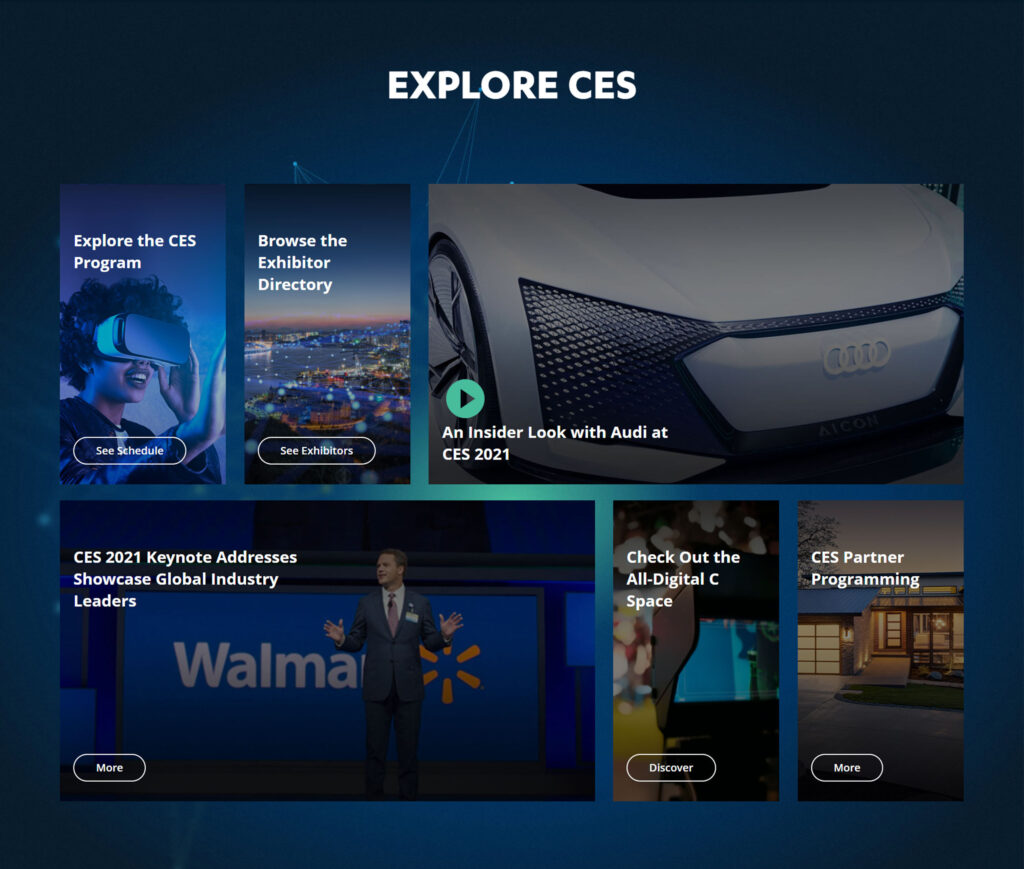 Below are a couple of key themes I recommend that CMOs at consumer brands pay attention to:
Expect new product announcements to partially reflect how the pandemic has changed our way of life.
Designing complex new products takes time and most brands are unlikely to have had the time to prepare fully designed products in due time for CES. We may see some prototypes or new concepts giving some indication on what key brands have on their roadmaps.
Consumers care about their health and wellness and need to be reassured — so expect emphasis on connected health and fitness products and a flurry of new gadgets and products like smart (wearable) air purifiers, UV disinfecting lights, disinfection robots, etc.
Consumers are spending a lot more time working at home. The death of the PC has been exaggerated to say the least! Consumers want powerful new business laptops, innovative screens, and integrated webcams. Students need affordable laptops or tablets. So expect the likes of Dell, Lenovo, and Asus to emphasize the convenience and performance of their new laptops and homegear.
Consumers spend a lot more time with entertainment devices. TVs have always been in the spotlight at CES, now more than ever. Expect the likes of Sony, LG, TCL, and others to showcase their latest 8K technology and rollable/flexible/curved displays as well as emphasize proprietary technologies (microLED for Samsung or Cinematic Sound OLED for LG).
"5G or not 5G": Get ready for a Shakespearean paradox.
5G will take center stage among the various pervasive technologies discussed next week. Don't get me wrong: Like internet of things (IoT)/connected products, AI, or extended reality, it was already a hot topic last year, and all of these key underlying technologies will spark most conversations again this year. However, 5G will get more attention, especially with the recent launch of the iPhone 12. So far, US firms have invested more than $76 billion in the 5G spectrum, and US carriers consider 5G as a key differentiator. The CEO of Verizon will lead the opening keynote on that theme.
Why a paradox? Because despite the hype, I expect very few consumers products (maybe a couple of 5G-enabled laptops) to be announced at CES. The main one will not take place at CES but will happen the last day of the show: Samsung's likely launch of a new range of flagship smartphones (Samsung Galaxy S21). However, 5G is primarily an enterprise and B2B technology for now. Most discussions will be on the ROI of 5G, its new use cases, and how the rest of the world can catch up with China and its 150 million 5G users (not all of them are active).
Why "Shakespearean"? Some consumers have existential concerns that 5G will have a negative impact on our health or on the planet. This is often the case with new technologies, but this is particularly true for 5G; it is a catalyst for many other technologies, empowering a new, connected world that many consumers fear. Part of this is irrational, not scientific, and fueled by conspiracy theories, but such concerns have to be taken into account. Consumers have to be reassured. Carriers should not overpromise or they risk underdelivering. For now, consumer 5G primarily improves speed and latency but is not a game changer with differentiated use cases.
Long story short, and as counterintuitive as it may sound, CMOs at consumer brands should ignore the 5G hype in 2021.
Decipher hype from reality to get a glimpse of the future

CES is always full of innovation and new, unexpected product announcements or concepts. Listening to keynotes from CEOs at consumer firms is a way to get a glimpse into the future and to understand how technology innovation is changing their brands. It might be interesting to hear about the future of electric vehicles from GM, to have a look at new concept cars from the likes of Mercedes Benz, and to get Walmart's perspective on how it leverages technology like virtual reality.
Beyond technology, it will be key to see how brands are pitching the benefits of their products to get a sense of how mature the innovation is. If it is all about the product/technology, and if there is little to say about integrated content and services bundles, that's overhyped. I am very curious to see how this applies to AR, VR, drones, robots, smart appliances, hearables, and other voice-enabled products this year.