Why Holding Companies Matter More Than Agencies
CMOs' Agency Buying Behavior Signals More Centralized Global Marketing Solutions To Come
In 2021, seven major agency reviews worth over $7 billion went to integrated, centralized global marketing teams. Cigna Health, Coca-Cola, Facebook, Mercedes, Philips, Planet Fitness, and Walmart each ran agency reviews in 2021 resulting in hiring a global marketing company to manage creative, media, digital, and data marketing services. This is a shift in marketers' buying behavior — from rosters of agency specialists toward integrated marketing services — illustrating the CMO's increasing need for connected, orchestrated marketing solutions to deliver the growth and cost-effectiveness the C-suite demands.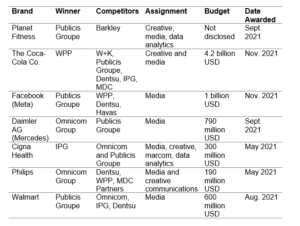 One CMO said, "We believe we can unlock considerable value through a redesign of our model and consolidation of third-party agencies, and while this effort is expected to generate cost savings, this is not the sole objective of this exercise."
From A Collection Of Marketing Companies To An Orchestration Of Solutions
Our assessment of global marketing service providers shows that end-to-end marketing services tailored into marketing solutions are now fundamental for global marketers to contend with a volatile, pandemic-weary marketplace. These solutions provide CMOs the ability to:
Amplify creative/content with intelligence. Creative and content development are the backbone of marketing campaigns. But idea-dominant campaigns devoid of insight have commoditized creative services. The best global marketing providers fuel creative with intelligence to increase the velocity of content, relevance of creative, and impact of campaigns.
Elevate media through technology. Media activation is the tip of the spear for commerce and new customer acquisition, while wasted reach and frequency compromise media investments. Strong global partners channel the collision of media and commerce with data and technology that helps illuminate audiences and channel-agnostic activations.
Master data strategy to connect brand and performance marketing. While data may be regarded as "the new oil," the clever use of this commodity is a necessity to connect siloed marketing effects. Effective global marketing partners use data intelligence as a red thread of common understanding to produce the force-multiplying effect of brand and performance as a single strategy.
Differentiate experiences with creativity. Every brand can provide its customers easy, effective, yet similar experiences. To meet customers' insatiable desire for novelty and newness, brands must differentiate. Progressive global marketing solutions providers leverage creativity to connect the DNA of the brand to the code of the digital experience itself.
Decode The Global Marketing Services Market
CMOs and marketers are fully aware of how convoluted marketing providers and agencies' structures can be. We shed some light in our analysis of nearly two dozen global marketing services companies. In our new report, we demonstrate the convergence of marketing services across agency holding companies and global technology consultancies. We also show how a group of new, digital-focused networks are forming to challenge the market itself. To select the appropriate provider to orchestrate your global marketing needs, consider three questions:
Who will orchestrate the multiple capabilities? Whether agency, consultancy, or digital network, a series of companies/acquisitions will deliver solutions. Ensure your global provider is empowered to manage the bureaucracy, tap into the right expertise, and align the delivery to your objectives.
How are tech/publishing partners providing an advantage? Software-as-a-service and publishing partnerships are crucial. But expertise and services to assemble and customize them is even more so.
Is their technology augmenting their talent? Creativity comes from the people, scale and precision from the tech. Ensure intelligence drives decisioning and execution.
Forrester clients can review the analysis of 16 global providers in Now Tech: Global Marketing Services, Q4 2021, and set up a guidance session to review the results and data gathered.