Why Poor Audience Prioritization Is Killing Your Content Marketing
With so many B2B companies pumping out so much content, it's more important than ever to make sure that you are creating the right content for the right audiences. Otherwise, you are just adding to the cacophony of content that is quickly becoming the standard for B2B Web experience.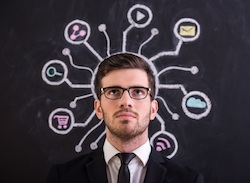 In order to gain mindshare, leads and new customers, you cannot be all things to all people – and neither can your content! Far too many marketers are trying to make their content apply across too many audiences – it's just not realistic or effective to take this approach, no matter how limited your resources or budget are. To build credibility, authority and resonance, you must segment your audiences and create targeted content for each audience.
Is your content winning more than a click? Is your content actually creating a connection with the intended audience? If your content is too generic, your messaging and content quality becomes too diluted.
Whether it's target verticals or horizontals, or both, decisions and priorities must be made about what content you can create for what audiences. If you have limited resources and budget available (which is often the case) for content creation and promotion, prioritize the most important audiences who are aligned with your go-to-market objectives. Oftentimes, this will force some tough decisionmaking about what is doable within a given quarter or fiscal year for content marketing.
Once you've prioritized your audiences, conduct a thorough content inventory and audit to identify what assets you currently have available that map to each major phase of the buyer's journey (education, solution, selection) for each horizontal and vertical. From there, you can analyze and identify your worst content gaps, which should then inform your development priorities and plans.
As painful as content audits are, do not skip this exercise. An audit will help you figure out what content you can use as-is, what you already have that could be refreshed or repackaged and still be put to good use, and what is just completely missing from your messaging arsenal to support the buyer's journey.
This exercise will also help expose whether your content creation needs are realistically aligned with the budget and resources set aside for supporting your priority audiences. It's usually a much-needed eye opener into how little B2B organizations have thought through why they are creating content and for whom they are creating it.
Having that flashy new infographic, SlideShare or video is awesome! But to have content marketing contribute real business value, it must live within the framework of an audience-centric content strategy, mapped to the knowledge requirements of thoughtfully-prioritized target audiences that align tightly with go-to-market objectives.
Is your content working for you? View this Webcast Replay on operationalizing the SiriusDecisions Content Model. This webcast features content leaders from client organizations who share their personal journey implementing the model.