Winners Of The 2018 Forrester And InfoWorld EA Awards Contest Show EA's Role In Digital Transformation
In past Forrester/InfoWorld Enterprise Architecture Awards competitions, we had named themes to align entries and winners to the current needs of modern enterprise architecture (EA) programs. This year, we went theme-less to simply find the most dramatic stories of EA's strategic leadership. But the winners of the 2018 Forrester/InfoWorld Enterprise Architecture Awards show that there is indeed a theme to where the action is in today's EA programs: digital transformation with a strong dose of Agile software development!
In alphabetical order, the winners this year are the EA teams of:
Asurion
CIBC
Sberbank Group
Verizon
Vodafone
Congrats to all the winners — each has a compelling story of EA best practices. You can read those stories below.
How do we pick the winners? Forrester's EA analysts performed the first round of vetting, then the 2017 Enterprise Architecture Award winners acted as final judges and voted for the teams they believed had the most impactful EA story.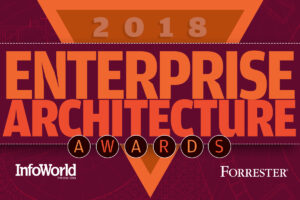 Asurion: Enterprise architecture is the driving force behind transformation and innovation
Traditional EA teams — even those that realize today's need for speed and agility — are struggling to find the proper balance between prescriptive guidance and responsiveness to the business.
Asurion's EA has taken a pragmatic approach to EA and works with journey teams composed of product development and business people set on achieving common business outcomes with shared goals of success in the customer's context. EA expertise is embedded in the journey teams, addressing specific business needs and achieving defined business outcomes. This lets the EA team remain as close as possible to the reality of business, technology, and product development needs.
Asurion started its EA transformation by meticulously assessing its staff and their needs, making significant investments in getting the very best people and providing them with all necessary tools and professional development. In a span of about 24 months, Asurion converted its EA team from one comprised of engineers with traditional commercial off-the-shelf product skills to one firmly rooted in cloud-native development, DevOps methodology, automation engineering, and data analytics. That prepared EA to lead Asurion's product and organizational transformation.
The EA team laid out a path to break down the core lines of businesses into several discrete capabilities using a methodical business architecture and modeling approach, then transforming that into an IT strategy of building discrete functional blocks using microservices-based architectures deployed in a cloud-first model. The EA team enabled an Agile DevOps methodology using cloud-native tools. This let product and development teams quickly build and release features continuously to customers.
The foundation of Asurion's platforms are loosely coupled, capability-driven functional microservices. These microservices are exposed as capability-oriented APIs to several consuming channels that drive the digital strategy by meeting their customers where they operate and providing a rich experience.
The result? Enabled by EA-driven changes, Asurion can now connect and mix core lines of business into customizable packages that customers can pick and choose based on their specific needs. Using a cloud-based DevOps methodology, the firm can deliver these solutions far more quickly than was possible in the past.
Alberto de Andrés Ibáñez, VP head of transformation at First Abu Dhabi Bank, said, "Asurion presents a clear case of EA metamorphosing to address business change and transformation that requires resilience to change. They changed a classic EA approach into a ground-field team, working closely with journey teams."
CIBC: EA "shifts left" to strategic technology leadership
Faced with an array of business and technical challenges, CIBC embarked on a dramatic transformation, beginning with the largest enterprise organizational change in the history of the bank. The change included elevating the chief enterprise architect to report to the head of technology and subsume responsibility for the chief data officer in a new organization: Enterprise Architecture and Data Governance. The change created the opportunity for EA to take a leadership role.
EA created a domain practice with 23 areas of strategic architectural interest that transcended the bank's traditional organizational boundaries. The domain architecture teams provided a bank of solutions for the enterprise's highest-focus areas.
For example, the integration domain team delivered an enterprise API framework and API marketplace based on open source — an unprecedented and contrarian move. The open source API framework architecture has accelerated innovation, enabling an Agile development community. It is transforming CIBC's monolithic legacy applications into contained and reusable microservices.
But the API strategy depended on leveraging fast decision making, colocation, and interactive sprints of Agile. But it was impossible for each architect to be in dozens of Agile spaces at the same time, so EA developed an Agile architecture "product" that uses Agile-native tool sets like Jira and Confluence to let architects participate and track decisions across multiple Agile teams and colocate virtually.
Under the domain structure, technically gifted but often communications-challenged solution architects had to evolve to business technology consultants. The EA organization created the EA-specific "Technology Storytelling 101" course that used narrative and design thinking to equip architects to successfully communicate their strategies and solutions in business terms rather than technical terms.
The initial benefits of EA's work include cost savings from consolidating IT portfolios, reduced reputational risks due to solid security architecture decisions, and the competitive advantage of an open source API platform that puts CIBC an estimated 18 months ahead of key competitors.
EA has become the de facto storyteller on all things technology to business and technology executive teams as well as the CIBC board, and it has been granted a voting seat on the committee that approves funding for all major initiatives for the bank. EA has been enabled to lead technology strategy and provide significant contribution to business strategy and banking products.
Doug Alexander, digital enterprise architect at XL Catlin, said, "The EA-as-technology-storytelling, I think, is a great idea and very creative."
Sberbank Group: Strategy-2020 initiative mapped its transformation to the hub of an ecosystem
EA plays the leading role in Sberbank's transformation into a client-centric, AI- and data-driven technology company at the center of an ecosystem. The team introduced a business development platform as a central element of its architecture, comprised of a spectrum of emerging technologies such as in-memory computing, artificial intelligence, blockchain, and open source solutions. It has also introduced process changes such as Agile methods and a technical-debt management discipline to strike a balance between emergent design and intentional architecture.
Its journey to transformation started in 2014, when Sberbank decided to move forward from being a traditional bank to being an ecosystem and technology company. Key to architecting the journey was the business capability map initially created in 2011. This enabled a dialog between the business and IT as the EA team led the transition from standalone bank products to a services approach.
Sberbank moved from managing siloed business processes to creating more granular customer-oriented business services. This added flexibility and allowed the bank to launch new and combined products more quickly. The business capabilities and business services became a basis for its new IT platform, which includes an omnichannel-unified system, a business hub with unified business functions, a business development platform with product factories, and an enterprise-level data factory with analytical scenarios and reporting.
A key aspect to Sberbank's transformation was its EA-led overhaul of its software production processes to a Spotify-based approach. It established business and technology tribes, with tribe architecture areas as the basis for EA management. EA dedicated chief tribe architects to each tribe to support their movement to its target architecture.
The major focus of the EA team in this new organization is to manage the cross-tribe architectural dependencies. As Sberbank continued to evolve its Agile transformation, EA and tribe architects then delegated detailed architecture design to the squad level.
To ensure its evolution to an ecosystem of suppliers, regulators, and consumers, the EA team created ecosystem architects to design the core components of shared services for all participants. Some of the shared services are mandatory for use as the entry ticket for any company that wants to become a full-fledged member of the ecosystem.
EA also created a library of reusable components and tools that enable creation of the solutions for various industries. The platform is the basis for building common ecosystem services such as the global profile of the ecosystem resident, a single authentication service, an open API marketplace, and a data marketplace. The team has established architectural governance for all activities around its ecosystem evolution, and it will launch for all ecosystem participants by 2019.
Bhaskar Shunmugam, lead — IT enterprise architecture at RasGas, said, "Sberbank has successfully taken EA into new frontiers through a well-thought-out plan and excellent execution to solve its complex problem in phases. Its business and technology tribes and the ecosystem are great concepts that can be applicable across various industries. Great job."
Verizon: Virtual services drive agile transformation to enterprise-scale capabilities
As a trailblazer in virtual services and software-defined networking (SDN), Verizon's network systems have experienced significant growth in unified communications and network connectivity.
The old, centralized, and rigid enterprise architecture and product lifecycle management (PLM) organization could not scale for virtual services with the same effectiveness as it did for traditional telco services in the past. So it needed to pivot from a traditional and rigid PLM cycle to a highly Agile delivery model, evolve a strong EA organization to enable dynamic design and delivery of applications, and foster innovation through an amalgamation of physical and virtual services by dropping the rigid stovepipes of a centralized architecture.
Verizon's EA designed a lean business framework and trained stable Agile teams to provide direction for the transformation. The lean business framework instituted an EA model that was anchored on a small team of 30 people, but it maintained an option to dip into the "big team" pool of shared resources across functions to ensure that critical projects received the priority and velocity needed. Verizon's EA established a project management office to enable working collaboratively across business execs, product managers, architects, developers, testers, DevOps, vendors, and other participating stakeholders to identify requirements and key capabilities, establish EA roles and service alignment, define the EA strategy, define and implement the road map, and institute control, governance, and performance processes.
Systematic planning and meticulous project management yielded great results over 12 months. Verizon's EA increased the velocity of service introduction, slashing overall design time for new products and reducing quote-to-cash time by 65 percent. Processes to conceive, design, and deliver products were re-engineered with powerful enablers to reduce end-to-end cycle time from months down to days.
Verizon's EA delivered a market-responsive architecture that relied on telemetry-driven microservices to orchestrate among domains deployed globally on a commercial off-the-shelf infrastructure. This made it possible to design and deliver products/services that are responsive to immediate market needs. In addition, a world-class portal served as the customer experience point and delivered the 360-degree digital experience that Verizon was aiming to provide its customers.
In addition to the technology architecture, Verizon's EA framework is also comprised of process and organization components. It developed a collaborative environment that fosters innovation, and alignment among product, engineering, operations, and IT enabled a high degree of partnership between teams. It developed custom tools such as the blueprint designer, a collaborative virtual services development tool providing GUI-based interactive environments where multiple functional teams could work together to design innovative products. It also implemented an elaborate change-management procedure to ensure that any change in the agreed EA is communicated and discussed for enterprisewide impact.
Coen de Bruijn, head of business architecture at ABN AMRO, said, "Verizon was able to establish a well-thought-out, mature, elaborate, comprehensive, and still-practical enterprise architecture. This was one of the best descriptions of what should be made available for the organization from an EA team."
Vodafone: Digital-X program transforms and future-proofs its architecture
Vodafone UK Digital IT faced a stark contrast between the capabilities of its digital estate and what was needed to truly serve its customers. To have complete control over every aspect of the customer interaction, it needed the capability to change or create content in minutes — and it had to be able to provide a new look and feel in hours, modules in a day, journeys in a few days, APIs in two weeks, and entirely new digital channels in a few sprints.
So Vodafone UK Digital IT pursued a wholesale architecture transformation — called the Digital-X program — by obtaining board approval and sponsorship to transition to a digital architecture that was microservices-based, with completely reinvented digital channels. It also adopted the SAFe Framework for scaled Agile and embraced cloud computing.
Enterprise architects began by producing a solution blueprint that they used as the basis for an RFP with targeted suppliers. Vodafone UK Digital IT also embarked on an extensive SAFe training program. As it implemented Agile processes, it adopted changes to the digital architecture practice to accommodate the emergent architecture.
It recognized that emergent architecture is a necessary consequence of the desire to be Agile and that it sometimes would lead to technical debt and sometimes would be adopted and used to update the intentional architecture. Vodafone UK Digital IT resolved this by keeping the digital architecture team close to the development teams to encourage innovation and to firmly guide where appropriate. The architecture team localized API standards from the Vodafone Group systems architecture. The team created its own microservices standards.
Staying Agile, the group went through two significant pivots after development began. The first was a change to the web presentation technology due to friction among the UX team, front-end developers, and service developers. The second pivot involved a caching component that didn't play well with Amazon Web Services and affected stability. Vodafone UK Digital IT replaced the problem technologies with managed-service equivalents.
Today, Vodafone has four channels using its microservices platform. The fourth, serving the firm's youth segment, was not on the plan when it began the Digital X program. Being able to expand to an unplanned channel successfully validated the architecture's ability to serve future channels.
Coen de Bruijn at ABN AMRO said, "Apart from the good stuff they are doing, I really like the fact that they practice what they preach. Not only does the EA team support the Agile implementation at Vodafone, it also acknowledges hurdles and tackles them accordingly. Not only does the organization now fail fast, learn fast, and fix fast, so does the EA function itself."