Grit, Grace and Go: Meet the Powerhouse Women in Business and Tech
Business and technology leadership requires focus on connection and alignment while challenging assumptions and creating momentum toward a common goal
The SiriusDecisions Women's Network inspires women and encourages growth, debunking common myths and preconceptions about women's leadership
The best and brightest minds in B2B are taking stage at SiriusDecisions Summit not as women in business, but as business leaders
The word powerhouse is often used to describe people with discipline, strength and dynamism in their approach to accomplishing a task or goal. In the physical arena, these powerhouses are the athletes, dancers and performers who are the masters of their domain and their own capabilities, whether that's playing football, executing choreography or delivering a virtuosic vocal performance. Collectively, these powerhouses inspire one another to reach that next goal – throwing farther, moving with more precision or holding that note a little longer. They empower one another, and by doing so, empower the next generation watching from the wings or in the bleachers.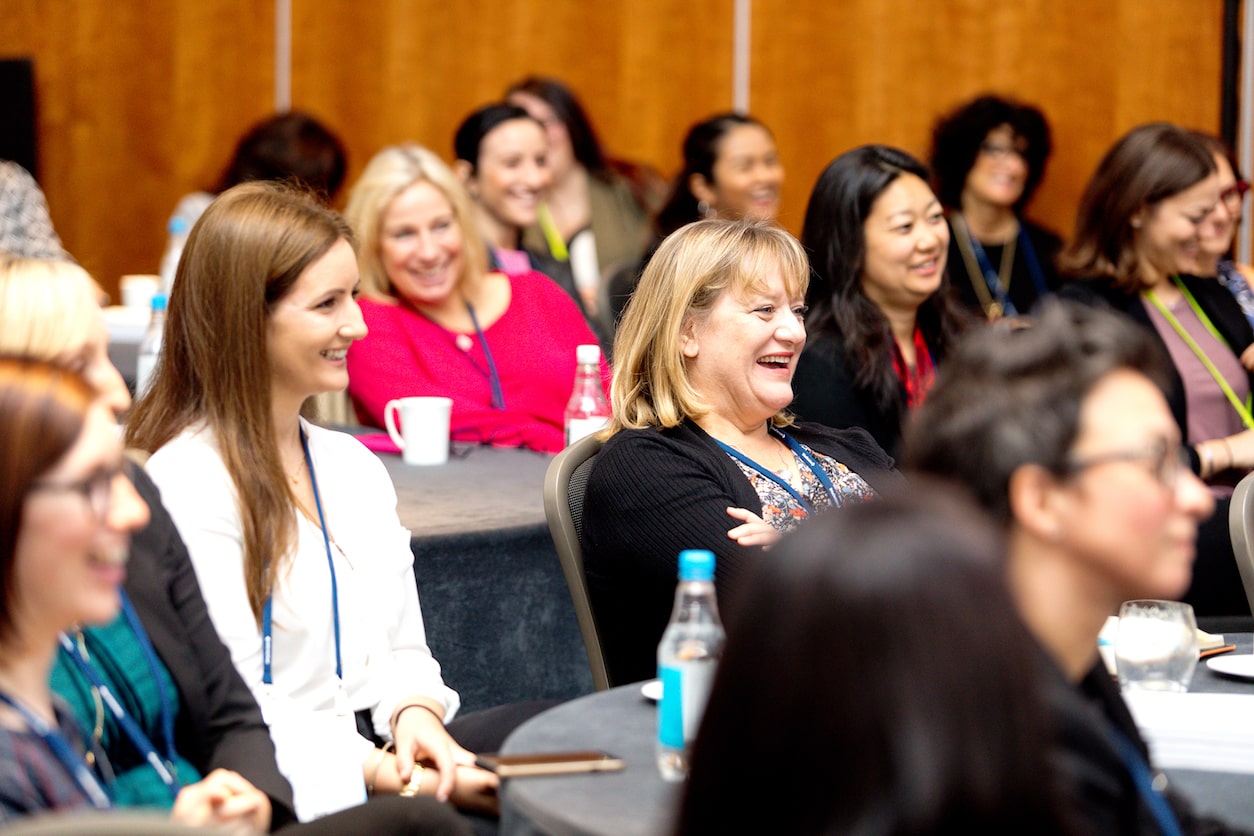 It's also an apt description for the female leaders of business and technology. Some of the best and brightest will be taking stage at SiriusDecisions Summit to share their stories, not as women in business, but as business leaders.
Powerhouse by Design
A recent panel discussion of the SiriusDecisions Women's Network focused on debunking myths about women's leadership, using findings from the 2018 Leadership Study. Highlighted characteristics included the deft handling of responsibility and success with confidence, vision and authenticity; the empowerment of teams; and an environment of collaboration.
Whether in athletics, arts, or business, three attributes best describe the powerhouse:
Grit. They're challenging assumptions, finding better ways to do things and crushing obstacles standing in the way of goals.
Grace. They're focused on connection and alignment, with an eye on the strategic vision.
Go. These are leaders who use their own drive to create momentum toward a common goal, and their impact reaches far and wide.
Meet the Speakers: Leveraging Tech to Enhance the Revenue Engine
This year's SiriusDecisions Summit includes a new Technology track focused on optimizing technology and service investments to drive transformational change in B2B organizations across product, marketing and sales disciplines.
Not surprisingly, the tech track agenda includes several powerhouse female analysts and leaders who will share best practices, challenges, and success stories for leveraging technology to build and support the high-performance revenue engine. Among those speakers are:
Isabel Montesdeoca, SiriusDecisions Demand Marketing Service Director. Isabel and Peter Ostrow will be talking about using customer insights to deliver a customer-centric experience in the keynote session "The Respect and Relevance Imperative in the Age of the Customer."
Cristina DeMartini, SiriusDecisions Marketing Operations Strategies Service Director. Cristina and Jeff Lash will walk through what it means to be agile and its impact on B2B organizations in the session "Aligned Meets Agile: Secrets to Putting Speed and Strategy to Work Across the Revenue Engine."
Monica Behncke, SiriusDecisions Corporate and Executive Marketing Services VP and Group Director. Join Monica and Phil Harrell to learn The Essential Secrets of Talking to Executives (and Getting What You Want)."
Laura Cross, SiriusDecisions Demand Marketing Senior Research Director. Laura and Jonathan Tam will explore the future of marketing automation platforms and what that means for the B2B tech stack in the session "Marketing Automation Platforms: Extinction or Evolution?"
Programs of the Year: Technology. One of this year's winners for Technology Programs of the Year (to be revealed on stage!) leveraged technology to operationalize the Demand Unit Waterfall and align her team around that common vision.
ROI (Return on Integration) Honors. Andrea Ciurleo-Marino and Roxanne Tashjian from Monster will share their work in driving change through investment in the company's sales infrastructure and supporting processes.
Don't miss these and other powerhouse women in business and technology speaking at Summit as you add track sessions, case studies and interactive experience rooms to your agenda in the mobile app.