The Future Of Business Is Sustainability
Leaders across the globe need to embrace sustainability if they hope to gain a competitive advantage.
According to Forrester, sustainability-focused companies have better financial results relative to their peers and investors are doubling down on sustainability investments.
Our experts have compiled the most-up-to-date research around sustainability and the impact it will have on leaders like you. No matter where you are on your sustainability journey, we have resources available to help.
Blog
As corporations look to express their commitment to the Earth and its earthlings, nature-based solutions (NBS) have taken on new urgency in the boardroom and sometimes not for the right reasons. First things first: NBS are defined by Forrester as natural and nature-based solutions to the consequences and causes of climate change that reduce an […]
Blog
The concept of "sustainability," as we know it today, was first introduced in 1987 in the famous Brundtland (for Dr. Gro Harlem Brundtland) Report produced by several countries for the UN. The report defined sustainable development as meeting "the needs of the present without compromising the ability of future generations to meet their own needs" […]
Blog
We should be taking confident and courageous strides toward creating future-generation-safe companies through purposeful actions such as reducing carbon through efficient and clean energy usage, minimizing water usage, expanding the use of sustainable raw materials, and increasing recyclable packaging while decreasing packaging altogether. These actions would support the overall theme this year of "Invest In […]
Blog
(Part 2 of a two-part series) Still Calling On Developers To Save The Earth! Two days ago, we introduced the concept of application sustainability and noted that while less abstract languages may have lower energy costs, there are other considerations in sustainable development and deployment. Whether your team is starting up a sustainable development initiative […]
Blog
(Photo by Abhinav Sunil) As the key backbone provider for connectivity and network infrastructure, the telecommunications industry has been in a spotlight for sustainability. With the advent of 5G, what can we do to build our new networks to be as energy-efficient as possible? I talked to Ericsson's Heather Johnson, VP for sustainability and corporate […]
Blog
Photo by Abhinav Sunil At the Katz Graduate School of Business, University of Pittsburgh, the H.J. Zoffer Chair in Sustainability and Ethics is CB Bhattacharya. He is a world-renowned expert in business strategy innovation aimed at increasing both business and social value. He recently published his third book, "Small Actions Big Difference," in which he […]
Blog
The telecommunications sector is at a crucial juncture in its sustainability story. Many organizations are finding their ground in setting the right targets, penetrating the supply chain, and addressing their customers' questions on sustainability. We spoke with R. Scott Herren, Cisco's executive vice president and chief financial officer, and Francine (Fran) Katsoudas, executive vice president […]
Blog
Photo by Abhinav Sunil The intersection of how technology platforms are evolving and how it both affects and aids sustainability is a topic that Forrester's sustainability team is currently studying. We spoke with Dr. Suku Nair, one of the most respected computer scientists in the country. He currently heads the SMU AT&T Center for Virtualization […]
ebook
The ROI Of Sustainability
Forrester research shows that sustainability-focused companies have seen better financial results relative to their peers, as well as higher employee retention and improved customer satisfaction.
Build a use case for sustainability in Europe and Asia Pacific.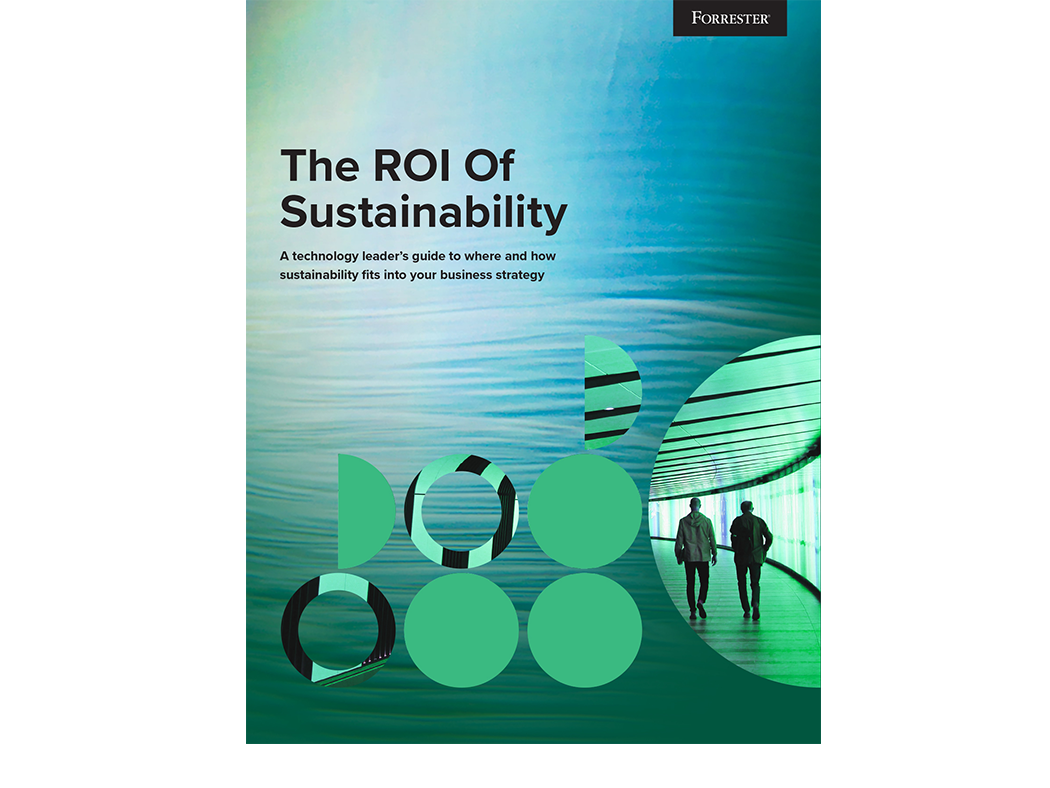 Webinar
Incorporating Sustainability Into Your Technology Strategy
Sustainability initiatives come with more than just goodwill, they result in tangible "green money" for the leaders willing to innovate their technology strategy
Webinar
The State Of Environmental Sustainability In Asia Pacific
Positive climate action is critical for protecting the environment, but it's also set to become a key competitive differentiator as APAC firms battle to build and maintain customer trust.
Guide
Getting Started With Your Sustainability Strategy
Innovative leaders everywhere must take steps to build more sustainable organisations. Sustainability-focused companies have better financial results relative to their peers and investors are doubling down on sustainability investments. We've created the following guide to help you get started on your own sustainability strategy.
Sustainability At Forrester
Forrester commits to reducing our carbon emissions by more than half compared to 2019 levels by 2025.