Forr The Planet: Sustainability Interview Series — Mary de Wysocki, Chief Sustainability Officer at Cisco

Photo Copyright: Abhinav Sunil
Sustainability in digital communications, data transmission, networking, and telecommunications is a critical component for climate action. According to the International Energy Agency, data transmission networks consumed 260–340 TWh (terawatt-hours) in 2021, or 1.1–1.4% of global electricity use. Sustainability efforts in telecommunications have to span efforts in hardware as well as software; they must include strategies in energy, circular economy, supply chain, manufacturing, and reducing embodied carbon as well as lifecycle emissions.
In our previous interview with Cisco, we spoke with R. Scott Herren, Cisco's executive vice president and chief financial officer, and Francine Katsoudas, executive vice president and chief people, policy, and purpose officer. Mary de Wysocki was appointed the chief sustainability officer in August 2022.
We spoke with Mary about her priorities, how she is building the sustainability team further, the circular economy, and the challenges that lie ahead in the telecommunications sector.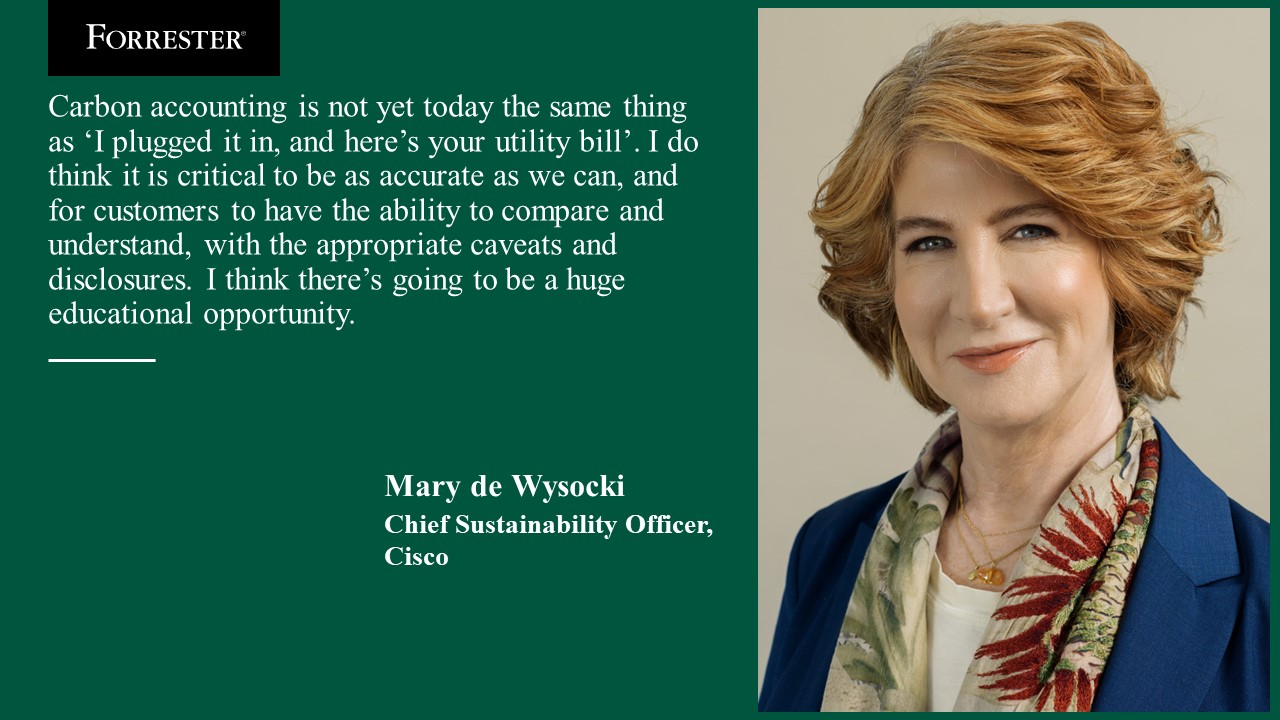 Abhijit: How did this particular focus for Cisco evolve to have a chief sustainability officer (CSO)? Why couldn't this team have been under the umbrella of another corporate function?
Mary: Our first Corporate Social Responsibility report was published in 2005. Even back then, we talked about what we did in terms of environmental sustainability. We had been operating in the past as a cross-functional team that collaborated and worked well together across Cisco organizations such as corporate affairs, supply chain, workplace resources, responsible procurement, legal, and finance. We would set goals and report out on our progress.
About 2–3 years ago, we started to talk about formalizing a CSO role. Back then, we were already making progress. As we entered into 2020, we started seeing more customers, especially in the UK and Ireland, asking us about our net zero greenhouse gas (GHG) emissions goals and our position. That created a bigger conversation, and we spent some time analyzing this within our cross-functional group. Also, in 2020, Cisco as a company identified our purpose to "Power an Inclusive Future for All," and stemming from that, the role started redefining itself and becoming an executive leadership-level conversation. As we started moving down that path, and interest grew among other teams, we realized that, on top of growing expectations around reporting, we needed to create a bit more harmonization. How do we coalesce, harmonize, and drive what seem to be multiple possible strategies for net zero today?
I think it was a combination of the external trends, reporting expectations, and, quite frankly, our customers and employees saying that this is important that led to the creation of the CSO role.
Abhijit: How are you thinking about building this team into the future?
Mary: We are still looking at an organizational model that is very lean. We are designing for functions to have dedicated sustainability individuals within teams, with whom I can work with to embed purpose, net zero strategies, sustainability, and circularity within their particular function. I see the CSO as a stewardship role with subject matter expertise and the ability to look at the priorities across the company with an eye toward harmonization, acceleration, and impact.
I think the biggest opportunity Cisco has is helping our customers transition to a low-carbon economy that is both digital and green.
Our team is therefore going to have individuals who will drive sustainability in operations and embed circularity and decarbonization, and they'll match up to functional leaders. There are many internal groups that are already advanced in their thinking, such as our global energy management team. For others, my team will work closely with them to provide expertise as they develop their strategies.
I will also have team members who are very knowledgeable on carbon accounting, lifecycle analysis, and different reporting frameworks. I envision us creating a "center of excellence" around this work.
One of the other roles that will be part of our team is what I refer to as a "transformational architect." As we embed circularity into the business, we are changing policies, processes, and how we think about our operations. Creating these roles is a trend we see with our customers, as well.
What's fascinating about the team, which resides under Fran Katsoudas, executive vice president and chief people, policy, and purpose officer, is that we are connecting our people to our purpose, enabling our people to transform and lead, and increasing engagement — and that shows up in our innovative products and solutions. Ultimately, this can help us contribute to our customers meeting their sustainability goals.
We also have specialists in government affairs, which is critical, because we are going to continue working with our public sector leaders on this transition and their commitments. Related to this is our Country Digital Acceleration Program, which helps countries accelerate their digital journey. We work closely together to co-invest in countries moving toward digital in a green and inclusive way. We're moving to this low-carbon economy, and part of our role is to help make this move inclusive.
Abhijit: Is the chief sustainability officer therefore an ombudsman inside the company on behalf of the environment?
Mary: My role is of a practical optimist, or practical idealist. It is also storytelling underpinned with strong business acumen.
Abhijit: As chief sustainability officer, what is your team particularly responsible for?
Mary: I have a really interesting role, because I'm stewarding environmental sustainability and supporting the development of our environmental, social, and governance (ESG) reporting, where we describe our commitments, goals, progress, and impact for the ESG topics that are significant to achieving Cisco's purpose and are important for our stakeholders.
I look at what we are doing to decarbonize, drive circularity, enable our customers, help our suppliers, and expand our impact beyond our value chain — and at the intersection between climate change and humanitarian crises — what we can do ultimately to support more resilient communities.
Another aspect is the Cisco Foundation. As you wrote about back in June 2021 after speaking with Fran and Scott Herren, executive vice president and chief financial officer, the Foundation made a $100 million commitment that focuses on increasing grants and impact investing for promising climate solutions.
Abhijit: What are some important priorities and questions in front of you for your net zero journey?
Mary: Sourcing renewable electricity is a critical part of Cisco's scope 1 and 2 GHG emissions reduction strategy. We continue to prioritize executing longer-term renewable energy contracts like power purchase agreements and utility green power contracts that can add more renewable energy to the grid.
A critical enabler is going to be the greening of the grid and supporting our customers and suppliers in adopting renewable energy. If we want to drive energy efficiency, we have to think about modernization as we think about shifting.
If you look at the Cisco Foundation, which is supporting climate solutions through a combination of grants and impact investing, and sometimes blended finance, as well, you might see them invest in something that could create renewable energy capacity or scale carbon capture capabilities. One organization that the Foundation supports that I'm really fascinated by is Vesta, which is testing the mineral olivine as a way to accelerate coastal carbon capture.
The reason I bring this up is that I think this is where private sector companies can play a really interesting role. Our support sends the right signal and shows that these innovations and these markets can be super valuable in terms of reducing global warming.
Abhijit: What are your main priorities with the circular economy and addressing this within Cisco?
Mary: This year, as we developed the chief sustainability office, we further blended the team members that were working in supply chain, rotating them into my team, and connecting the dots more closely between circular economy, net zero, and the broader strategy. One of the most important goals we set is to incorporate circular design principles into 100% of new products and packaging by 2025. This includes the materials we use, how we standardize and modularize our products, and how we think about packaging — like reducing foam, reducing virgin plastics, and using more recycled materials. We developed a circular design evaluation methodology and tool to enable us to track progress toward that goal.
We are also increasing our focus on designing for repair, disassembly, and reuse. Cisco's Unified Computing System (UCS) is a good example: UCS servers have been engineered to be quickly assembled and disassembled using common tools. Built with modular, easily removable components, UCS products are optimized for repair, reuse, and eventually recycling.
That's going to be a big focus of mine — to continue helping our teams and our customers understand the benefit of remanufactured equipment, what that might mean for their carbon accounting, and, more important, the positive environmental impact it can have.
Through the Takeback and Reuse Program, Cisco facilitates product returns for end-of-use gear at no cost and ensures that it goes to its next best use. Cisco reuses and recycles nearly 100% of the equipment that is returned to us. This is something some customers may still not be aware of, and we continue focusing on raising awareness about this and making product returns as easy as possible.
Abhijit: What are some big challenges that you are seeing ahead of you in the telecommunications industry, and how can Cisco play a role?
Mary: One of the biggest challenges I see from a net zero perspective is going to be reducing scope 3 GHG emissions. These are the indirect emissions that are out of our direct control, such as in our supply chain or from our customers' use of our products.
One of the biggest parts is helping our sales organization and our customers understand the value proposition of technology solutions to drive business impact and sustainability.
Through my conversations with customers, I've learned that many CIOs are well into the sustainability journey and can quantify the return on investment as well as the value of focusing on sustainability. Others are getting started.
Sustainability is a new area and language for some business decision-makers, a new taxonomy and a new internal motion. However, we are starting to see this connection between the CIO or the technology leader and the CSO; we are thinking about how to help connect the dots there.
Sustainability is increasingly a criterion in business decisions. We can help our customers meet business goals, including those related to their environmental impact.
Another challenge is the ability to compare various standards with carbon accounting. Carbon accounting is not yet today the same thing as "I plugged it in, and here's your utility bill." I do think it is critical to be as accurate as we can and for customers to have the ability to compare and understand, with the appropriate caveats and disclosures. I think there's going to be a huge educational opportunity.
Another part is putting together a portfolio that helps our engineers develop roadmaps that continue our strong history of technical innovation while also designing in sustainability, such as for multiple lifecycles, better energy efficiency, and/or using recycled and renewable materials.
Abhijit: Thank you for all these insights and your time!
Mary: Thank you!
***
Special thanks to Brenna Karr and Kelly Cordrey at Cisco.
This interview was conducted by Forrester Senior Analyst Abhijit Sunil in association with Researcher Renee Taylor-Huot. To learn more about Forrester's research on sustainability, reach out to asunil@forrester.com or retaylor@forrester.com.