As a technology leader today, you have a rare and promising opportunity to step onto center stage and become a driving force for business change. Consumers and employees alike have higher expectations for their digital experiences and demand more from the technology they interact with. If you evolve your IT culture to focus on the customer, you can build a technology strategy and architecture that not only allow you to adapt to meet changing demands, but also enable you to readily deliver on innovations that drive growth and differentiation.
An effective roadmap to customer-driven technology transformation will provide a clear vision of where your organization needs to go, a detailed strategy and practical models for guiding your organization on the journey, and tactical plans for developing the technology that will bring your vision to life. Your roadmap should help you weigh your options, understand best practices, and make the sound technology and strategy decisions with confidence — all while aligning your colleagues and teams around the same transformation vision.
Empower a culture of customer-focused innovation
The first step in a business transformation roadmap is re-orienting your organization around the customer. Forrester's research has found that companies that adopt a future fit technology approach — and therefore are deeply customer-focused — grow 2.8 times faster than their peers. Take Amazon, for example, where customer obsession, long-term thinking, eagerness to invent, and the drive for operational excellence form the cornerstones of their corporate culture.
In this era of empowered customers, technology leaders have an unprecedented opportunity to embrace bold new approaches to innovation. By evolving your IT culture to be curious, creative, and customer-focused, you can be sure that your technology strategy will drive business growth and innovation.
Companies that adopt a future fit technology approach — and therefore are deeply customer-focused — grow 2.8 times faster than their peers.
Strengthen alignment across the organization
The key to impacting business growth with a customer-first strategy is strong alignment — both within the organization and with external partners. The CIO, CTO and architecture leaders must work cohesively to successfully deploy a new tech strategy. But beyond that, it's imperative that you build strong partnerships with business leaders across the organization to enable the rapid creation of value through change. Having trusted external partners who understand your priorities are equally as essential to guiding and validating your strategy.
Forrester builds and activates alignment between technology and business leaders, unifying you around forward-looking research and a shared vision. We empower cross-functional technology teams to work together to deliver on top-line business objectives.
Evolve your operating model for transformation
High-performing IT operating models distinguish themselves by balancing the need for the delivery of value with the need for operational efficiency. A high-performing operating model will enable your organization to be:
Adaptive: Able to reconfigure core business concepts.
Creative: Able to bring emotion and engagement into all customer experiences.
Resilient: Able to deliver even in times of disruption.
Adopting a new technology strategy and operating model that focuses on customers delivers tangible benefits: Standard Chartered Bank realized a 45% increase in digital service in one year with this approach.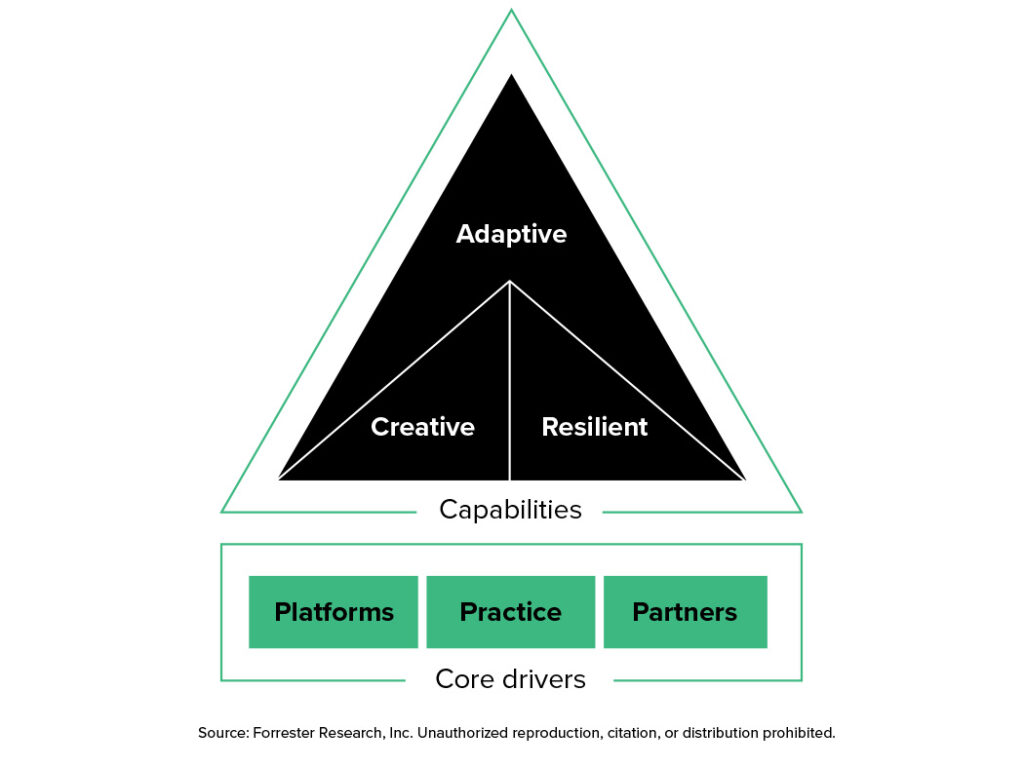 Modernize your tech faster with cloud
One of the fastest ways to deliver innovative experiences to customers and employees is by leveraging the agility of modern infrastructure and ecosystems. Companies that have embraced cloud platforms, practices, and partners can more easily adapt to change, enable creativity at speed, and build resiliency into their digital operations. Organizations that haven't developed a clear cloud strategy that aligns to their business goals risk incurring high technical debt and slower digital transformation.
Forrester's Cloud Strategy Fundamentals Model helps technology architecture leaders define their strategy and identify the right mix of cloud platforms, partners, and practices to drive business growth.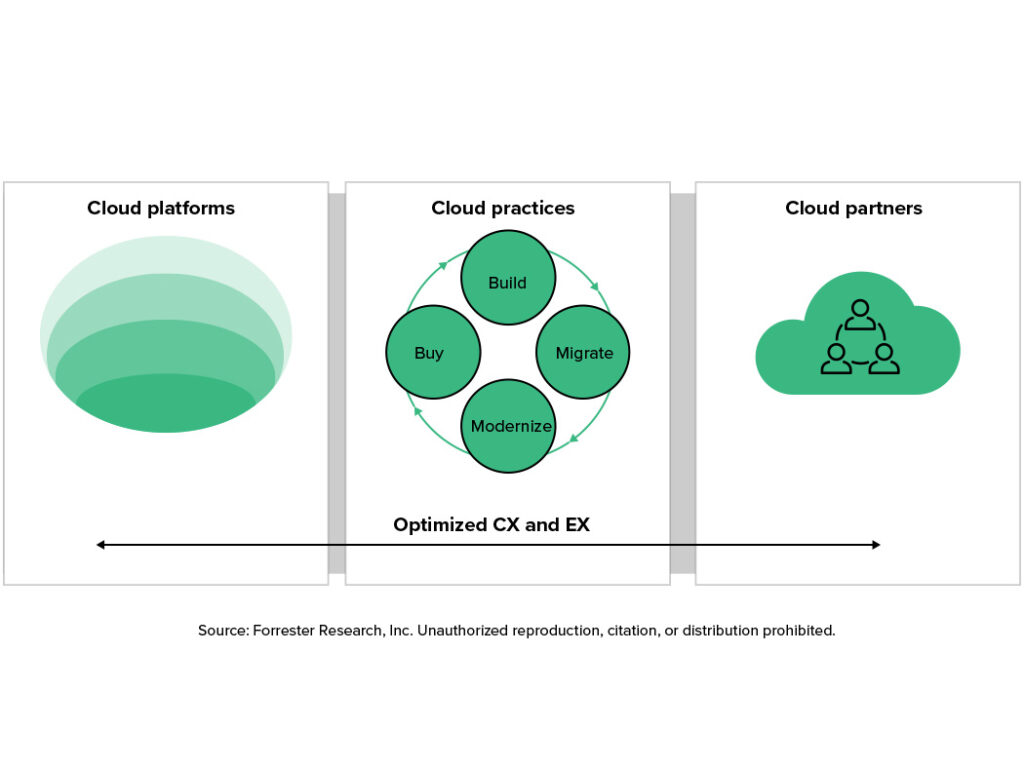 Take an AI-first approach to data
Increasingly more and more personalized and customer-centered experiences are underpinned by data flows and machine learning (ML).
To maximize the effectiveness of AI in those experiences, it is critical that you reset your data strategy to support the development of ML models. Rather than retrofit your data into an AI-enabled experience, you need to think AI first in your data strategy and architecture. Forrester's Connected Intelligence Framework and approach provides the structure technology architecture leaders need to leverage data in AI applications to drive transformative customer experiences and real-time business decisions.
Make it secure and sustainable
For technology-driven transformation to work well, security and risk management must be incorporated at every step of the journey. Security, privacy, and risk management are the foundation of a trusted business. Yet only 8% of security leaders have implemented advanced cybersecurity and privacy practices. Our Security & Risk team helps clients move beyond the old CIA triad of confidentiality, integrity, and availability — to prioritize competence, integrity, and empathy as guiding principles and practice Forrester's Zero Trust Model of information security. Forrester clients are able to stay ahead of threats, safeguard their reputation, and create privacy-by-design experiences.
Also important today is ensuring your IT transformation vision and strategy is sustainable. Information and communication technology equipment alone is responsible for about 1.4% of total global carbon emissions and, right now, data centers consume close to 1% of electricity of the world. When you incorporate sustainability into your technology strategy you not only improve business operations, but you also enhance the employee experience, attract customers and investments, and contribute to a long-term growth strategy.
Choose a partner whose expertise aligns with your priorities
Today, technology leaders are measured on their ability to deliver more value in less time and fuel exponential growth. To be successful, you need to be able to quickly and confidently make technology decisions that will meet the demands of your customers and employees. With Forrester by your side, you'll have the confidence to break away from digital sameness, leveraging emerging technologies to win and attract more customers and drive business success.
Whether you're a CIO or CTO leading an IT organization, heading up an enterprise architecture or DevOps organization, Forrester provides the bold vision, curated frameworks and tools, and hands-on guidance you'll need to convert your existing infrastructure into a customer-obsessed growth engine.
Our services for technology leaders and their teams include:
Forrester Decisions For Technology Executives
Designed to help leaders define and execute a future fit strategy that empowers the business to stay ahead of risk and rapidly respond to changing demands using re-envisioned operating models, technology experiences, and optimized tech stacks that accelerate growth.
Forrester Decisions For Technology Architecture & Delivery
Designed to help leaders collaborate to advance modernization initiatives. With a holistic approach that will help you accelerate delivery, improve value streams, and positively impact critical business outcomes.
Talk To Us
If you'd like to have a conversation about how Forrester can help you facilitate transformation in your organization, complete the form below and we will be in touch shortly.