BT Transformation Q&A With Sharon Cooper, Chief Technology Officer, BMJ
The age of the customer demands more of companies, forcing them to change how they develop, market, sell, and deliver products and services. In response, CIOs must invest in business technology (BT) — the technology, systems, and processes to win, serve, and retain customers. At Forrester's Forum For Technology Leaders in Lisbon (June 2-3), leaders from firms like BMJ, Portugal Telecom, BBVA, Mastercard, Alliander, DER Touristik and UniCredit will share strategies that you can use to achieve BT transformation at your organization.
In her Forum keynote, Sharon Cooper, Chief Technology Officer, at BMJ Group — a global provider of healthcare intelligence — will outline how BMJ has moved from a traditional approach to product development to one driven by customer needs. Sharon became BMJ's first Chief Technology Officer in September 2013, returning to the group after 5 years working on Directgov, the UK government's single access point to public services online. As CTO, Sharon is responsible for all technology systems that deliver and support the BMJ portfolio of around 80 digital products and 60+ online journals, as well as the internal business systems and more traditional IT provision for staff working in BMJ across the globe.
I caught up with Sharon in the run-up to the Forum to find out where she believes BMJ is on the BT transformation journey and how the need to become customer-obsessed is influencing her technology management organization. Join us in Lisbon to hear Sharon's full story!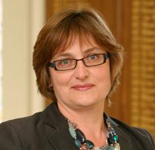 Q: How is the age of the customer impacting BMJ as a global provider of healthcare information, and would you say BMJ is customer-obsessed?
A: BMJ is changing, but we've not been pushed as fast as many consumer organisations. Demands from our users in the academic and scholarly publishing world have remained consistent for years. However, there are a number of disruptive challenges we can see on the horizon, and there have been many we have been through, but they take many years to really become mainstream. For example, the prediction that the internet would be the demise of the printed word, we still supply our printed journals in their millions to customers who specifically pay to receive them. Many of our users are also in locked-down working environments such as hospitals and other medical practices, where technology is restricted, and often legacy – we still have customers using XP machines and IE6 browsers.
Our customer-obsession begins with usability. We have traditionally employed doctors on staff, who would design very effectively the products we created. But we are now actively increasing the input from real, active users of our products as part of the early stage development — rather than involving them once we released the product. We're also doing significant work to really understand the different users of our products — there are big differences between the needs of a GP in leafy Surrey, a nurse practitioner in a rural hospital in India, and a recent medical graduate newly out of med school and spending their first night on call in the accident and emergency (A&E) department.
Q: CIOs and their teams are called on widen their agendas beyond IT (infrastructure) to include business technology (BT). Are you seeing a similar shift — from IT to BT — at BMJ?
A: Yes, but in my world it's also a shift from IT to IP — much of the work my software development teams do is involved in creating new products, they are not just software developers. Every line of code they create is transforming our content into valuable assets that the company can reuse — this way of explaining it has really helped our business colleagues understand the need to involve them at the outset of designing an idea. Our traditional approach would have been to spend months creating a product with internal staff, we would have done some market research, it would probably have been put on a shelf and ignored — we now bring in people into our offices, they work directly on the product, sit with our designers and UX team and really shape the product, we are looking at not just one product, but multiple variants to support the different tribes that exist within a general phrase as a "doctor".
Q: How has your relationship as CTO with other business leaders changed since you embarked on this journey — and in particular, with your CMO/Marketing team?
A: When I came back to BMJ we didn't have a marketing director; I was directly involved in deciding we really needed one. Today, she and I together are driving forward the agenda of data driven development, of analytics, of focusing our product development based on market insight, customer needs, rather than internal editorial decisions.
I hope that my colleagues would agree with me that much of what I have delivered has been to support them, to allow them to be in control of what is built, instead of waiting for Tech to decide when it was their turn, they decide what work my team does – everything is driven by business value and business decisions. I believe I have gained significant respect for that. The execs I work with seem to be fully supportive of our changes, and whilst it has been really painful for their teams, given the impact on them, they appreciate the transparency that I have bought, the speed that we can bring, the focus on ensuring we deliver services that are of high quality.
Q: Finally, what is the approach or operating model you use to plan, source and manage the resources required to support BMJ's business technology agenda? Has this model changed from when you were at BMJ prior to 2008?
A: ​The model has changed significantly — in 2008 agile was an experiment, it then became a technology approach saved for large or "special projects" rather than the norm. Agile is now the norm, although we are very careful about pushing this too far when we look at some of our back office workloads; we tend to follow a kanban approach for those. The big change is that there is now programme management, there is tracking of all activity, accountability of all work to individuals, almost no single points of failure (or those we still have are rapidly declining). The focus was on adding whatever the business asked for, creating ever increasingly complex and unsupportable applications. We now say no, we can't build that sensibly – or at a cost that is sustainable.
We're about creating a methodology that allows us to be flexible, work with outsourced partners, control our IP and assets, set our coding standards and expect everyone who works for us to adhere to them internally as well as externally. It doesn't need to be a religion, as long as we have a team that works together well and delivers.
Don't miss Sharon Cooper's session, "Creating IP, not IT: Transforming the Approach to Business Delivery," at Forrester's Forum For Technology Leaders in Lisbon (June 2-3). Register today!