BT Transformation Q&A With Marcello V. Ronco, SVP, UniCredit Business Integrated Solutions (UBIS)
At Forrester's Forum For Technology Leaders in Lisbon (June 2-3), Marcello V. Ronco, Senior Vice President and Head of Core Banking Production Line of UniCredit Business Integrated Solutions (UBIS), will be speaking about the bank's BT transformation journey and, in particular, its mobile banking initiative. Marcello is co-leading with Marketing Directors within the organization the restructuring of UniCredit Retail in Italy, Germany and Austria, to realize the company's ambition to become a truly digital omni-channel bank. In his session, Marcello will explain how to change a traditional IT department so that it is set up to support a modern multichannel bank, and why IT plays a strategic role to ensure the right level of customer service through mobile banking.
As I prepared for my role as Forum Chair, I spoke to Marcello about his views on the age of the customer and the impact it has on financial services organizations such as UniCredit. Here is what Marcello shared with me, and I hope you will enjoy his answers as much as I did.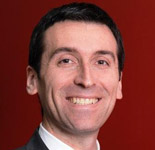 Q: How is the age of the customer impacting your industry (financial services) and the solutions provided by UniCredit Business Integrated Solutions?
A: The age of the customer has always been a driver for how banking products and services are developed. Technology makes it easier, and with very interesting effects on customer experience and customer satisfaction. For instance, more sophisticated advisory services, remote support leveraging advanced mobile videoconference and remote desktop sharing technology are now offered to traditional customers. For the youngest customers, it is easier to configure new products, such as personal credit offerings, which can be subscribed to via the Internet and/or a call center. Finally, for customers less inclined to use technology, it is necessary to develop new tools to make them feel more comfortable about accessing the services offered in UniCredit branches. One example would be an automatic queue manager that identifies customers and personalizes assistance to optimize time spent in the branch.
Q: Tech management teams are called on to support these changes, widening their agendas beyond IT (infrastructure) to include business technology (BT) — technology, systems, and processes to win, serve, and retain customers. Are you seeing a similar shift in focus — from IT to BT — at UniCredit Business Integrated Solutions? To what extent are your tech decisions guided by customer needs?
A: The user experience is one of the main differences when I compare the banking market today with the one of some years ago. There is a huge focus and effort to ensure the best user experience to our customers: easy access to services, easy ways to approach services for commercial proposals, easy tools for advice – and these are just some examples. For achieving such a result, IT has been asked to drastically change its approach to setup infrastructure and create software. All of our efforts today are more and more targeted at the goal to improve the customer UX. We select the architecture, tools, products and ways to work that will support us to create a better UX with a reduced time-to-market and reasonable costs. Developing a better UX requires substantial additional effort from IT if this is taken on properly with all the required technology investments.
Q: How do you and your team collaborate with your CMO/Marketing team on UniCredit's customer technology initiatives? How do you see this relationship evolving?
A: During the last year, marketing divisions directly hired technical people to manage some IT initiatives, such as CRM and UX design. This model is being challenged by new technologies like Big Data and fully-fledged omnichannel architecture. New IT job profiles – e.g. data scientists and mobile developers – are being requested and could better perform when they have a role in the IT factory.
Nevertheless, IT has to ensure a right time-to-market;therefore, UniCredit Business Integrated Solutions is organized to reflect 100% of the relevant marketing divisions of the UniCredit business. The managers from both sides are committed to the same goal and are collaborating on the planning of the project. Teams are adopting AGILE as way to work, which ensures daily checks on the cooperation.
Q: Finally, what is the approach or business model you use to plan, source and manage the resources required to support UniCredit Business Integrated Solutions' transformation?
A: In Unicredit Business Integrated Solutions, some initiatives are strategic enablers to transform the company and the banks of the group toward a digital era. For some of them, such as big data, mobility and APIs, we have dedicated units that focus on these topics to ensure the proper resource allocation, training and assets needed to maximize benefits from our investments. These structures are highly visible inside UBIS, which helps in creating awareness of the capabilities and commitment needed to share experiences and ideas.
Marcello's presentation, "The Mobile Banking Journey Of A European Bank," will take place on day two of Forrester's Forum For Technology Leaders in Lisbon.