2021 B2C Marketing Priorities In Europe
2020 has been a year of unprecedented political, social, economic, and healthcare disruption — and 2021 shows no signs of these trends slowing down. How should European consumer marketing leaders prepare for the coming year? They must get ready for a digital ecosystem with fewer third-party cookies and device identifiers, all while navigating an unpredictable economy, legislative uncertainty thanks to Brexit, and reduced budgets and headcount. And all this will take place against a backdrop of an ongoing pandemic that's driving a shift to digital.
Together with my colleagues Rusty Warner and Ryan Skinner, we interviewed many European B2C marketers about their 2021 priorities and about the tactical or operational actions they plan to take in the coming six to 12 months to adapt to the current climate.
Here are some of our key takeaways:
Marketers' Budgets And Business Priorities Have Changed
Customer experience (CX) has become the number one business priority. The percentage of European B2C marketers who see improving CX as their firm's top business priority jumped from 26% in 2019 to 46% in 2020.
Cost reduction — not revenue growth — increasingly drives profitability. Growing revenue is still a top business priority among B2C marketers in Europe, but less so than last year: Forty-one percent report this is a high or critical business priority in 2020, down from 52% in 2019.
Speed and agility take center stage. One of our interviewees told us: "Our top priority is to be agile and extremely responsive. Now that we have internalized expertise to buy social media, programmatic, and search, we can activate campaigns in 24 hours."
Focus, Adapt, And Measure To Do More With Less
Despite having more than ever to do, marketing leaders will face tighter budgets. Accelerating CX improvements, better measurement, and greater agility should guide their strategy.
Double down on customer data, and harness it to improve CX and decision-making.
Enhance metrics for key customer segments, eschewing mass measurement.
Prioritize marketing technology investments that boost engagement and loyalty.
Allocate budget to digital and mobile investments that show a clear return.
Pivot faster to an e-commerce ecosystem with direct-to-consumer brands, retailers, and marketplaces.
Embrace New Tactics To Reestablish Trust And Reboot Digital
Here are some of the new tactics that we believe will help in this transition phase:
Adapt your creative strategy to online contexts and anxious consumers.
Push circular-economy initiatives.
Mix digital and offline channels to deliver convenience.
Focus on empathy when establishing a digital dialogue.
Stop neglecting your first-party direct relationships.
Clients who want to know more can access the full report here.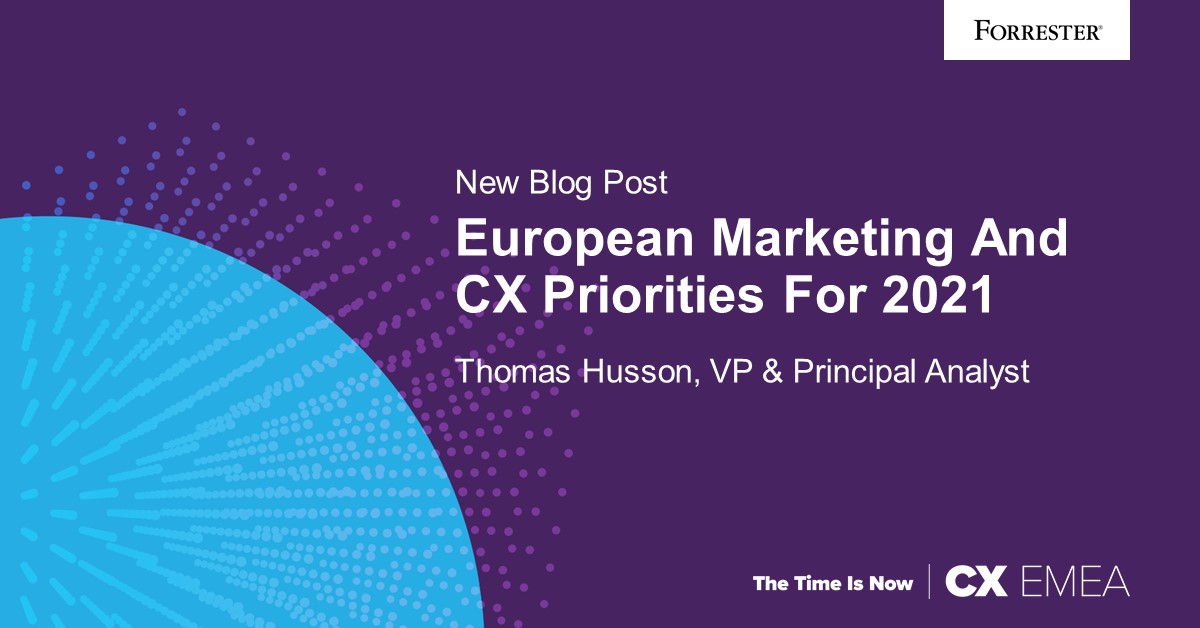 Together with Oliwia Berdak, Rusty Warner, and Ryan Skinner, we will discuss this in a panel at the CX EMEA Forum this Thursday (November 19) at 12:40pm CET. You can still register here.
Related Forrester Content