Channel And Ecosystem Leaders Are Demanding More From Partner Relationship Management (PRM) Solutions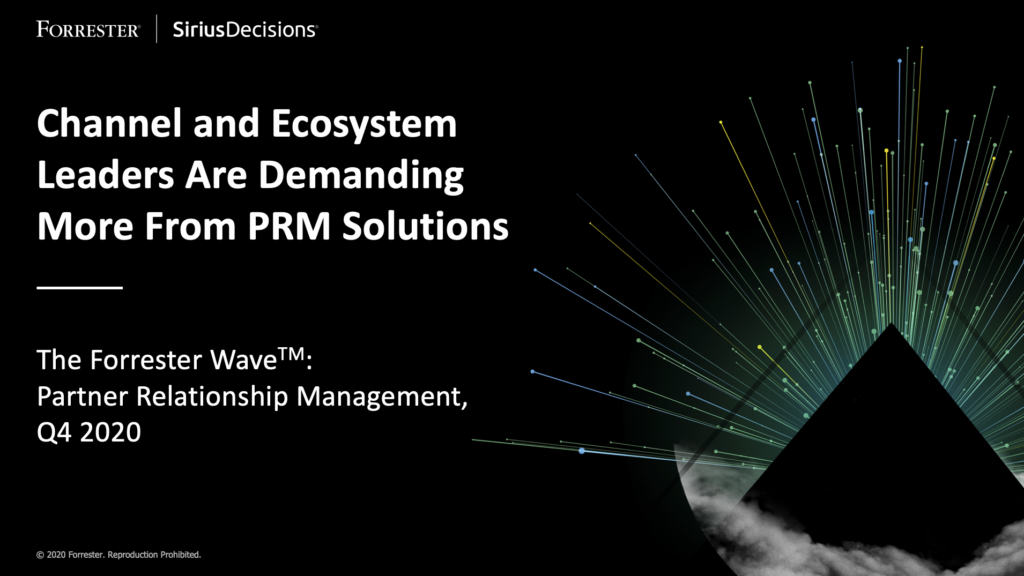 As brands increasingly use different types of partners to reach, influence, transact, and retain customers, partner relationship management (PRM) solutions are being asked to serve both traditional and nontraditional channels at a new level of scale and personalization. Managing these growing ecosystems in a consistent, predictable, and productive way is critical to the success of organizations looking to expand their go-to-market strategies.
To gauge this unprecedented growth of the channel, Accenture reported that 76% of business leaders agree that current business models will be unrecognizable in the next five years, with ecosystems being the main change agent. On top of this, McKinsey (using Forrester data) reported that marketplaces have grown more in three months during COVID-19 than the previous 10 years combined.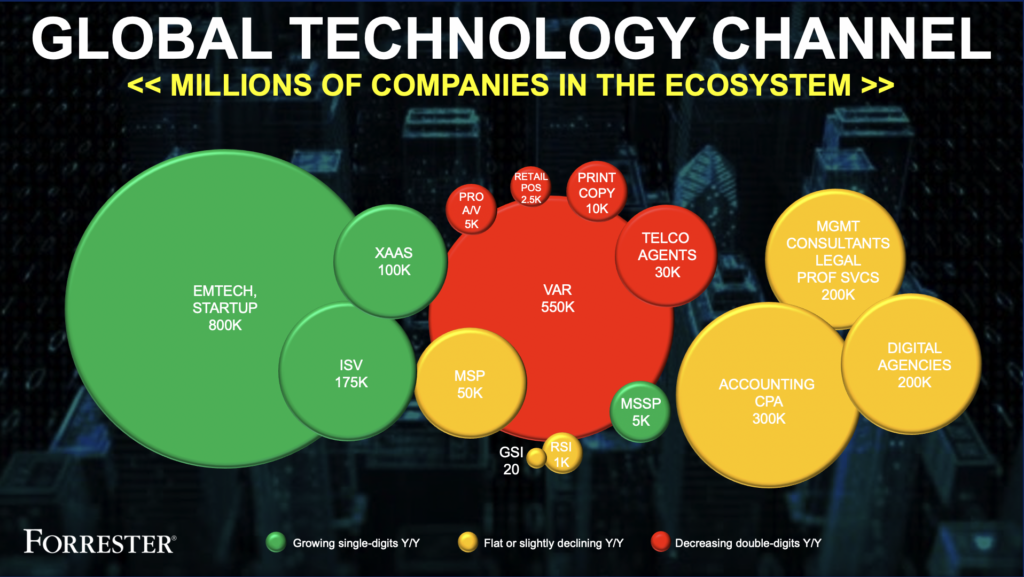 I had predicted the rise of a "trifurcated channel" in my What I See Coming For The Channel In 2020 blog early this year. In 2020, we saw numerous large vendors implement influence, transactional, and retention-style programs globally. The most common language is "build, sell, and service." Understanding that the entire customer journey is now critical for brands and worthy of investment, monitoring, measuring, and managing, PRM solutions are being pressured to provide greater levels of functionality across the board.
Another prediction from last year that is being accelerated due to COVID is the move to subscription and consumption models for brands. We have seen a flurry of activity in just the past few months, with IBM splitting its company to be subscription-based, Michael Dell announcing full transition to as-a-service for the seven brands across Dell Technologies, and Chuck Robbins announcing the same thing at Cisco. HPE, which has been on this journey for three years already, announced that it will be fully subscription-based by 2022.
In the past, PRM has been recognized as a platform that is a mile wide and an inch deep — supporting industry-specific workflows, taxonomy, and nuances. It has successfully managed partners in a linear model, moving them from recruitment, onboarding, incentivizing, enabling, and co-selling to co-marketing.
Today, in an ecosystem model, PRM is being asked to manage in a non-linear fashion, with many more permutations than the past.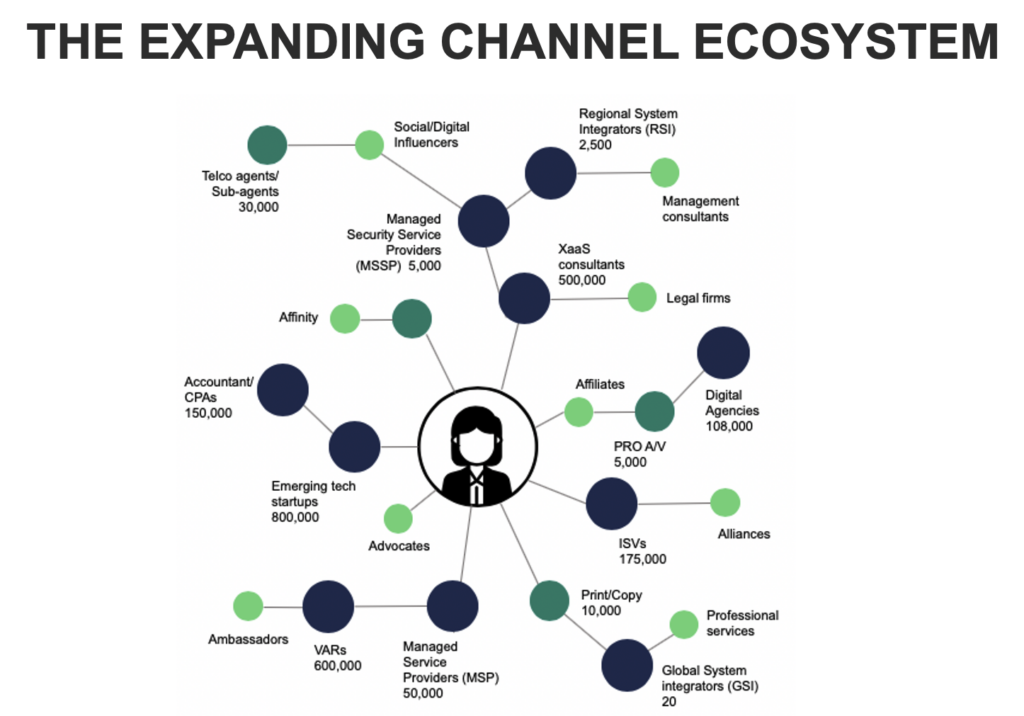 Specific changes from two years ago in customer demand include attribution for nontransactional activities, incentive and marketing funding that is decoupled from resale, support for account-based-marketing sales approaches, and better lead-to-revenue management — attempting to close the loop in a customer buying cycle that never ends.
Channel leaders have always been asked to manage chaos. With the explosion of new partner types supporting different business models, requirements for new people with different skills, channel programs with more than 100 distinct elements, advanced automation, and deeper integration of processes and technology, these leaders are looking for PRM to be the foundational layer on the channel software tech stack that will drive this growth.
Those brands that can balance their direct and indirect execution while ensuring consistent customer expectations and experience are having outsized success in the market.
The global PRM market has 27 firms competing with $401 million in revenue in 2019. Forrester estimates that the PRM market is only 50% penetrated, so the target addressable market is closer to $802 million. We also estimate that PRM generates up to a 5x multiplier for additional services and software. This solution needs to be installed, implemented, integrated, secured, made compliant, protected, and automated at scale. The 100 elements of the channel program need to be designed and executed within the solution. In addition, there are 159 total firms that make up the entire $2.1 billion channel software market — all extending PRM's functionality.
Forrester predicts the PRM software market to grow to $889 million by 2025, a compound annual growth rate of 14.2 percent.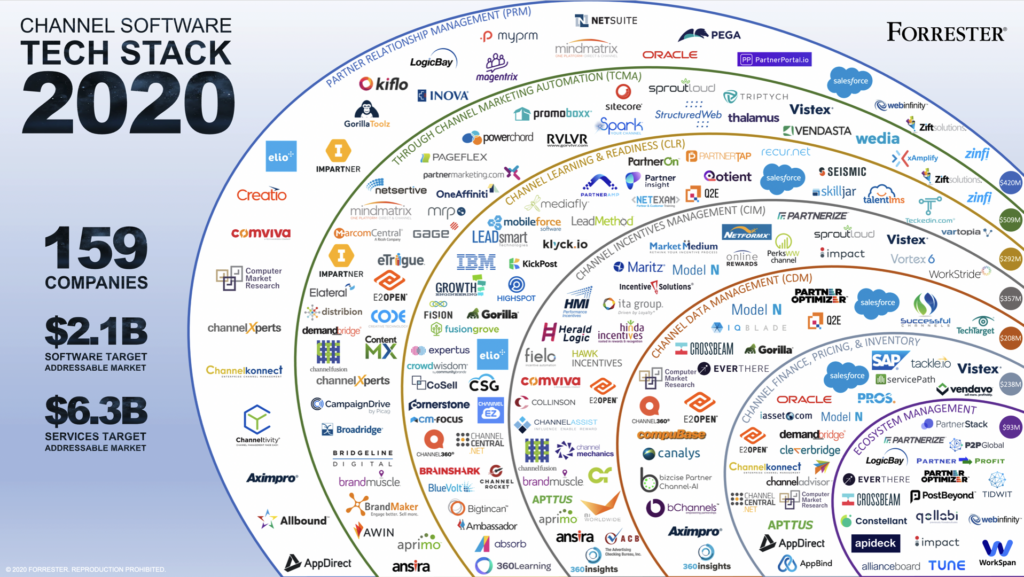 In our 22-criterion evaluation of PRM providers, we identified the 14 most significant ones — Allbound, AppDirect, Channeltivity, ChannelXperts, Computer Market Research, Comviva, Impartner, Magentrix, Mindmatrix, Oracle, Salesforce, Webinfinity, Zift Solutions, and ZINFI Technologies — and researched, analyzed, and scored them.
"The Forrester Wave™: Partner Relationship Management, Q4 2020" evaluation shows how each provider measures up and helps B2B channel and marketing professionals make the right choice.
Further Channel-Related Reading
What I See Coming For The Channel In 2020
Channel Software Tech Stack 2020
The 64 Best Channel Podcasts Of 2019
Channel Marketers Need To Become Community Marketers — Here's How
Marketplaces Make Their Mark In The Channel
The Decade Of The Channel Ecosystem Accelerates With Massive Software Consolidation
Through-Channel Marketing Represents The Third Stage For Sales And Marketing Leaders
Channel Data Is A Competitive Differentiator
Measure What Matters: Unlocking The Power Of Partner Ecosystems Demands Powerful Measurement
Time To Rethink Channel Incentives And Program Management (CIPM)?
Channel Automation Becomes Table Stakes For Partnership Success
Can You Deliver A Great Partner Experience Without Great Onboarding?
Do Channel Vendors Need Public Relations Anymore?
Channel Reimagines Physical Events, Looking To Reopen Slowly