Clari's Acquisition Of Groove Is A Milestone For Revenue Tech
The announcement yesterday that Clari will be acquiring San Diego-based sales engagement provider Groove is a significant step in the consolidation trend happening at the core of revenue tech. Following on from last year's acquisition of Wingman (a conversation intelligence solution), Clari joins Outreach, Salesloft, and Gong in combining sales engagement, conversation intelligence, and revenue operations and intelligence in one platform. These platforms are designed to serve the needs of multiple user personas across frontline, operations, and revenue leadership and to drive end-to-end sales and revenue orchestration.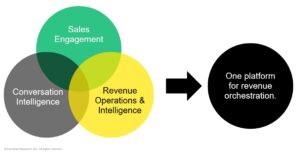 What will be the competitive impact of this convergence and, specifically, this acquisition?
Most acquisitions in these categories to date have been of smaller startups with interesting tech that enabled larger providers to plug important functionality gaps to round out their platforms but usually came with limited revenue and customer base. In Groove, Clari is acquiring a significant player in the sales engagement space and a Leader in The Forrester Wave™: Sales Engagement Platforms, Q3 2022. Groove has seen considerable success in legal, financial, and professional services, providing Clari with further opportunity to expand beyond its high-tech core further into other B2B verticals.
In addition to the demands from the market and their customer base for consolidation and simplification, there are important commercial reasons for such increased platform consolidation. Some of the key players in these categories have had IPO ambitions delayed by the changing economic conditions, pressuring valuations and cash flow. Conditions are just as challenging, if not more so, for smaller providers, creating opportunities for those with investor funding able to improve their platform, growth opportunities, and investment potential through acquisition.
What does this convergence mean for buyers?
The rapid expansion of sales and revenue tech in recent years has led to a splurge in ad hoc tech acquisition, leaving many owners of tech with complex stacks that are often poorly integrated, with mixed adoption and ROI. Such convergence and the rationalization it drives should enable tech owners to drive greater adoption and utilization of functionality in these platforms and, more broadly, drive deeper integration across the platforms that bridge sales, marketing, and customer success.
For users of such technology, especially frontline sellers, the "swivel chair" experience of having to shift from one tool to another to complete their daily workflow is a drain on productivity and creates barriers to adoption. Bringing all the capabilities that a range of personas across the sales organization need to execute engagement and manage revenue under one platform enables a unified experience that, if done right, will drive seller productivity and overall execution improvement.
What challenges will providers face, and who else will join them?
These broader platforms create new opportunities and challenges for the providers involved. While penetration of these technologies is relatively high in their core high-tech markets, there remains a large, underpenetrated portion across other enterprise verticals in B2B. To leverage these opportunities, however, providers must continue to elevate their sales teams from product to platform sales in an environment with longer sales cycles, complex buying groups, and more senior stakeholders.
As these platforms evolve, they may find themselves increasingly competing for dollars against larger, traditional sales tech categories, including sales force automation, with significant commercial organizations and sales teams built for complex enterprise software sales. How providers execute this transition of their sales organizations will significantly determine success.
Cross-selling will be the primary focus in the short term.
In the short term, Clari, Outreach, Salesloft, and Gong will likely be focused on poaching each other's clients. It will be fascinating to see how their messaging and commercial offers differ to support similar cross-sell strategies. We expect other providers to join these four through either acquisition or further product development in the coming months. Smaller providers may likely focus on increased specialization and value pricing to maintain and grow market share by servicing buyers with specific needs or tighter budgets, while others will look to new combinations of capabilities. Related sales tech categories, particularly sales readiness, sales content, and sales performance management, may increasingly look to drive further into this section of the market. Overall, there remains significant opportunity in our view for further M&A activity.
Is sales tech consolidation permanent?
Looking more broadly across technology markets, expansion and convergence is typically cyclical over the longer term. For example, people have been predicting the consolidation of martech for years, but while individual categories may consolidate, the overall marketing tech landscape continues to expand. Current convergence in sales tech reflects the fact that these technologies and the providers involved have reached a certain level of maturity, supported by tighter economic conditions that impact investment, growth, and buyer demands. The arrival of generative AI, however, is fueling new investments and capabilities that will drive a new wave of expansion, market entrants, and inevitably new categories.