Closing The B2B Trust Gap
We all want to be trusted, and, in turn, we are inclined to trust others. So it is perhaps unsurprising that we have a highly inflated sense of levels of trust, especially in our professional lives.
When we asked B2B marketing and brand leaders in Forrester's 2021 Brand And Communications Survey if they act in a trustworthy way, the majority of respondents believed they performed remarkably well. Comparing themselves with the average or typical company, an astonishing 92% of respondents felt they were more honest than the average, and 90% thought customers believed and relied on their commitments more than the average. Obviously, this can't be true, and data on actual levels of trust in B2B-heavy industries bears this out (see the figure below). According to research from the marketing and public relations agency Edelman, levels of actual trust are much, much lower and have been in steady decline for decades.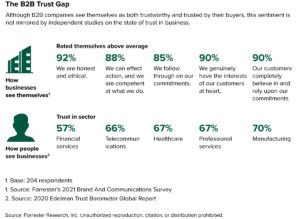 The B2B trust gap — the gulf between what B2B companies think of themselves and what audiences actually believe — has never been larger, yet we know that B2B buyers crave trust. When we conducted a meta-analysis of almost 20,000 survey responses across multiple market segments, trust was always the most important brand attribute for buyers.
Developing trust is a new mandate. B2B companies that earn trust with their brand constituents — customers, prospects, employees, partners, and influencers — will experience increased levels of engagement, loyalty, and advocacy. Customers who trust are more likely to renew, entertain a new product or service, and recommend the company to others. Employees who trust are more likely to become brand ambassadors who then fuel better customer experiences.
Many B2B leaders fully understand the value of trust, but they struggle to operationalize trust so that it is transformed from something abstract to something actionable. B2B companies need a mechanism for designing and executing trust strategies and for building trust equity. That's the impetus for our new research report, The B2B Trust Mandate, in which we explore the dimensions of trust, how risk-reward calculations drive the salience of trust for buyers, and what steps marketing leaders need to take to build and preserve trust for their brand. Hopefully, this will help you close the B2B trust gap.
Related Forrester Content