CPG Marketers, Take Some Lessons From Super Bowl LVII
OK, let's get this out of the way: As a lifelong Eagles fan, I was devastated by the outcome of the Super Bowl, and my TV was lucky to survive the last 2 minutes of the game. But as a career marketer, I managed to shake it off and put a professional lens on my other favorite part: the advertising.
During my time with Mars, I gave presentations to student recruits at the Kellogg School of Management on the strategic considerations of Super Bowl advertising and have always tried to take a holistic view of what makes for an effective showing on advertising's biggest stage. And while the opportunity to advertise in the big game may not present itself to many brands, some of the takeaways are applicable to any-size brand at any time of the year.
Always Remember How Advertising Works … And How It Doesn't Work
Whether it's a Super Bowl commercial or a billboard at a bus stop, most offline advertising functions largely in the same way: When done right, it creates memory structures that increase salience — the propensity to recall the brand in buying situations. Those buying situations might be 5 seconds after the ad or months later, depending on the category and consumer behavior. This is why the ROI of brand (or "persuasion") advertising can be hard to measure in the short term. This kind of advertising doesn't typically create an instantaneous surge in product demand. There were likely no lines outside the GM or Dodge dealerships waiting for them to open the morning after the Super Bowl to sell electric pickup trucks, just like there were no throngs of people banging on the doors of Walmart demanding mayonnaise. That doesn't mean that the advertising wasn't effective, however — it's up to consumer packaged goods (CPG) marketers to optimize conditions for success.
Learn From These SB LVII Examples To Maximize The Impact Of Your Marketing Efforts
Aim to grow the category: In CPG, the way to ensure consumer and customer centricity is to use marketing efforts to drive category growth. There were very few CPG brands that did this well during this year's Super Bowl. Hellmann's, though, had a strong usage-occasion-based strategy, and as a category leader, it will more likely benefit from any increase in consumers making more leftover "Hamm and Brie" sandwiches. Will that drive enough growth to offset the cost of the media buy and a three-celebrity production? Time will tell, but you can bet that Unilever's retail customers were thrilled with the investment. Heineken likewise is the first major brand to put the growing nonalcoholic beer category on the Super Bowl, and Avocados from Mexico continuously delights its retail produce buyers by advertising this category.
Align your mental and physical availability: One of the single biggest factors that determines whether a CPG company fully leverages its advertising or not is aligning retail conditions with media investment. The day after the Super Bowl, I walked through two of the largest national retailers (Walmart and Target) to see if the advertised brands had a commensurate in-store presence. I wasn't surprised to see large pallets of Downy, endcaps of Planters peanuts, and, yes, even baskets of Hellmann's mayonnaise. M&M'S leaned into cultural controversy to create a tremendous amount of buzz prior to the Super Bowl but at the risk of alienating its most important retailer (Walmart), which caters to the broadest range of American shoppers. The display pallet I saw there suggests that the brand adequately toed the line, however. What I didn't readily see was Pepsi Zero Sugar, which was the focus of two different celebrity Super Bowl spots.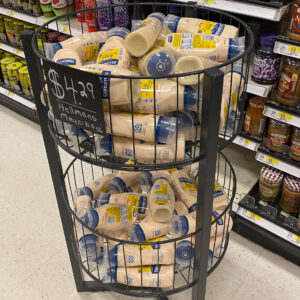 Make it easy for an overloaded consumer: Advertising campaigns can take on a life of their own and miss a simple connection with the consumer. The Super Bowl often has extreme examples of this: vague advertising with QR codes being one of them. Simple, clear, and relatable stories connecting with consumers at an emotional level (be that humorous or serious) while also linking closely to brand equity components will do a better job of encoding the brand to memory. Don't make consumers chase a brand around the internet (or metaverse) to discover its benefit. And don't muddy the message with gimmicks and distractions. Bud Light told a very simple and effective story about how its beer can help pass the time. Sam Adams found a funny on-brand way of communicating the new benefit of "brighter." Yet Downy made its ad more about the actor than the brand. And Crown Royal made a really fun and informative ad about … Canada???
The Super Bowl is an incredibly unique venue for marketers. But it's hard to break through the clutter for attention — especially when there's no clear brand linkage. And even if you're not competing in the "Ad Bowl," the takeaways above can ensure that a brand wins the long game.
From brand strategy to comms planning to agency selection and partnership, Forrester is here as an objective thinking partner as you tackle your next challenge. If that pun didn't scare you off, reach out to me or set up an inquiry with one of our analysts.