Economic Uncertainty: Here's How Consumers Are Responding
The economic turmoil trailing in the wake of the COVID-19 pandemic is roiling. CMOs cannot simply dust off their recession playbooks from years past and expect to understand — let alone serve — customers today: The unique combination of social, economic, and political tensions in this moment will shape when, where, and why consumers are willing to open their wallets. Forrester's June 2022 Consumer Energy Index And Retail Pulse Survey, the latest wave of data in our ongoing multimethod tracking of consumer attitude and behavior, reveals that US consumers are:
Torn between wanting to believe in a post-pandemic recovery and facing compounding fears. Since 2020, consumers have been desperate to recreate a sense of normalcy, and the peeling back of social distancing and mask mandates promised to make that a reality. But a devastating war, mass shootings, and controversial landmark Supreme Court rulings have shocked consumers back into a state of fear and chaos. Consumers' desire to believe in a pandemic rebound clashes with worries about persisting crises and leaves consumers struggling to cope with uncertainty: At the end of June, US consumers were split 50-50 on whether to fear the rise of ongoing coronavirus variants and whether they believe they can handle the economic impact of the pandemic.
Bracing for a recession, though actual behavior change varies by age and income. Extreme uncertainty exacerbates the economy's downward plunge. According to the University of Michigan's Surveys of Consumers, US consumer sentiment has declined to an all-time low, and consumer uncertainty surrounding long-run inflation has hit its highest point in 30 years. Forrester data adds that younger consumers are less sensitive to — and less prepared for — the financial fallout than their older counterparts: 40% of adult Gen Z consumers believe that fears about the recession are greatly exaggerated, compared to 24% of Gen X. And only 35% of Gen Z consumers are confident about how to manage finances in an economic downturn, compared to 49% of Gen X. Also, higher-income consumers remain less price-sensitive than lower-income groups: Today, consumers with a household income of $150K or higher are more likely to say that tangible goods make them happy, less likely to notice recent rising prices, and less likely to revise their budgets for categories such as travel and well-being.
Prepared to pull back on discretionary spend first while stocking up on essentials. On average, four in 10 consumers anticipate spending less on leisure travel, cosmetics, and fitness memberships during the next three months, relative to the previous three months. With the pandemic-driven home improvement momentum fizzling, 38% of consumers also expect to reduce spend in this category. In anticipation of cutting back on restaurant outings, 25% of US consumers are prepared to increase their spend on groceries.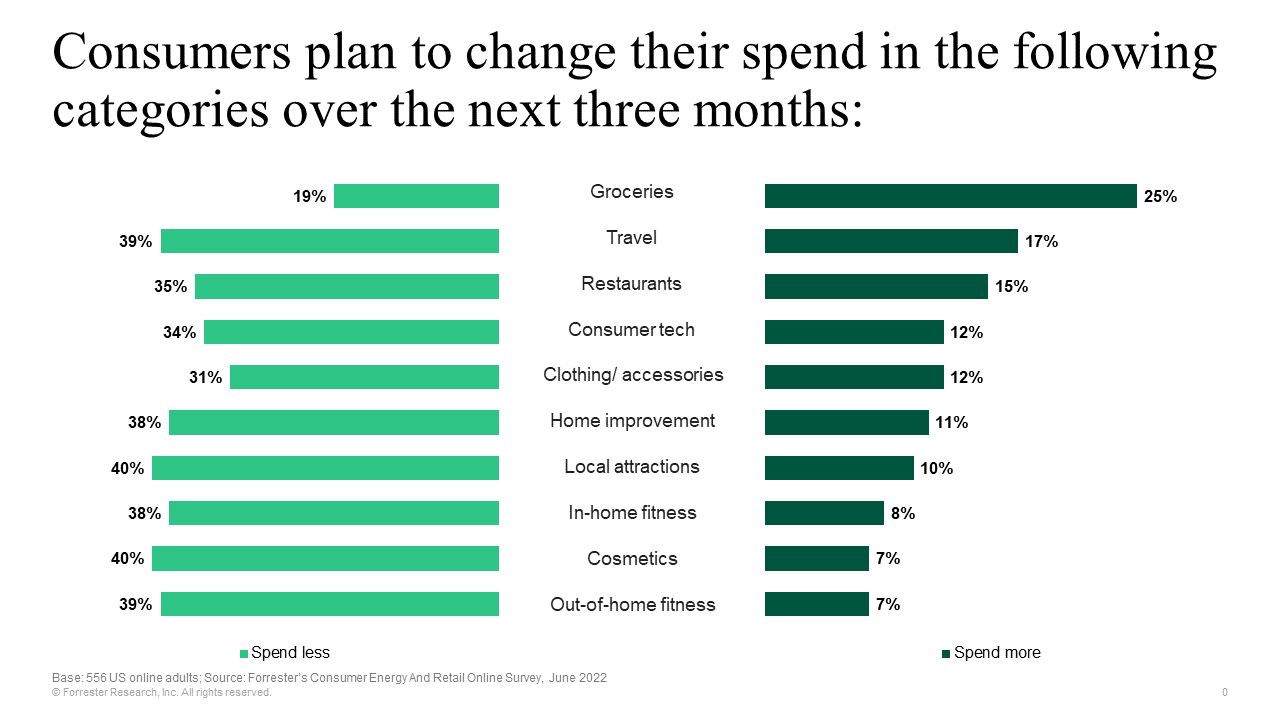 Nearly half of US consumers say that news about the state of the economy influences what they buy. Forrester's ongoing research measures how consumer perceptions, attitudes, and behaviors change as the environment evolves. Connect with me through an inquiry or guidance session to discuss the state of consumers and what it means for marketing leadership.