Exercise Executive Empathy To Get Stakeholders Excited About CX
CEOs publicly profess their love for customers, but effusive statements don't fund customer experience (CX) budgets. We combed through Global 100 firms' investor websites and found that 75% of these companies explicitly state that customers are important, yet only 36% take action by allocating investment and resources to CX projects.
So how can CX leaders turn customer fondness into funding? Develop executive empathy: Determine stakeholder priorities, connect CX to these existing priorities, and communicate the value of CX.
Determine Stakeholders' Priorities
Most organizations are awash in metrics. Your goal is to link CX to high-profile topline goals, as stated in your corporate strategy and financial reports. To determine if a goal is a high priority, look for these clues and remember that you don't have to tick every box, but you want to tick a couple of them. Is the goal:
Tracked by multiple stakeholders and/or functions?
Part of a compensation structure, like annual bonuses?
Mentioned in internal communications, like townhall meetings?
Connect CX To Existing Priorities
Armed with your list of executive priorities, look for places where the CX function can make a meaningful contribution. Remember that CX improvements are effective at increasing revenue, reducing costs, and improving resilience. Example executive priorities include "drive omnichannel growth," "improve operational performance," and "invest in innovation to drive differentiation."
Next, steer your resources to the high-profile areas that you identified. For example, if your organization's goal is to acquire customers in a new market segment, the CX function can flex its journey management muscles to improve the buying experience.
Your list of high-priority metrics and CX improvements will look something like this: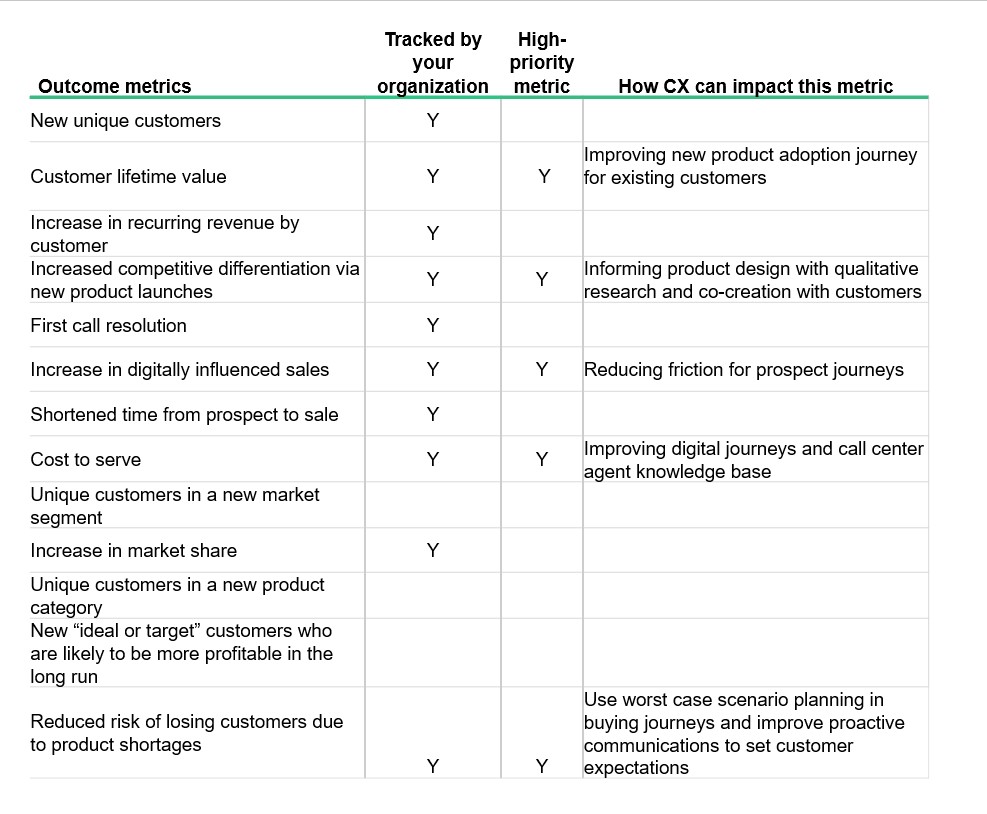 Communicate The Value Of CX
Once you have a list of areas where CX can make an impact, you should be prepared to shout from the rooftops! You are competing with other groups for budget and resources, so don't be shy.
We recommend crafting a value statement to keep your story crisp and memorable: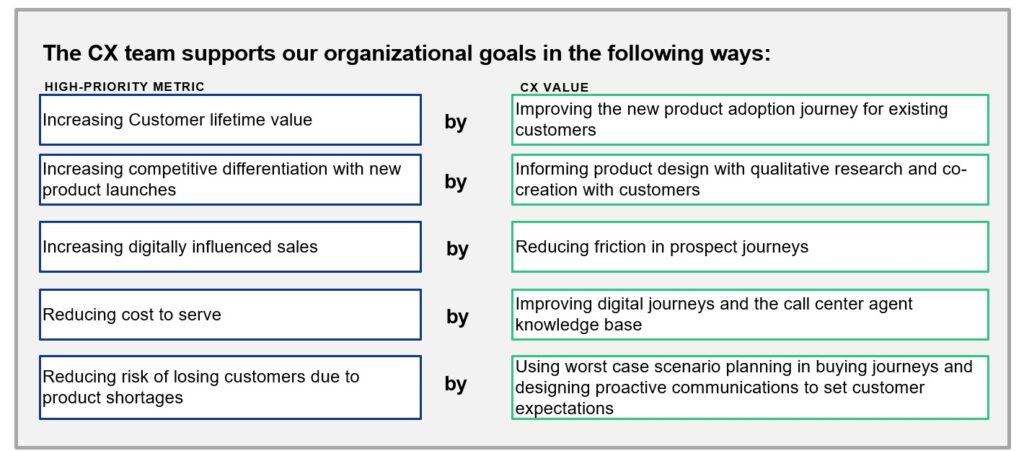 Our final bit of advice: Repetition is your friend. The Marketing Rule Of Seven says that a customer needs to see an ad an average of seven times before they remember it. Although we don't have so handy a number for getting stakeholders to remember that a high-quality, on-brand CX is indispensable, finding new ways to bring attention to CX will help you tremendously. Keep making contributions and reminding people about the power of those contributions.
For more methods for winning stakeholder support, watch the replay of our complimentary webinar, Get Stakeholders Excited About CX. If you're a Forrester client, schedule an inquiry or guidance session with Judy Weader, Maxie Schmidt, or me.