Forecasting The Future: Five Seismic Shifts That We Saw Coming
For nearly four decades, Forrester has helped clients anticipate change. We've made some pretty bold calls over the years (including these predictions for 2023) — and while we haven't gotten everything right, we have correctly forecast some of the defining developments of our time.
As our 40th anniversary approaches, we look back at a few of the tectonic shifts that we foresaw and have had the privilege of helping our clients navigate.
1993: Social networks change how we communicate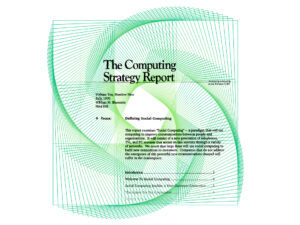 Eleven years before Mark Zuckerberg founded The Facebook in his Harvard dorm room, the late Forrester analyst (and later, our president and chief operating officer) Bill Bluestein described a technology-enabled future in which "people will converse more broadly, electronic 'communities' will be created, and text, pictures, and sounds will be woven into conversations." Bluestein's seminal 1993 report, "Defining Social Computing," also predicted that companies would change how they sell and market products and services, while "intelligent phones" would make online messaging and services easier to navigate.
We all know how those turned out.
Bluestein wasn't alone in his prescience on social media. In their 2008 social computing predictions report, Forrester alumni Charlene Li, Jeremiah Owyang, and Peter Kim described its future role in marketing. "Sponsored communities, YouTube videos, social networking groups, and widgets will become a standard part of online marketing campaigns," the analysts wrote, and advised companies to "formalize internal processes so that they can quickly and consistently integrate social media initiatives into online marketing campaigns."
2005: Blu-Ray wins the streaming war — but ultimately loses to internet video
When Blu-Ray finally beat out HD DVD in 2008 after a two-year-long high-definition disc format war, it validated a prediction that VP, Principal Analyst Ted Schadler made in 2005 — the year before the two devices were even released. ("We think it's still way, way too soon to call this race in favor of either format," an editor at Engadget wrote in response to Schadler's prediction.) The reasons Blu-Ray eventually triumphed — its use in gaming as well as movie-watching and support from movie studios —were among those that Schadler cited in his report.
Yet it was a pyrrhic victory, Schadler noted. "The irony of this format war is that it comes at the tail end of the century-long era of physical media," he wrote. By 2005, a growing number of people were watching video on demand and internet video, including the newly launched YouTube.
The shift, unwelcome to many in the entertainment industry at the time, "got me out to Hollywood many times to explain how movie studios were going to lose out with physical media," Schadler recalls.
2009: Zero Trust sets the bar for cybersecurity
Forrester has been beating the Zero Trust drum since 2009, when former analyst John Kindervag authored our earliest Zero Trust research and helped push the term into the public consciousness. Since then, it has been the basis of our security prescriptions, as well as some predictions — in 2020, for instance, we predicted that at least one Asia Pacific country would adopt Zero Trust the following year; in October 2021, Singapore announced its new cybersecurity strategy embracing the Zero Trust concept.
Though Zero Trust is now an industry standard, the road was slow. "Because it was difficult to implement early on — the only solution for any part of Zero Trust that you could buy off the shelf at the time was the physical network segmentation gateway — adoption took quite a while," says VP, Group Research Director Laura Koetzle, who was part of the research team that first proposed the Zero Trust approach. Robust adoption of cloud and mobile services and, more recently, the pandemic has greatly accelerated adoption of Zero Trust architectures.
Further validation of the model came in 2021, with a Biden administration executive order that requires US federal agencies to move toward a Zero Trust architecture. That was recently followed up by the US Department of Defense's release of its Zero Trust strategy and roadmap.
2009–2015: Employees work from anywhere
A decade before remote work became the norm for many of us, we predicted a future in which work would be location-agnostic. "Work is becoming something people do, not somewhere people go," former analyst TJ Keitt wrote in 2011. Two years earlier, Ted Schadler described its profound impact on daily routines: "Work at 6 a.m., stop to feed the kids, back at the home office by 9 a.m., meet with the painter at noon, open the office door to welcome the kids home at 3:30 p.m."
No one at that time foresaw that a global pandemic would normalize anywhere work. Growing adoption of consumer broadband, VPNs, and other remote-work-enabling technologies, paired with employees' desire for greater flexibility, was paving its rise. Later, even as negative headlines about remote work programs emerged, we predicted that the trend would continue to grow. In our 2015 predictions for infrastructure and operations professionals, Principal Analyst David Brodeur-Johnson and others called on companies to invest in flexible work to boost employee productivity and engagement.
Since the pandemic, we have continued to closely track anywhere-work adoption. In October 2020, with the course of the pandemic deeply uncertain, we predicted that the share of full-time work-from-home employees would rise from 7% pre-pandemic to 21%. Today, the number in the US is: 21%, according to Forrester's most recent Future Of Work Survey.
2014: "Alexa, change how we find information."
In an April 2014 report, VP, Research Director James McQuivey predicted that a new product category, fixed-location microphones, would soon come into existence and that Amazon would pioneer it. That November, Amazon introduced the first Alexa-equipped smart speaker to the world.
"Within a few weeks of publishing the report, I got a phone call from Amazon asking where I heard the idea," McQuivey recalls. "That's when I knew we were onto something."
The massive adoption of Siri that began with its integration in Apple's iPhone 4s in 2011 sparked the prediction, McQuivey says. He and his colleagues envisioned a faster, simpler way for people to use voice in their everyday lives — to ask questions, get the weather forecast, or play music, for instance. "With a phone, you had to pull it out of your pocket, then unlock it, then tell Siri that you wanted to ask a question," McQuivey says.
The team considered other devices already in people's homes — personal computers, smart thermostats, gaming consoles — as more logical options to house voice-activated microphones. But they concluded that a simple, small, and inexpensive portable device — one that had not yet been invented — was the best and most convenient alternative.
And why Amazon to pioneer it?
"Apple technically could do it, but they want you to invest in very expensive devices that are high margin," McQuivey says. "They don't want you to buy a $30 microphone." He and his colleagues carefully weighed "who could do this technically, who would do it in terms of their customer base and customer relationships. And that's when we said Amazon."
As the pace of change accelerates, we will continue tracking the shifts that will define the coming decades. Which of this year's calls might we be discussing years from now? Explore our 2023 Predictions hub and see what you think.
Categories