Get It Together — Now Is The Time For Marketing Resource Management
A tool or suite of tools that enables marketers to manage planning and budgeting, project and program management, collaboration and calendaring, content production, asset management, and performance analytics.
Why Do Marketers Need MRM?
First, the most glaring and acute issue is that the 2020 pandemic forced companies to shift to remote workforces in 2020, disrupted marketing plans, and accelerated digital business in a virtual world. This yielded a need for tools such as MRM to unify marketing plans, activities, and assets.
Second, the less obvious but problematic long-term issue is that marketing is facing a crisis: In a 2021 CEO study by IBM — when asked, "Who from your C-suite team will play the most crucial role for your organization?" — only 19% of CEOs selected the CMO. Marketing must re-stake its position by becoming customer-obsessed and adopting the model for modern marketing to define marketing's purpose across three responsibilities: 1) customer understanding; 2) brand strategy; and 3) brand experience.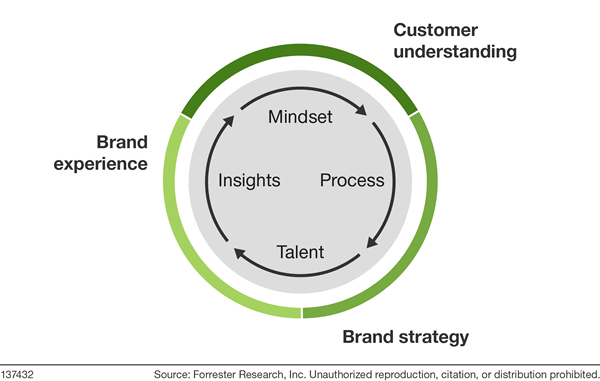 Historically, marketing has focused heavily on the third pillar: brand experience — specifically, messaging and campaign execution. But it's imperative that marketing strengthen customer understanding and brand strategy. MRM is foundational in supporting the second pillar, brand strategy, because it gives marketers visibility and control over marketing spend and budgets, a historic weak point in marketing departments. MRM also builds consistent marketing workflows and standardizes projects, which is particularly helpful when multiple cross-functional stakeholders are involved. Finally, it manages content to reduce costs and improve content distribution and use (the most common use case). Marketers need MRM, even if marketers don't recognize or call it as such. Instead, we hear common marketer challenges such as "We can't locate all of our final-approved assets" or "We're having trouble project managing across multiple teams" or "We have no easy way of keeping tabs on our marketing budgets." MRM can help.
What MRM Solutions Are Available?
MRM tools vary in their types of offering. We identified three capabilities:
Money tools deliver deep budget allocation and spend management functionality.
People tools offer project management, collaboration, and calendaring functionality.
Content tools centralize content storage, management, and distribution.
Performance management capabilities underpin all MRM solutions, though performance manifests differently within each type. For example, performance in money tools skews toward typical budget reconciliation but also trying to compare budget vs. campaign performance. People tools capture project time-to-completion, resource allocation, and effort required. Content tools track asset utilization and asset or campaign performance in the wild.
For more information, read our latest report, Now Tech: Marketing Resource Management, Q1 2022, check out our B2C marketing coverage to help you navigate the seven biggest marketing priorities, or schedule an inquiry or guidance session to chat live with us.