Employer Branding Is Marketing's New Frontier
"Now is the time … when talent is the number one priority among our leaders." — Benji Baer, CMO at commercial real estate company CBRE
The business news of late has been rife with discussions on whether or not brands should take a position on social issues. Disney's ongoing tussle with the Florida administration is playing out on national media, and the upcoming Supreme Court ruling on abortion, thanks to an unprecedented leak, has put brands on notice to weigh in. In and of itself, this is not new — consumer activism and pressure on brands are part and parcel of today's marketplace, and brands know this. What is new is the emergence of a new vector of change that is goading companies to action: employees. Disney's position reversal came about primarily due to pressure from employees. And companies such as Amazon, Apple, and Salesforce have instituted policies supporting employees affected by restrictive abortion laws.
Employer branding — building an employee-targeted brand to attract and retain talent — is at the top of the CEO's agenda. And given the native expertise that marketers have in building brands, there is no group better suited to contribute significantly to this initiative than marketers, in conjunction with the people management and employee experience part of the organization. CMOs agree with the criticality of employer branding — it is their number one priority, according to Forrester's Q2 B2C Marketing CMO Pulse Survey, 2022.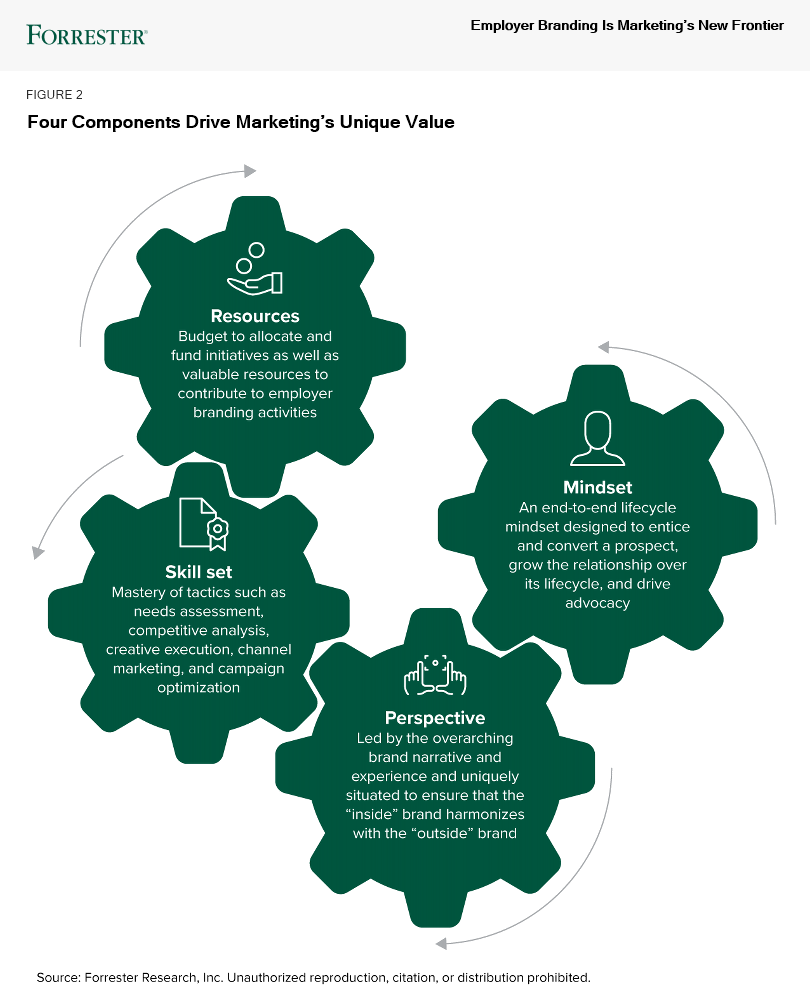 Recognizing the urgent need for marketers to jump into employer branding and realizing that most have little to no experience at it, our team at Forrester seized the opportunity to provide them guidance. We scoured the existing research and spoke with several employer branding specialists, CMOs who have embarked on this journey, agencies that have helped them on the way, and academics who are shaping this discipline. The results of our work are in the first-ever employer branding report: Employer Branding Is Marketing's New Frontier.
Here's a preview of three of our most salient findings:
Begin with emboldened marketing. Employer branding needs a different kind of CMO who understands the business — the kind of emboldened marketing that Forrester advocates, where a CMO has the wisdom to realize that investing internally often pays off more than what it would externally. At GDIT, a business of General Dynamics, the marketing leader we spoke with has taken the bold step of owning the employer branding team and budget while maintaining internal alignment with other stakeholders such as the talent organization and HR.
Be pragmatic about organizational responsibility. There is no perfect organizational model for employer branding; there's only the model that is right for your company. Our interviews identified some marketers who took ownership because the HR team was relatively new and others who served HR as the primary customer. If you don't have a formal organization in place, find one that works — no matter what the structure, employer branding benefits when marketing works in unison with others.
Amplify authenticity. Authenticity in employer branding (versus traditional consumer branding) has a high bar because the employment relationship is highly transparent. Said simply, you can't fool your employees easily. Just like an empty brand promise alienates customers, inauthentic branding puts off employees. We spoke with employer branding leaders from Audible and Danske Bank who described how they had created the right authentic environment to forge a lasting brand relationship.
If you're a Forrester client, the full report is here. Please reach out to me if you have questions and if I can be of further assistance.