A Brand's Values Must Withstand The Pressure Of Politics
When MLB Commissioner Rob Manfred announced the league's decision to relocate the All-Star Game out of Georgia, it triggered a partisan firestorm — there was support and there was opposition. While some government leaders in the US are advising CEOs to stay out of politics, 68% of US adults believe that CEOs are best positioned to drive real change in America. The reality today is that human issues are political issues. And if companies are committed to standing by their values, politics are unavoidable. But that doesn't mean a given brand should take on every single issue. Company values will determine when to choose a side.
As part of my latest Forrester report, "Brands And Politics Collide," we conducted a survey of US consumers, presenting them with 21 different political issues and asking (for each one) to what degree a brand should take a stand on them. We then created a "political consensus index" from the survey responses (below).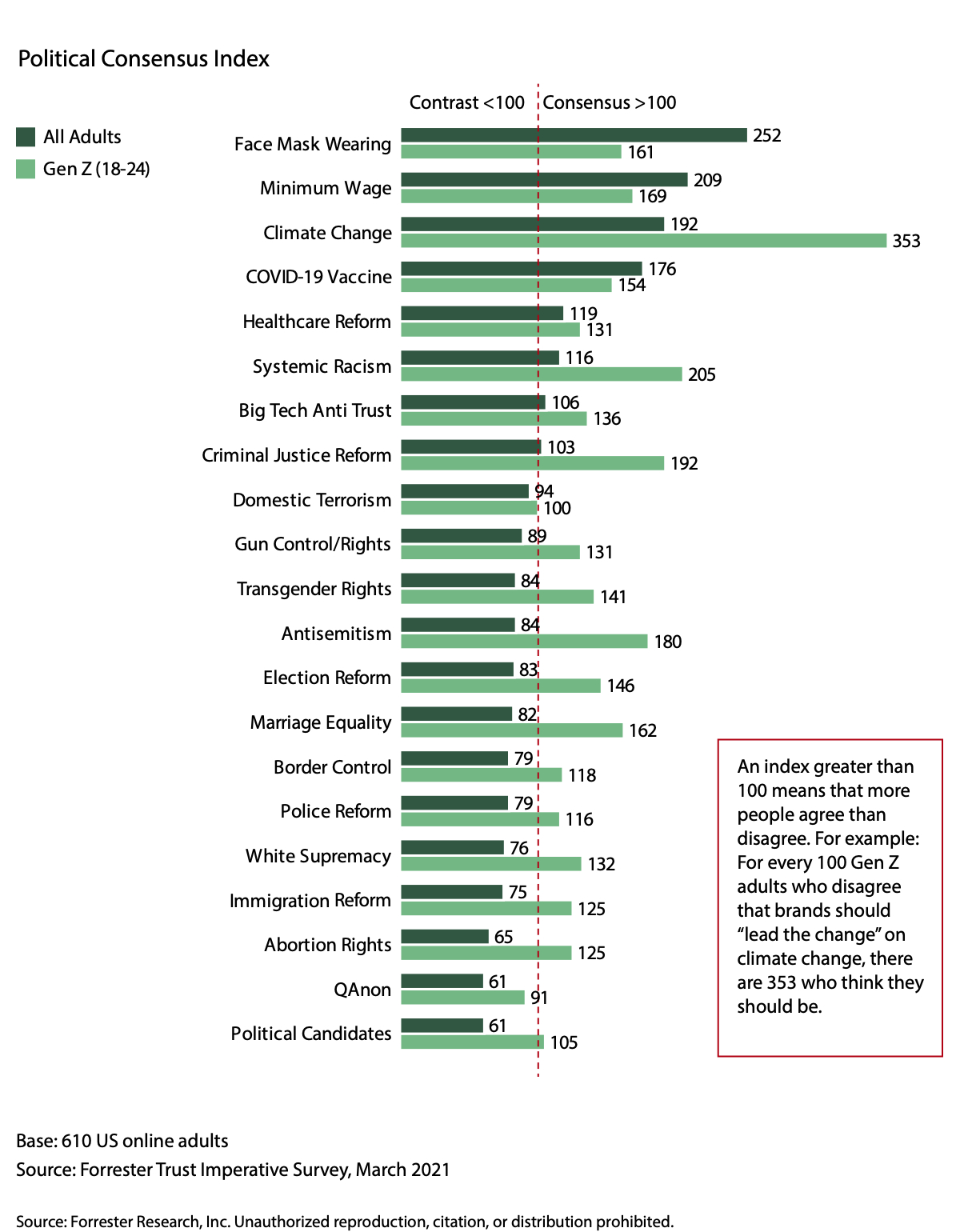 A political issue with an index over 100 means that more people agree that brands should "lead the change" on that given issue, versus "stay out of it completely." Forrester calls these consensus values. For example, US adults are 2.5 times more likely than not to agree that brands should lead the change on face-mask wearing. And when it comes to Gen Z adults (ages 18–24), note how they overindex on all but one of the political issues we surveyed them on. Of course, Gen Z is the most diverse and values-sensitive of all generations — an important consideration as brands plan for the next-generation consumer.
Why does this matter? Forrester found that when choosing between two brands with similar products, 43% of US adults will favor the company that takes a stand on like-minded social, environmental, or political values.
Take a look at my full report, and consider attending my presentation at Forrester's CX North America event, where I'll dive into much more detail — including a framework to help marketing leaders navigate the politically charged consumer landscape. In the meantime, tweet me your thoughts at @McProulx and let's chat more about it via a Forrester inquiry.
Related Forrester Content