Metaverse, NFTs, Sustainability, And Loyalty — Highlights Of Singles' Day 2021
Double 11, or Singles' Day, the world's largest online shopping festival that is bigger than Black Friday and Cyber Monday combined, has been consistently smashing mind-blowing gross merchandise value (GMV) records year by year since 2009. As the actual promotion period gets longer and longer — Singles' Day's 2021 presales moved up from 2020's November 1 date to October 20 — an even bigger GMV seems like a no-brainer. What's truly intriguing is how retailers and brands will push further to showcase new initiatives, business models, and technology innovations. Here are some highlights:
Metaverse and NFTs — Alibaba's take: Be fast, not perfect. While the Western world is watching Facebook's commitment to bring the metaverse to life, Alibaba, as usual, is moving fast. Alibaba launched a Double 11 "Metaverse Art Exhibition" on its Tmall/Taobao mobile app. The campaign shows eight limited collections in the form of nonfungible tokens (NFTs) from different brands such as Burberry and Kiehl's. When consumers purchase the Double 11 limited edition of a physical product such as a Burberry scarf, they can get a complimentary "digital collection," or NFT. Another similar campaign is the Double 11 "metaverse symphony," which is conducted by a digital avatar of Beethoven. Musicians are playing virtual instruments (in the form of NFTs) that feature a brand such as a Bobbi Brown trumpet or Coca-Cola drums. Consumers can buy these virtual products separately with Alipay. These are early experiments of using the metaverse and NFTs in B2C marketing use cases — far from mature or sophisticated but a smart move for Alibaba to test the waters by involving brands and launching something new on Singles' Day.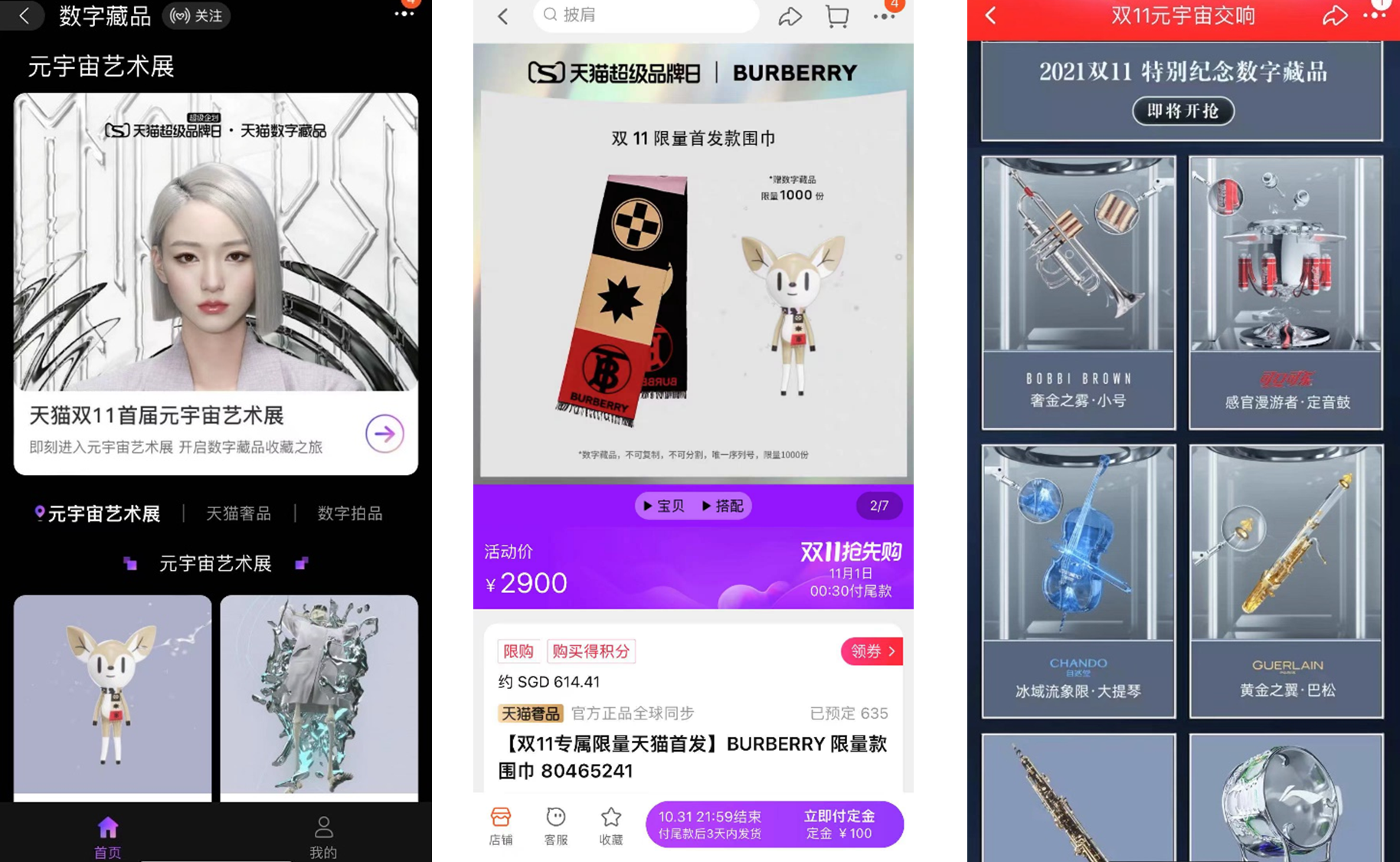 Loyalty — mature brands stay away from deal hunters. It's been a tradition that retailers and brands provide mega discounts and deals on Singles' Day. That caught brands in a dilemma: Doing this boosted short-term sales and new customer acquisitions dramatically but sometimes damaged relationships with loyal customers and sacrificed long-term brand value. Mature brands now differentiate Double 11 marketing with exclusivity rather than discounting, rewarding the most loyal customers with member-exclusive promotions and offering repurchase coupons to encourage repurchase after Singles' Day. These changes are also happening because brands need to build more direct customer relationships after China's Personal Information Protection Law took effect on November 1. They can no longer rely on third-party e-commerce marketplaces to share customer data like in the old days.
Sustainability — continue to work on a greener Double 11. In Europe, where consumers are more eco-conscious, AliExpress created a "11.11 SALE — Sustainable living" page dedicated to eco-friendly products and supported with green logistics, such as a self-pickup locker network, to reduce carbon footprint. To encourage green consumption, Tmall promised to offer RMB 100 million (US $15.7 million) worth of green shopping vouchers this Singles' Day season. Its logistics arm, Cainiao, will also introduce package recycling across 60,000 post pick-up points and aims to recycle 70% of its handled packages.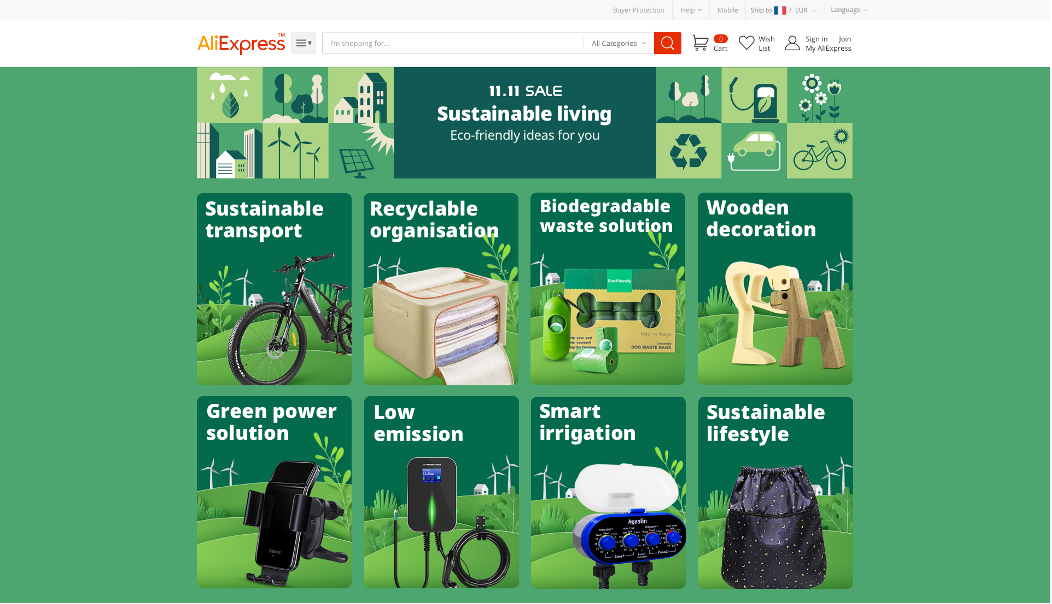 Inclusion — let seniors join the shopping spree. COVID-19 shifted older generations to shop more online, and the new habit is likely to stay. Forrester data shows that nearly three-quarters of consumers ages 65 or above in metro China will shop more online. To better serve senior shoppers, Alibaba launched a Taobao senior mode that features larger text and icons and voice-assisted technology, making it easier for senior citizens to search for products using voice commands. It also provides simplified promotion schemes so that seniors can enjoy Singles' Day more easily. Tmall also launched the "One Shoe Project" to make it easier for people with physical disabilities to buy footwear.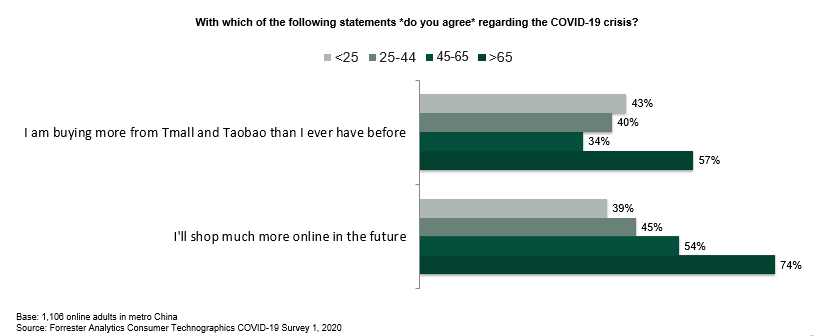 Livestreaming — setting new records for luxury e-commerce. On the first night of presales, celebrity host Li Jiaqi's livestreaming session generated 250 million views and sold a staggering US$1.7 billion worth of goods in 12 hours. His peer, Viya, sold about 8.3 billion Chinese yuan (US$1.25 billion) worth of goods in her 14-hour livestreaming marathon. But the promotions these influencers offered are now very similar to what brands offer at their own flagship stores. Low prices have been replaced by limited product sets and gifts with purchase. Brands like L'Oréal and Lancôme have now grasped livestreaming know-how and can attract over 5 million viewers in their own hosted livestreaming sessions. This year, over 200 luxury brands will take part in 11.11. Luxury brands are now more comfortable with e-commerce marketplaces and have started to replicate the success seen in China in Southeast Asia, as well, on platforms such as Lazada and Shopee.