Prioritise Your Customers' Mental Well-Being To Spur Pandemic Recovery
It's impossible not to see how consumers have felt the pressure of the 2020 pandemic. People have faced job losses, extended furlough, or enforced remote work while also managing homeschooling and the social (and psychological) impact of lockdown. Then there were those on the front lines: key workers struggling to do their jobs while COVID-19 ran rampant, infection and hospitalizations spiked, and numbers got worse and worse.
Yet it became apparent that consumers have reacted to the financial and healthcare pressures in very different ways. To understand what was going on, we developed a simple segmentation that contrasts consumer reactions to the healthcare and financial risks they have faced.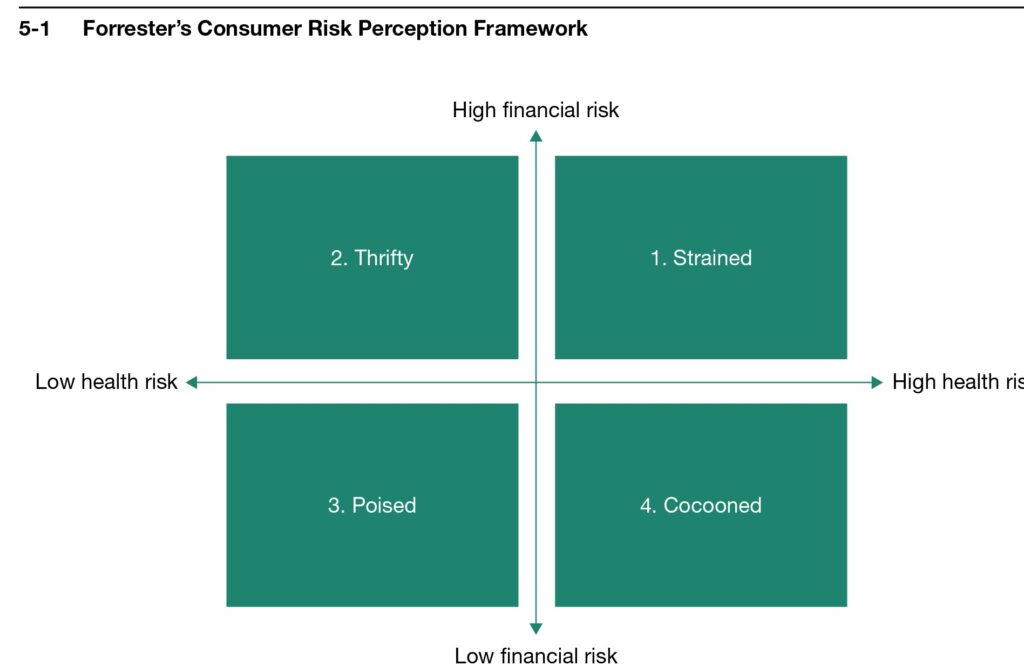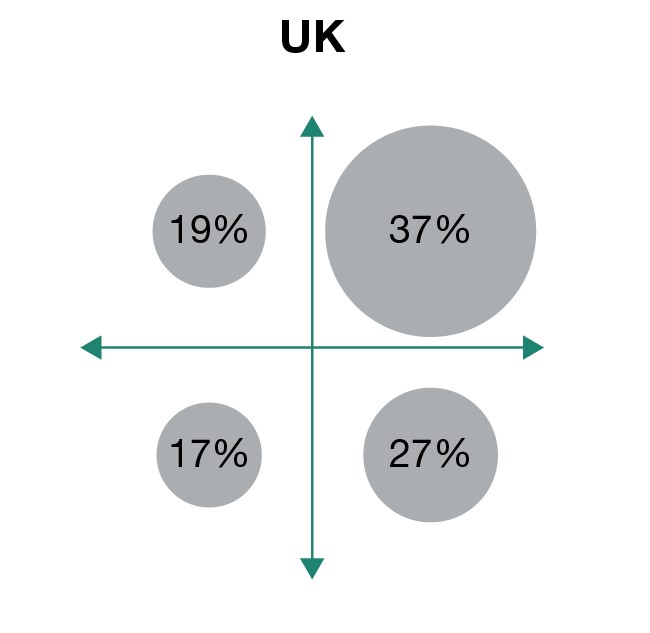 Base: 1,118 UK online adults (16-plus years old). [Note: Percentages may not total 100 due to rounding.]
Source: Forrester Analytics Consumer Technographics® COVID-19 Survey (Wave 1), 2020
It's easy to fall into the trap of looking at this segmentation and assuming that customers classified as Strained and Cocooned — those who rate high on the healthcare risk axis — are the most likely to be vulnerable to pressure. But it's not quite that clear-cut. If you look at these behaviours through the lens of maintaining and promoting mental health, you see that:
Strained consumers feel the pressure of doing things. In the UK, some 37% of consumers are "Strained" — they are fearful about protecting their physical and financial well-being and have little to no appetite to take any risk associated with resuming their pre-pandemic behaviours. Instead, they are the most worried that businesses aren't taking the correct precautions, are failing to protect employees, and are opening too soon.
Poised customers feel the frustration of not doing things. Poised consumers who feel the least threatened by potential risks to their physical health and financial well-being are ready and willing to spend money on their favourite experiences again. These eager consumers are strongly optimistic about an economic, social, and cultural rebound and feel that businesses are taking too long to reopen. They are potentially frustrated by lockdowns, anxious to get back to normal, and missing the social contact that going to work, the gym, or the pub brings.
Customer Experience Leaders Play A Pivotal Role In Easing Their Customers' Anxieties
As we move into this next phase of the pandemic, which will hopefully bring economic recovery and a return to a life that looks more like something we recognise, customer experience leaders must play a key role in helping their firms engage with customers in a way that makes them feel safe, secure, and free from risk but that also unlocks the kind of experiences they want. To navigate this:
Understand the emotional highs and lows of your customers' journeys. This means we need to understand how to design for emotion and customer need, which will potentially continue to shift as consumers change how they think and feel about different activities post-pandemic. First, we need to go beyond just equating emotion with need and instead create experiences that maintain an optimal ratio of positive to negative emotions to shape memory. Second, we need to understand the emotional makeup of journeys — the baseline, curve, and punch. Essentially, how do customers arrive at our door, how do we make them feel, and how long after we think the journey is complete does the emotional afterglow last?
Act with empathy. Firms that demonstrate empathy toward customers in a crisis open the door to establishing the meaningful consumer relationships that are critical to long-lasting trust and loyalty. You won't win these relationships accidentally. Working from a place of empathy, firms cultivate trust and loyalty by showing genuine care for customers and employees and by doing what they promise. For example, Sainsbury's has refitted stores with Perspex safety screens and is promoting in-store, contactless self-checkout services. Admiral focused its pandemic email communications on informing millions of customers that they would receive a £25 "stay at home" car insurance refund.
Optimise customer journeys to reduce the perceived risks. Journeys are your customers' lived realities, and consistently delivering on the promises you make underpins customer trust. For your Cocooned customers, focus on the e-commerce delivery journey and ensure that delivery staff know what precautions to take to make customers feel safe. Help your Poised customers get back to normal while maintaining safety protocols such as social distancing to keep people safe. Your journey maps should include the emotional arc of both customers and employees. Most don't. So now is the time to go back over them and understand where you build or erode trust.
Access our complimentary on-demand webinar on how to map out journeys to help your customers and employees during the pandemic crisis and beyond. Watch here: Virtual Customer Journey Mapping.
Related Forrester Content