Service New South Wales Is The Clear CX Leader In Australia's Public Sector
Our Australia government Customer Experience Index (CX Index™) 2020 results are in! The CX Index tests 30 drivers of CX and 27 emotions to reveal the factors that make a government experience easy, effective, and emotionally engaging. These indicators explain each government organization's overall CX Index score and impact on mission performance. This year, we surveyed 2,388 Australians who interacted with any of the five government organizations we track. For the first time in our study, we included two state government organizations. In brief, our results show that:
Service New South Wales outperforms its peers. Four of the five government organizations in our study have scores in the poor or very poor CX Index categories — mirroring what we see in the US, where most customers of federal government agencies reported weak CX. Service NSW is the only organization in the OK category, leading by a massive 12 points over its peers. Service NSW's above-average CX leads to stronger mission performance. Customers trust, forgive, comply, engage with, and speak well of Service NSW more than customers of the other four government organizations we studied.
Government organizations struggle on critical CX elements. Solving customer issues quickly is the best way for Australian government organizations to improve their CX. However, only 41% of customers believe that organizations do this well. Only 33% of government customers said that they had a positive experience using services and obtaining benefits.
Lagging digital experiences drag down government CX. Digital channels like websites and mobile apps still offer experiences that are worse than those provided by physical channels like offices and contact centers. Government customers who used only digital channels rated their experiences an average of 4.3 points lower than customers who used only physical channels. Hybrid digital/physical experiences had the lowest CX Index scores, indicating how crucial it is for government organizations to remove roadblocks from cross-touchpoint journeys.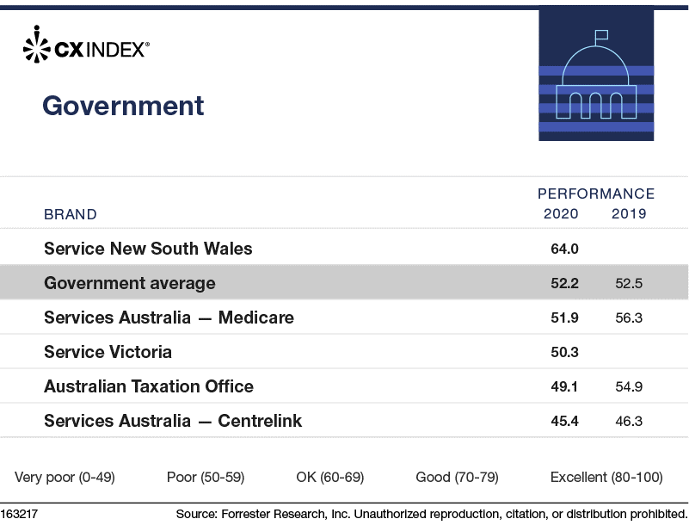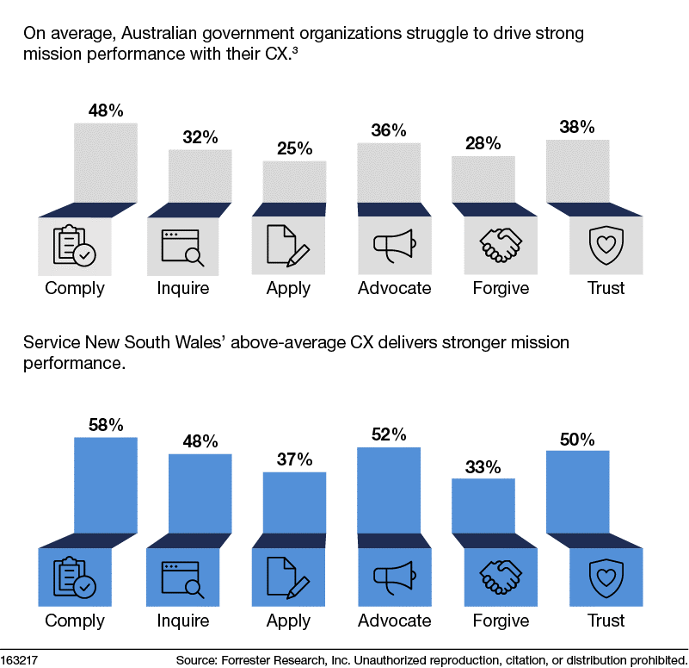 Check out our infographic (paywall) with more detail into the driver categories of CX quality for government organizations as well as CX performance for physical and digital experiences.