US Federal CX Eked Out A New High But Still Trails The Private Sector
Our US Federal Customer Experience Index (CX Index™), 2020, is now live! The report is packed full of great details about the quality of the US federal CX, its impact on agencies' mission performance, and how they can improve. In brief, our results show that:
The average federal CX Index score rose slightly to a new high. The 15 US federal agencies and programs that we rated in 2020 earned an average score of 61.1 out of 100. That's a gain of 1.4 points over 2019 and the highest federal average we've recorded since we began studying the federal government in 2015. The overall federal average rose because five agencies gained points and none lost points — the first time that's happened since 2016.
Federal CX is still weak. The federal average is still 10.7 points behind the private sector average and lower than any of the 13 other industries we studied in our overall US CX Index. In fact, 73% of federal agencies have scores in the poor or very poor CX Index categories. That's in contrast to the private sector, in which only 23% of brands landed in the bottom two categories. In 10 industries, even the weakest performers outscored the federal average.
Lagging digital experiences drag down federal CX. Despite Washington's focus on digital CX, federal digital channels like websites and mobile apps still offer experiences that are worse than those provided by federal physical channels like call centers and postal mail. Federal customers who used only digital channels rated their experiences an average of 5.8 points lower across agencies than customers who used only physical channels and 4.8 points lower than customers who used a combination of both digital and physical channels.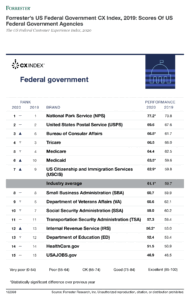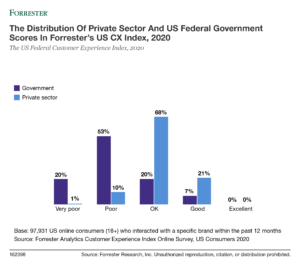 Federal Agencies' CX Struggles Harm Their Mission Performance
Our full report includes data on how CX quality affects every federal organization we cover. In sum, our results show that customers who face today's poor federal CX don't:
Trust agencies. Each time a federal agency's CX Index score rises by 1 point, 2.8% more customers will trust the organization. Weak federal CX leaves only 46% of customers trusting the agencies with which they interact.
Comply with directives and advice. For every 1-point increase in an agency's CX Index score, 1.9% more customers will do what the organization asks of them. As a result of poor federal CX, just 58% of federal customers said that they do what agencies require.
Inquire for official information. When a federal agency's CX Index score rises by 1 point, 2.4% more customers are likely to seek its authoritative advice or expertise. Unfortunately, weak federal CX motivates just 49% of customers to seek out authoritative information from the federal organizations with which they interact.
Apply for optional benefits and services. For each 1-point gain in an agency's CX Index score, 2.8% more customers are willing to sign up for benefits and services that aren't mandatory. However, federal CX problems leave only 38% of customers willing to sign up for optional offerings.
Speak well of federal agencies. As a federal agency's CX Index score improves by 1 point, 4.5% more customers will say positive things about the organization. Regrettably, only 48% of customers are willing to say positive things about their interactions with federal agencies.
Forgive agencies that make mistakes. For every 1-point increase in an agency's CX Index score, 2.7% more customers are willing to forgive an agency when it makes mistakes. However, the current federal experience leaves just 44% of customers willing to forgive agencies that slip up.