Space And The LEO Promise — A New Forrester Frontier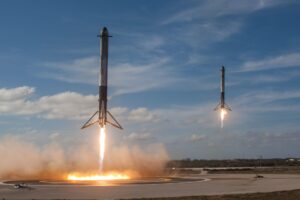 The Space Race Has Restarted
Today's interest in the space industry is the most intense since the Apollo missions first captivated the world in the 1960s. Billionaire space tourists in reusable rockets, a planned return trip to the moon, and smaller, cheaper satellites designed to operate in low Earth orbit (LEO) promising to connect the under- and unconnected have made space exciting again. Seeing SpaceX now consistently land its Falcon rockets and the increased frequency of satellites being kicked into low Earth orbit has certainly grabbed my attention.
Who hasn't been interested in space since childhood? I recall a space board game that my brother and I played as young lads growing up in late-1970s Ireland. It was a gift from new neighbors who relocated from a bustling Bronx neighborhood in New York to the quieter suburbs of Southwest Dublin. We loved it, and so did our friends. It had its own version of a reusable rocket with a space capsule on top, and you had to complete your spaceship build and compete to be the first in space. Rolling the dice and landing on the "pay a fine" square meant mandatory spaceman squat exercises. That was a right laugh and the most memorable part. I've no idea what it was called, and searching the internet galaxy has left me none the wiser.
The New Low-Earth-Orbit Satellite Frontier
Back to today, and a year on from my first Forrester foray into space, I'm excited to have teamed up with my colleague Nicky Briggs and an extended Forrester posse of space tech enthusiasts who have gone where no Forrester analyst has gone before with the launch of four brand-new space reports on the promise of satellite connectivity. Our initial mission focuses on the challenges and opportunities with LEO, and with success, we hope for further topical space missions. Here's a quick breakdown of the four new reports:
If you'd like to explore further, please schedule an inquiry.