The Connected, Empowered Consumer Will Improve Population Health
The United States spends more on healthcare than any other nation in the world, yet life expectancy in the country consistently sits well below the top. While many of the broken parts of the healthcare ecosystem in the US need to be addressed, engaging and empowering consumers is a part of the solution. To this end, consumer wearables and remote patient monitoring (RPM) devices can be used by 95% of the population (see figure below) for healthcare needs. Consumer wearable devices will play a vital role to empower the low-risk population in wellness management. RPM devices, which are targeted to monitor one or more diagnosed conditions or specific vital signs such as blood pressure, will be used to engage the rising-risk population to minimize the volume of consumers that shift into the high-risk population.
The use of consumer wearables and RPM devices will help to:
1.      Contain Chronic Care Costs
RPM helps deliver connected healthcare experiences, potentially drive down per-capita medical spend, and improve population health management for rising-risk individuals. The American Action Forum estimates that when including costs associated with lost economic productivity, the cost of chronic disease to the US is $3.7 trillion. RPM can be used to realize more effective chronic disease management in terms of cost, health, and quality of life. Forrester's report, "Making Remote Patient Monitoring A Reality In The New Normal For Healthcare," outlines the business case for RPM initiatives in both fee-for-service and fee-for-value environments.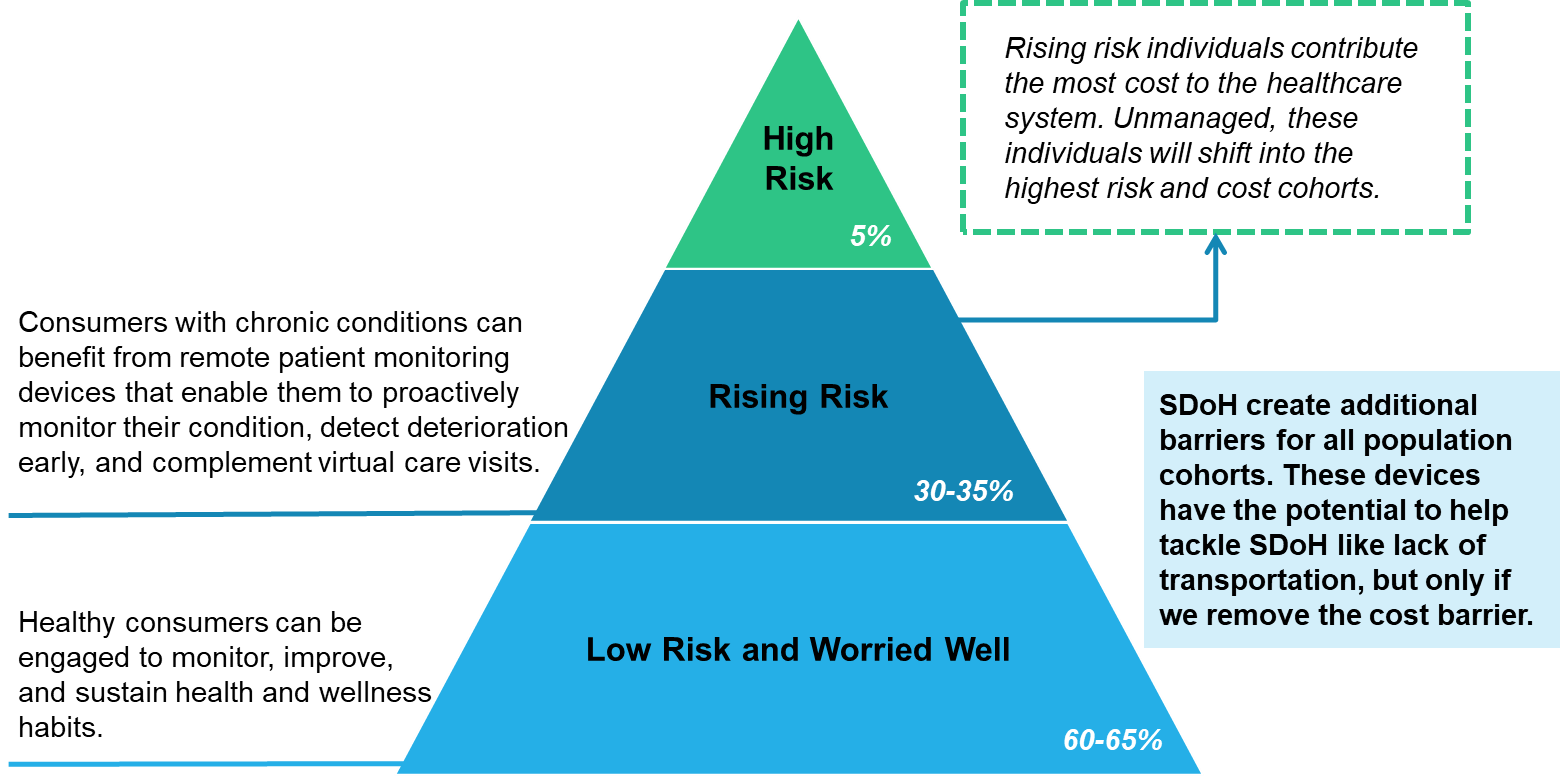 2.      Help Maintain Healthy Habits With Insights And Nudges
Consumer wearable devices can engage and empower consumers to take charge of their wellness journey. Many chronic diseases are caused by key risk behaviors including lack of regular physical activity and not getting enough sleep. Yet only 23.2% of adults met the Physical Activity Guidelines for both aerobic and muscle-strengthening activity set by the Centers for Disease Control and Prevention. Changing health habits is often difficult for consumers due to the delayed gratification and unseen results. Effective notification strategies keep consumers motivated and engaged throughout the development of new habits.
Forrester's reports, "Wellness Outcomes Depend On Effective In-App Mechanics" and "Use Mobile Notifications To Modify User Behavior In Wellness Apps," address the challenges wearable and wellness apps face when creating healthy consumer habits.
3.      Decrease Inequalities By Addressing SDOH
Healthcare organizations must invest in programs to enable cost-friendly consumer engagement strategies. For example, RPM and wearable devices have the potential to help tackle social determinants of health (SDOH) such as lack of transportation but only if we remove the cost barrier. Forrester's "Consumer Wearables Generate Good Data, But It's From The Wrong Consumers — And It's Not Helping Healthcare Providers" research shows that healthy, wealthy athletes own the majority of wearable devices. In the Forrester report and accompanying webinar, "Wearables Are For Consumers — Not Doctors," we profile the potential that technology has to address inequalities in access to care as well as the shortfalls that need to be addressed to execute effectively.
(Paul-Julien Giraud contributed to this blog.)
Want to read more of Forrester's healthcare coverage? Check out more here.
Have questions about our coverage of RPM or wearables in healthcare? Set up an inquiry.
Related Forrester Research (client access required)
Making Remote Patient Monitoring A Reality In The New Normal For Healthcare
Wearables Are For Consumers — Not Doctors
WEBINAR: Wearables Are For Consumers, Not Doctors
Consumer Wearables Generate Good Data, But It's From The Wrong Consumers — And It's Not Helping Healthcare Providers
Wellness Outcomes Depend On Effective In-App Mechanics
Use Mobile Notifications To Modify User Behavior In Wellness Apps