The Forrester Wave™: Commerce Search And Product Discovery, Q3 2023, Surfaces The Challenges Of AI Unchecked
In The Commerce Search And Product Discovery Landscape, Q2 2023, we defined the types of specialty solutions that have converged into the 28 most notable vendors in this new market. Now, our just-published report, The Forrester Wave™: Commerce Search And Product Discovery, Q3 2023, delivers the first evaluation of the market, featuring the 10 leading vendors in the space.
For the past decade, most digital sellers used search functionality that came bundled with their commerce solution, often built on the same one or two underlying systems. That bundled offering is no longer enough, and we're seeing a significant market shift toward standalone search solutions in commerce.
Commerce Search Isn't New — But This Market Is
For the vast majority (21 out of 27) of the reference customers we interviewed, the solution they were using is their first packaged commerce search product. In fact, only one reference had chosen to replace one of the vendors in this evaluation with another that is also in this Wave. This is unusual: In Forrester Wave™ evaluations, we often see quite a bit of attrition and adoption from customers between the leading providers — not just a single case. This greenfield adoption of commerce search solutions confirms the newness of the market.
So why the rush to adopt this new breed of search solution? I see two major drivers:
Improving product discovery is one of the most effective ways to have a meaningful, positive impact on digital metrics, with a clearly attributable return and relatively low investment (in terms of cost for tech and time to value).
Consumers are fickle and hard to please, and we must do better to improve their experiences.
"Consumers have elevated expectations … " yes, we hear it all the time. Everything retailers do is a scramble to address the impossibly changeable needs of the fickle consumer. Over half of US online adults tell us that they rely more on search than menus when shopping on a brand or retailer's site, and 57% often use filters to narrow their search results. These are areas that consumers can control. They enter — and refine — search terms and filter the results to optimize what they see.
But what if retailers could wave a magic wand and put these constant adjustments on autopilot?
Commerce search technology is more sophisticated than ever before, moving us beyond basic relevance:
Literal keyword matching search is basic — but still important (e.g., returning results that contain the exact terms a customer entered). Every enterprise search solution supports synonyms and other tools for relating terms to each other. (See the beginning of the spectrum to the left in the figure below.)
Search solutions can layer in what they "learn." (See the middle of the spectrum in the figure.) Static information fuels better search results, like regional terminology (e.g., "trainers" in England are "sneakers" in the United States). Search solutions might also identify synonymous words across its entire customer base and within each site (e.g., when customers searched for "string cheese," it's "mozzarella" — even if the product content doesn't explicitly say so). Segments and look-alike audiences can also help results move customers toward purchase (e.g., other customers who shopped for this bought that).
Vector search technology enables the system to interpret a customer's intent. (Now see the last parts of the spectrum, far to the right in the figure below.) This semantic search often leads to search results that (hopefully) match the customer's need, though they may not match the search terms directly. The system might also fold in what it "knows" about a customer historically (e.g., what they've bought in the past) or based on other activity in the current shopping session (e.g., what they've just added to their cart).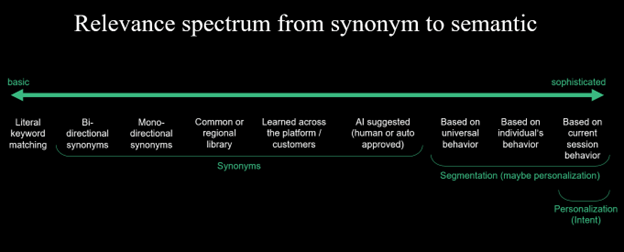 Examples of intent-based search results:
Vector search might show you women's shirts even if your search term is only "shirts," if you primarily shop in the women's section.
It might show me Yeti products in the fab new color when I search for "canopy green," instead of thinking (mistakenly, of course) that I wanted a green canopy.
It might show you a coffee-table book, rather than the table to put it on, if you're clearly looking for books to casually entertain your guests — and not furniture.
And it might start showing more Patagonia jackets, higher in the results, as you shop and click on more products from the Patagonia brand.
Sometimes, those intent-based results update immediately as customers interact with products.
Customers might experience this in action as they're shopping online and they see a category page or search results rearrange before their eyes. Many of the vendors in this evaluation provide these types of instant adjustments, sometimes with (intentional or unintentional) delays.
We know that 40% of customers expect websites to understand what they want to buy based on their current session. On the other hand, although three-quarters of consumers want retailers to tailor search results to their needs, only 21% of consumers told us that they want retailers to adjust search results "instantly," according to Forrester's July 2023 Consumer Pulse Survey.
Imagine shopping in a store, looking at products on a shelf, turning away for a moment, and then turning back to find the products arranged on different shelves than they were the moment before. Understandably, that instant adjustment can be confusing — and is not broadly appealing.
Remember: Just because you can doesn't mean you should. (And if you do choose to leverage cutting-edge, AI-based, or other newly introduced features, make sure to test them!)
This technology is changing quickly. It's a volatile market with some brilliant, game-changing features. But newness inevitably means that the functionality may be unproven. This risk is amplified as the commerce search market scrambles to pull in generative AI features.
So what should a digital business exec do around commerce search? In all this volatility, remember:
Balance your customers' experiences with your priorities. Use personalization tactics judiciously, and pepper in business-benefiting optimization. You won't win by loading the first page results with all your slow-moving overstocks.
Limit the changes you make at one time so you can test them. Take a phased approach so you don't have too many variables changing at once. Use testing tools embedded within search solutions or standalone testing tools to ensure that changes yield the results you intend.
Don't let buzzwords distract you from what your customers — and your business — need. Vendors often use their own terminology, especially in a market that hasn't had a Forrester Wave evaluation in place already. One will talk about how extremely relevant their results are, while another will scoff at "relevancy" as outdated methodology. You'll hear semantic, vector, hybrid, ML, AI, and all sorts of branded names for products and functions. Use the advice in the Wave report to cut through the marketing-ese and get to the details that matter to your customers — and to your business.
And of course, when you're ready to evaluate solutions, get in touch so I can help you find the right fit for your business!