Measure Three Types Of Customer Experience Metrics
If you are a customer experience (CX) leader, you need an effective CX measurement programme. Why? Because you need to determine whether your organisation is succeeding in delivering experiences that drive business results (ROI). Effective programmes answer the following questions:
How good is the quality of our customers' experiences?
How can we improve the quality of our customers' experiences?
How will our organisation benefit from improving our customers' experiences?
The Three Types Of Metrics: Perception, Interaction, And Outcome Metrics
CX leaders who want to answer these questions for their organisation must measure and link three types of metrics: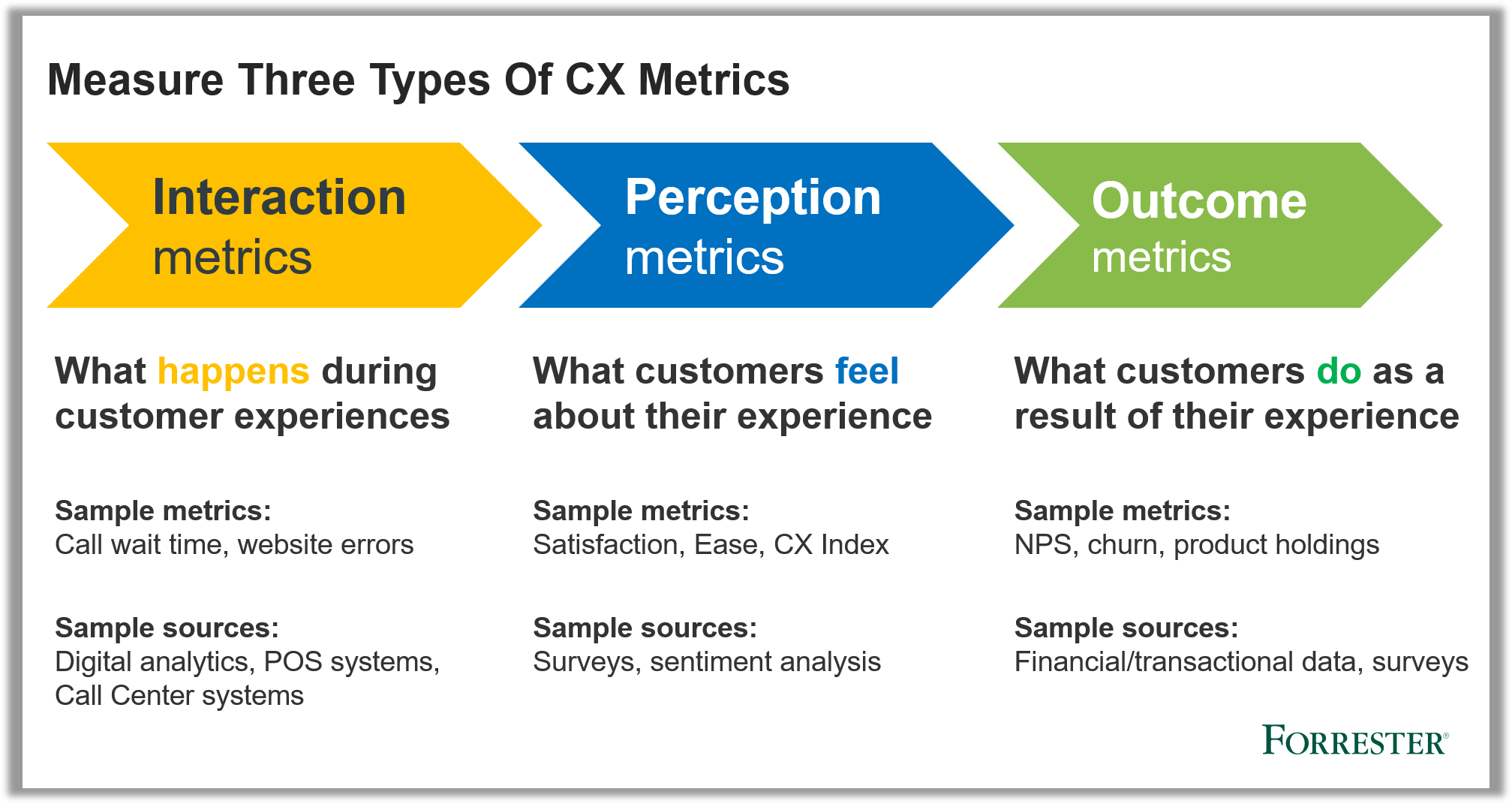 Example: Allied Irish Bank (AIB)'s Loan Experience
In Europe, we talked to Paul Allen, head of customer experience at AIB. He shared with us how they have linked CX metrics to drive business results:
AIB measured how many days customers were waiting for approval (interaction metric), customers' satisfaction (perception metric), as well as Net Promoter Score (NPS) and conversion on the loan (outcome metrics).
By linking those metrics, AIB found the tipping point where a customer gives up on the loan because it takes too long. This helped AIB make the case for redesigning the loan process.
Do Your Customer Experience Measurement Programmes "Measure Up"?
We asked CX professionals which of these three types of metrics they measure:
Only 49% measure all three types of metrics.
Sixty-five percent don't identify the operational metrics that drive CX perceptions.
Seventy-one percent don't quantify how CX improvements drive business metrics.
Are you measuring all three types of metrics for your customer experiences — at least for customers' most important ones?
List the most important customer experiences of your target customers.
Identify which metrics you measure and in which of the three categories they fall.
Plan how to close the gaps.
Implement The Metrics With Respect For Customers' Privacy
If you want to know more about "How To Measure Customer Experience Effectively Without Violating Privacy Laws," watch this complimentary webinar, with privacy expert Enza Iannopollo and myself. Watch the replay here!
For more insights and best practices in developing a solid CX measurement program, read our reports "How To Establish A CX Measurement Program" and "Elevate And Scale Your CX Measurement Program."
Note: Net Promoter and NPS are registered service marks, and Net Promoter Score is a service mark, of Bain & Company, Inc., Satmetrix Systems, Inc., and Fred Reichheld.