TIER: How The Labor Market's "Double Disruption" Impacts Your Talent Strategy
The Federal Reserve announced on Wednesday that it is hiking interest rates by 25 basis points to a range of 4.75% to 5%. This decision has made headlines because many had hoped for a pause on the Federal Reserve's continuous interest rate hikes due to the banking system's volatility.
A primary reason for the interest rate hike is the Bureau of Labor Statistics' February labor numbers, which were stronger than the Federal Reserve expected. In February, the economy added 311,000 jobs — well over the Dow Jones estimate of 225,000. Unemployment remained low at 3.6%. Some industries reported February job losses, but several industries had major gains, including retail and hospitality.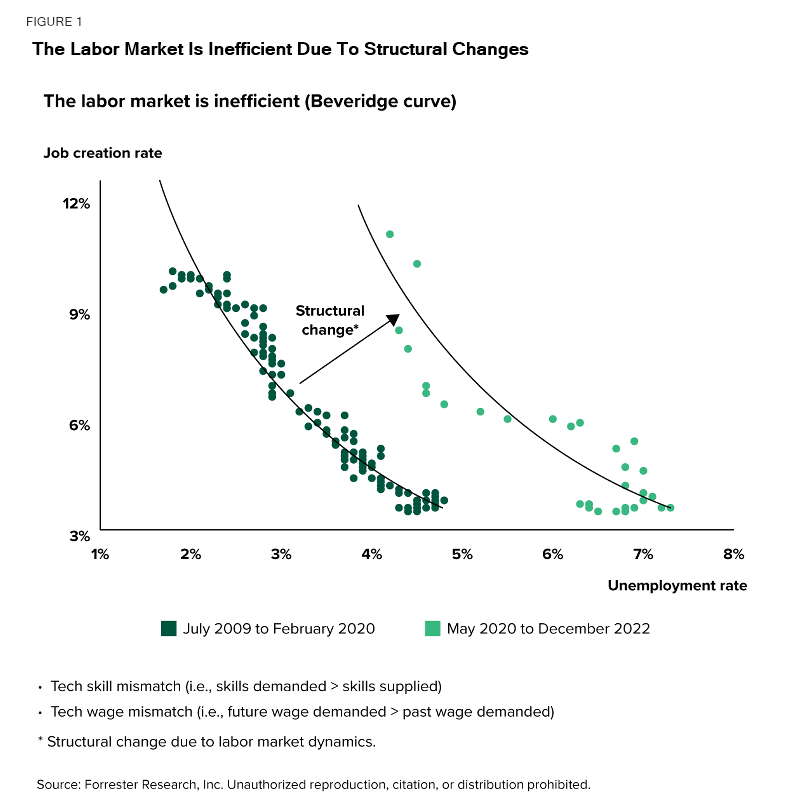 February's jobs report highlights a major theme: There is a disconnect between the labor market and the Federal Reserve's policies. The labor market has been doubly disrupted. First, the labor market has structurally changed (see figure above). Second, technology is removing jobs as fast as it is creating them. The impact of the pandemic and the accelerated adoption of various technologies have resulted in an "inefficient expansion due to the growing mismatch in skills demanded and the availability of those skills." In our new report, TIER: 2023 US Labor Market, we highlight the importance of hiring for skills to enable organizational agility and provide guidance toward a skills-based talent practice. Here is a peek at four strategies we suggest when starting the process of adapting your workforce strategy:
Develop a skills-based strategy. This requires a realignment of workforce planning, development, and recruitment around skills and capability building. It should focus on high-value, market-differentiating capabilities for your organization.
Create a new talent pipeline. Foster partnerships with educational institutions or other functions within your organization to tap into more talent sources such as rotational programs, co-ops, and professional development.
Build internal mechanisms to upskill your current organization. To address the current mismatch in the labor market, focus on investing in your current talent to develop the skills needed for current and future roles.
Stay cognizant of wage inequality. To help attract and retain talented workers, address wage inequality by implementing transparent pay policies, conducting frequent pay equity audits, and offering competitive salaries and benefits. Focus wage growth on where future skills can go rather than where they currently are.
If you're curious about how the "double disruption" will affect your industry, join either of our upcoming webinars to learn more!
This research falls under Forrester's tech insights and econometric research (TIER).
Related Forrester Content
Categories