What I See Coming For The Channel: 2021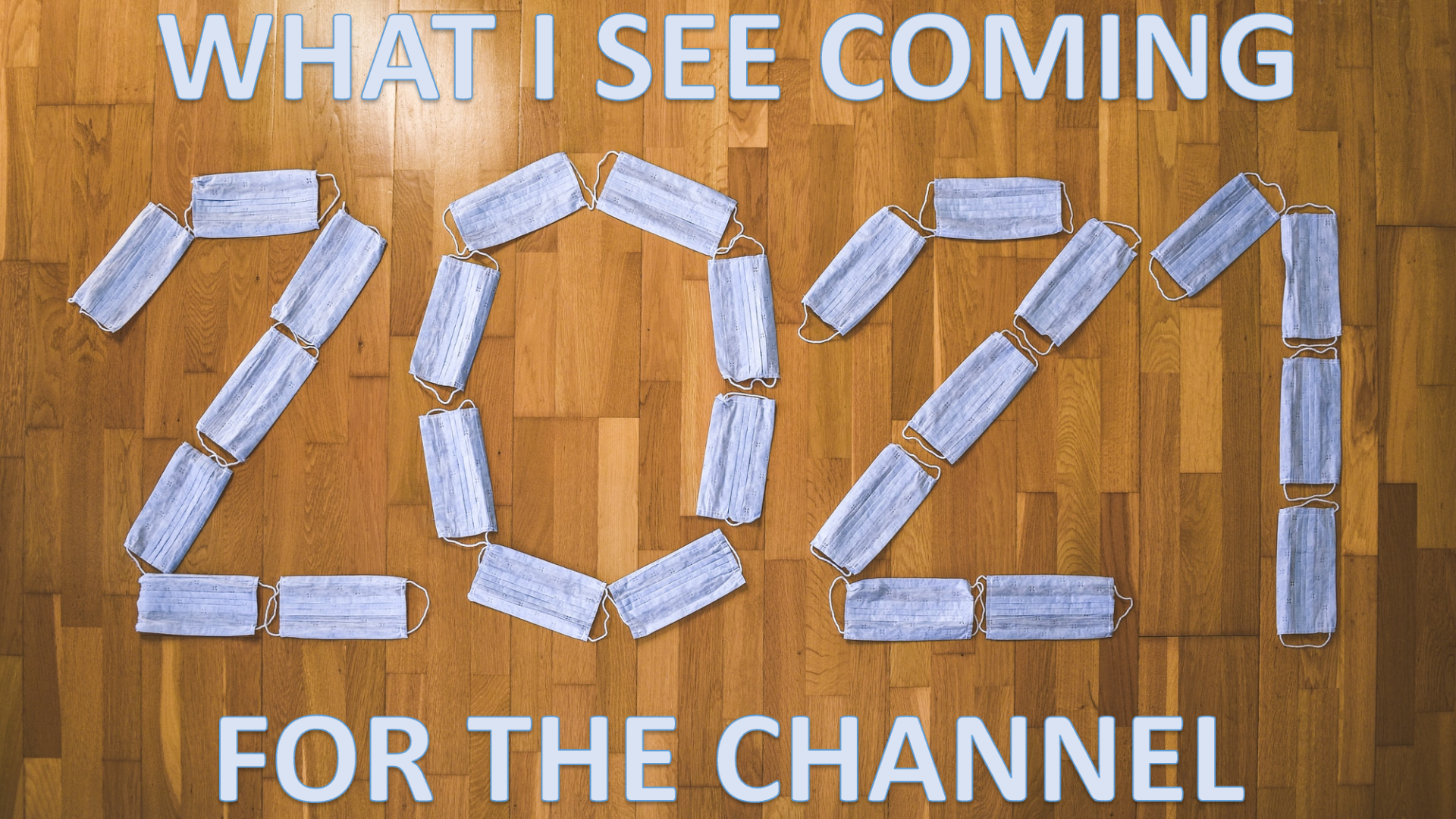 Last year ended up being a tale of two cities for the channel. On one hand, customers and governments recognized partners as an essential service and central to their ability to rapidly respond to a worsening pandemic early in the year. With catlike reflexes, the IT channel emptied the laptop supply chain and became unified-communications-as-a-service experts to deploy a new remote topology around the world. Check out how I did on last year's predictions here.
The remote topology also required a new defense against rapidly changing security threat vectors, new levels of risk mitigation and compliance, rethinking of business continuity, and support for a "residential network" of consumer-grade equipment and networks getting access to enterprise-class data and systems.
On the other hand, customer demand (especially medium, midmarket, public sector, and enterprise) later in the year shifted to automation, cloud acceleration, customer/employee experience, and e-commerce/marketplaces, where many parts of the technology channel were left in the cold. This led the industry into a "K-shaped" recovery where partners who had skills, resources, and prebuilt practices around the business needs of their customers excelled with double- (and sometime triple-) digit growth while many VARs and MSPs were down by double digits and relying on government, vendor, and distributor funding to survive. This will persist through 2021.
COVID-19 drove traditional computer and telco infrastructure, technology consulting, and system integration down by double digits. On the other side of the ledger, the infrastructure-as-a-service market was up considerably, with Microsoft Azure reporting 48% and 47% growth for the two quarters inside of the pandemic. Google Cloud reported 45% growth, and many of the software-as-a-service (SaaS) companies such as Marketo, NetSuite, Salesforce, ServiceNow, and Workday were showing solid 30%-plus gains.
In the end, managed services was about flat, and the broader channel only resold between 20–30% of the fast-growing categories, compared to 70–80% of the declining categories. This will continue into 2021 and beyond.
Let's take a closer look at my 2021 calls:
1.  The Channel Benefits From The Changing Future Of Work
The COVID-19 pandemic was an acute symptom as well as an accelerant of a larger set of factors that were already altering the workforce. The levels of systemic risk and global exposure that organizations face are rising, robots and automation are reshaping the workforce, and the balance of power is tilting toward employees.
Companies are now looking at a permanent shift in how they work — reassessing workflows, processes, business logic, and even real estate investments.
The output of this will be a remote (or residential) topology that will require new levels of service, support, infrastructure, security, compliance, and continuity. I expect the percentage of firms that outsource some or all of their IT will start to increase again by double digits — for the first time in five years.
Beyond the basic remote infrastructure delivered in response to the pandemic, the channel will capture the opportunity in edge computing. Next-generation communications, cloud-native technologies, and edge computing architectures have come together to create breakthroughs in cloud-to-edge integration delivered by partners. Beyond the basic menu of managed services, in 2021, the channel will start to implement edge intelligence, edge management, and edge networking technologies. The channel must broaden the scope of cloud strategies beyond public and hybrid clouds to include content delivery networks (CDNs), telecommunications, colocation data center edge fabrics, and domain-specific converged edge infrastructure.
The security threat vectors are also intensifying due to the changing future of work. Changing business models, regulatory oversight, litigation, and pressure from third parties are forcing partners to secure the products and services they sell at a new level. This next-level security protection is no longer "included" in the monthly fee like antivirus and firewalls are but is an opportunity to expand the conversation into advanced edge, network, application, data, web, and even physical security in a residential-scale network.
The channel also has to consider its own future of work. Delivering a new level of customer, employee, and partner experience will determine the winners and losers in 2021. The roles of channel account managers, sales, and marketing professionals are radically shifting to serve the increasing digital and digital-only customer journeys. Reimagined events, social selling, digital attribution, and rapidly changing programs will accelerate in 2021.
2.  Subscription/Consumption Models Become Mainstream — But The Channel Isn't Ready
Three years of consumer behavior change was squeezed into one year in 2020. Consumers are now demanding online experiences; happily virtual; wanting seamless digital procurement and provisioning; and wanting everything at the click of a button. The delta between B2C buyers and B2B buyers has collapsed during the pandemic. It's all about speed, convenience, and remote, whether the buyer is acquiring a Peloton or a software product.
Responding to the changing buyer, as well as pressure from their stakeholders, several large vendors announced significant changes to the way they go to market. In the late summer of 2020, Chuck Robbins announced that Cisco would pursue a 100% subscription/consumption business — accelerated due to COVID-19. A few weeks later, Michael Dell announced the same thing for Dell Technologies — and all seven companies within its family of businesses — pushing $92 billion into a recurring business. Later in the year, IBM jettisoned its storied services business to focus on multicloud, hybrid cloud, AI, and, yes, becoming 100% subscription/consumption. HPE, which has been on the journey for three years with GreenLake, announced that it will be fully there by 2022 — next year!
This is just the tip of the iceberg. In 2021, we expect dozens of announcements from large and midsized vendors.
The resulting "build, sell, and service" programs spread dollars around like peanut butter, and traditional partner relationships are being disrupted almost overnight. This recurring business model may align well with MSPs and telco agents, but the majority of the VAR channel will experience material disruption. In previous years, I have emphasized the importance of a "trifurcated" channel model — moving program investments before the transaction (influence) and after the transaction (retention) to support adoption, integrations, stickiness, and upsell/cross-sell.
Vendors are busy building ecosystems of transacting AND nontransacting partners as well as traditional AND nontraditional. They are not increasing channel investments (gross to nets) to do this but rather are moving the money around to where they can earn more customers with higher lifetime value.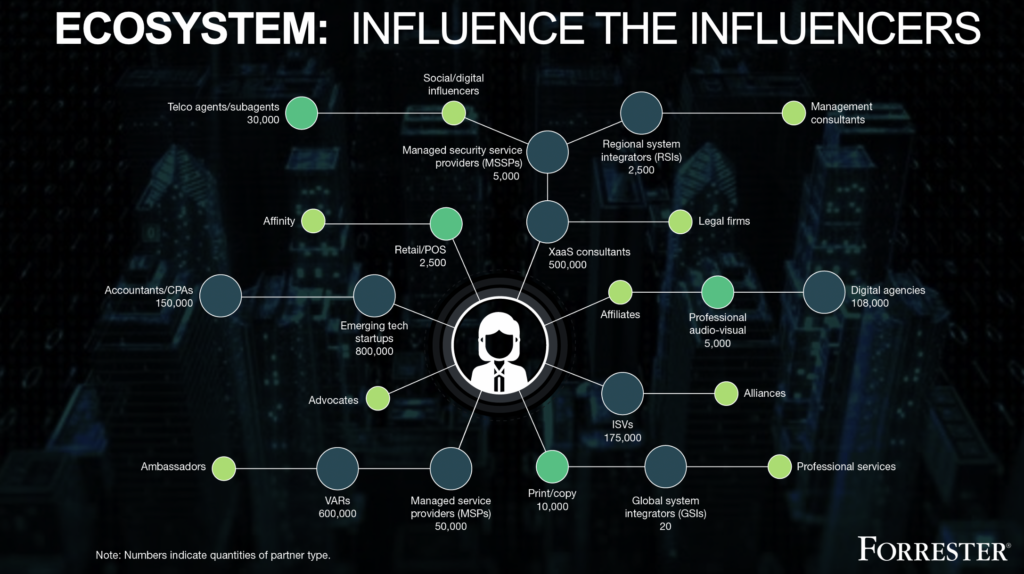 3.  The Embedded/White-Labeled Future Replaces The SKU — Distribution Struggles To Adapt
If you look at the future trends in technology such as AI, automation, internet of things, and blockchain, you will quickly surmise that these are not "products" as we have known them over the past four decades. The SKU- or product-based economy that we have been in for 39 years is quickly giving way to an embedded, white-labeled future of solution "building blocks."
These building blocks will be designed and integrated inside ecosystems that are measured around value creation, network effects, and co-innovation. This is a set of alliances at an infinite scale. At Forrester, we are closely watching the 800,000 emerging technology companies in addition to the rapidly growing SaaS and software startup scene. Mapping the different buyer types (12-plus), subindustries (297-plus), geographies (197-plus), sector/size/segments (14-plus), and product categories (26-plus) into a massive heat map shows 35 million market opportunities for companies to innovate in.
In an embedded future, customers will become partners and partners will become customers — the delineation of partner types will continue to be difficult.
This is not a traditional product market based on SKUs, 3PL logistics, and credit facilities. To be relevant in the new world of bits vs. atoms, bought via subscription and consumption models through marketplaces, distributors with deep industry expertise must reorganize themselves to aggregate, facilitate, and orchestrate ecosystems of value creation. This is a new celestial approach where millions of partners, products, and customers are moving through the universe, and smart distributors must be able to predict (and monetize) when the stars and moon are going to align.
4.  Marketplaces, Product-Led Growth (PLG), And Direct-To-Customer (DTC) Further Challenges Resell
E-commerce grew more in the first three months of COVID-19 than the last 10 years combined. Almost one-third of the US economy was flowing via e-commerce by the third quarter, and marketplaces were responsible for the majority of the growth. With 60% of customers appreciating the convenience of marketplaces, we were predicting that 17% of the $13 trillion in B2B spend would flow to marketplaces by 2023 and are now thinking that we will hit that much sooner — perhaps this year.
Marketplaces represent the continual digitization of traditional channels. Marketplaces sit at the intersection of traditional resell-based partners (some of which are launching their own marketplace offerings) and the world of ecosystem partners, such as alliances, affiliates, advocates, ambassadors, and affinity. The role of these non-reselling partners is amplified in marketplaces. Customers use this channel early in the buyer's journey to explore and compare different offerings, reducing cost and complexity of working with traditional channel sales.
Product-led growth (PLG) is an end-user-focused growth model that relies on the product itself as the primary driver of customer acquisition, conversion, and expansion, looking to avoid channels. Companies with successful PLG strategies (think Zoom, Slack, Expensify, Calendly, Dropbox) are able to grow faster and more efficiently by leveraging their products to create a pipeline of active users who are then converted into paying customers.
Software-as-a-service firms traditionally grow direct until their sales and marketing become repeatable and ripe for franchising. A large number of these companies are looking to break from the linear channel model and avoid being constrained by labor- and financial-intensive lead generation, sales, and customer success processes. The intent is to get to hypergrowth mode at scale. The median enterprise value (EV) of PLG companies is 2x higher than the public SaaS index as a whole and has created more than $208 billion of market value, providing a risk for channel partners looking to get a piece of the action.
Direct-to-consumer (DTC) marketing is a strategy in which a company promotes and sells a product or service directly to consumers, cutting out the need for any intermediaries. The number of businesses that independently manufacture, promote, sell, and ship their own products is rising, and growing popularity of this strategy is rapidly changing the business landscape. In subscription and consumption models, it makes even more sense to streamline the customer relationship and "set it and forget it."
As technology buyers start to behave more like consumers, DTC companies (think Dollar Shave Club, Casper, Warby Parker, Blue Apron) are inspiring companies to relook at their customer experience and build closer and more intimate relationships directly with their buyers. At a time when Millennials are at the forefront of driving change in the economy, customer expectations are shifting, with preferences for more streamlined and digital purchase experiences, maximum convenience, and an authentic brand experience.
A perfect storm of better technology and full-service buyer tools, shifts in buyer psychology and behaviors, savvier sellers, and growth of PLG, DTC, and marketplaces across more product categories will complicate channel partners' ability to get in front of the buyer early and lock in their value for the long term.
5.  Multiplier Becomes Main Differentiation; Marketplaces Start Taxing Services
The economics of the channel is changing rapidly, given the shift to marketplaces, subscription/consumption models, and the trifurcation of channel program dollars toward customer influence and long-term retention.
Several large vendors such as Microsoft, Google Cloud, and Salesforce spent more time in 2020 talking about their ecosystem (or economic) value created for every dollar of their sales versus the front- and back-end margin opportunities for resell. Ranging between $4.65 and $9.00 for every dollar sold, the opportunities to wrap additional hardware, software, and services around cloud projects are where partners can grow revenue and profit most effectively.
Professional services such as installation, implementation, integration, security, compliance, continuity, data, managed services, and automation make up almost two-thirds of this multiplier. Smart partners are building/acquiring the skills and scalable practices to capture this revenue and profit-rich opportunity.
We are expecting dozens of major vendors to publish multipliers in 2021 and partners to start asking for the sales, marketing, and technical enablement to capture the up- and downstream opportunity.
There is a financial trend behind this, as well. We know that both public and private platform companies carry higher valuations than their peers. We are starting to see an even higher valuation for companies that own taxation rights across the ecosystem through a marketplace.
For example: Today, the leading marketplaces tax software vendors an average of 15% of sales. This represents only about 20–25% of the total multiplier opportunity. If vendors could tax the total 5x–9x multiplier at that same 15%, their revenues would double overnight. It is no secret why Salesforce is valued higher than Oracle (at half the revenue) and why it replaced Exxon on the Dow Jones Industrial Average late in 2020 — investors are obviously expecting big things. Expect several marketplace vendors to contemplate taxing services by the end of 2021.
6.  Channel Process Automation (CPA) Becomes A Reality As A Majority Of Channel Programs Rebrand As Ecosystems
The largest opportunity for the channel coming out of 2020 was automation. The pandemic forced companies to think about human-led and human-reliant processes, business logic, and workflows. There was a huge uptick in opportunities around robotic process automation (RPA) and no-code/low-code SaaS environments heading into the pandemic, and these were accelerated significantly in the latter half of 2020. In fact, RPA vendors are now valued at $17 billion, and 45% of global data and analytics decision-makers have implemented or are implementing RPA in a project, according to our research.
Combining this trend with the movement into ecosystems has led channel and alliances leaders to look at new levels of automation within their programs, processes, people, and technology. Ecosystems have, on average, 10 times more partners than transactional channel programs and require the core elements, such as recruitment, onboarding, incentives, enablement, co-selling, co-marketing, and management, to scale comparatively. Ecosystem leaders are not given 10 times the resources, so channel process automation (CPA) has percolated to the top of the list.
This new division of labor between humans and machines will have a material effect on how channel leaders run programs and the channel technology stack that supports it.
In CPA workflows, bots will take on the most predictable, mechanical, and repetitive activities, while channel professionals can specialize in using judgment, creativity, and language. Bots have the potential to take on unattended tasks equivalent to 2.0 to 3.5 channel account managers, allowing ecosystems to scale effectively.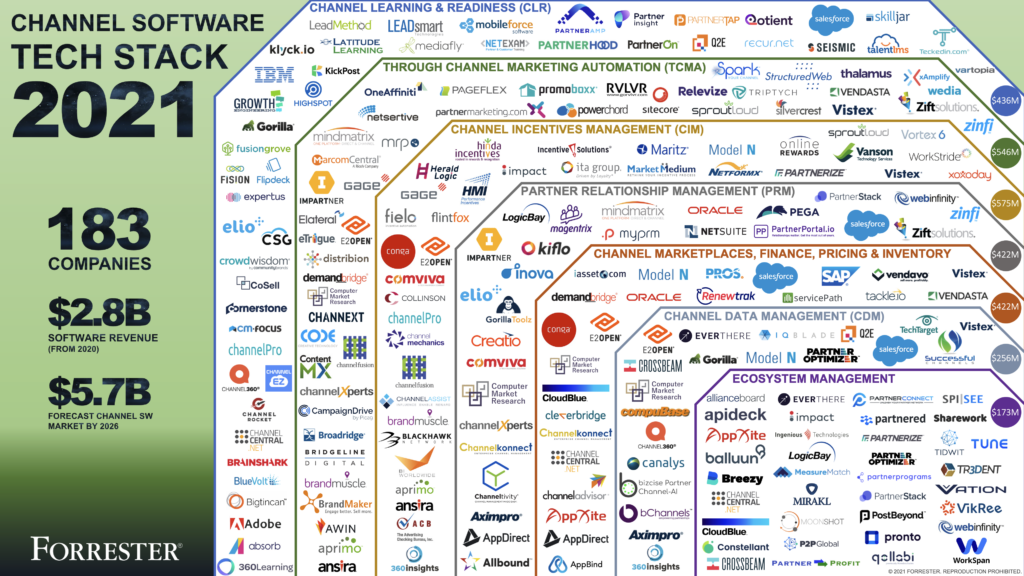 7.  Ecosystem Recruitment And P2P Collaboration Rely On Community Approach
For those vendors amplifying their partner channel into an ecosystem, 2020 was the realization that old-school methods of recruitment don't work. The proverbial "fishbowl" for collecting business cards at an event was thrown a curveball when all events became digital because of COVID-19. In addition, the measured ROI from digital events was proving to be orders of magnitude lower than physical events for vendors.
For ecosystems that cover multiple new partner types, buyers, subindustries, geographies, segments, and product areas, there is no linear method to recruitment and collaboration anymore. Leveraging customer and partner communities — basically, what they read, where they go, and who they follow — is the most effective way to find, recruit, nurture, and activate partners. Influencers and superconnectors are the (digital) gateway to earning trust and endorsements in front of new types of partners, and the process of finding and leveraging them has come into more focus since last year.
We are witnessing a democratization of development addressing the chronic scarcity of classically trained developers. Urgent needs around automation, easier-to-use tools, and more technology-savvy line-of-business employees are creating an army of citizen developers driving last-mile innovation. This is a key part of the multiplier discussed above and will become critical connective tissue inside the ecosystem.
8.  Compliance, Consolidation, And Price Compression Accelerate In MSP Market
In 2016, the General Data Protection Regulation (GDPR) changed how marketers do their jobs. In 2021, MSPs will see the first of many government legislatures enact regulation, governance, and compliance mandates on the industry. Louisiana Act 117/Senate Bill 273 goes into effect February 1, 2021 and requires MSPs that manage infrastructure or end user systems for "public bodies" to register with the state. Among other things, the law requires MSPs to notify the state in the event of a cyberincident, including any ransomware payments. All 50 states currently have data breach notification laws on the books — this law extends disclosure rules.
Much like GDPR has had a ripple effect around the world (including PIPEDA in Canada and CCPA in California), this Louisiana law will likely have fast followers in the US as well as around the world. These registration laws have denial and revoking privileges, which could mean a future of government regulation/cancellation with far-reaching impacts — and could extend into other industries such as banking, healthcare, and education. There is a slippery slope here from a risk mitigation and legal liability standpoint. We are entering the third decade of managed services as essential services, with greater ethics oversight, regulation, compliance, and governance.
In 2021, vendors will deliberately choose to do business with partners that commit to data ethics and adopt data handling practices that reflect their own values and their customers' values.
The economics of managed services will continue to be challenged as price per device or user continues to fall, larger private equity firms gobble up local players with lower pandemic-driven valuations, the battle for local talent intensifies, and the cost to deliver in a remote topology accelerates.
9.  The Channel Revenue Management Technology Category Grows Up
The second-largest trend in channel software behind the triple-digit growth in ecosystem management companies is the maturation and expansion of the revenue management category. Salesforce made a huge splash later in the year when it announced its latest cloud vertical, Revenue Cloud. The new addition is aimed at businesses that want to create a single point of reference for customers' transactions — from renewal to revenue recognition.
Revenue Cloud is a combination of several products, including CPQ, billing (including new multicloud), B2B Commerce, and channel software (PRM). This reinforces industry trends such as subscription/consumption models, marketplace growth, and pan-route strategies that vendors are considering. Other companies such as E2open, Model N, Oracle, and Vistex are also adding gravitas to this growing category.
As marketplaces become the connective tissue of ecosystems, revenue management technology that automates and streamlines multiple routes and go-to-market strategies will provide a critical toolkit for buyers, sellers, partners, and distributors.
10.  With The Rise Of The Ecosystem Orchestrator, Enablement Takes Center Stage
So many of these trends focus on the process, programmatic, and technology elements of ecosystems. One of the most fascinating topics is the people. Who is going to lead ecosystems? What skills and personality types will flourish in this large and complex universe of moving parts?
Managing a large ecosystem of transacting, nontransacting, traditional, and nontraditional partners requires a blend of general management skills along with alliance management expertise. The ecosystem mindset will involve finding the right partners, providing them with the tools and motivation to grow their businesses, and orchestrating a trusting environment that encourages value creation, co-innovation, and taking advantage of network effects. Balancing investments in customer experience, employee experience, and partner experience will be the winning calculus for these leaders starting in 2021.
Ecosystem orchestrators will not deploy a linear approach to partner recruitment and management.
Orchestrators will team with a broad network of partners that create value for customers through all stages of their journey — a journey that now never ends. They will be measured on how they tailor their partner experiences to ensure the ecosystem has enough capacity, coverage, alignment, and is appropriately supported.
The 2021 channel software tech stack has 36 ecosystem-focused companies that are building automated technology for these orchestrators, including key categories such as recruitment (at nonlinear scale), attribution (moving from consumer marketing attribution into B2B influencer), account mapping (innovative data escrow-type services), enablement/collaboration, tech/API integrations, and ecosystem management.
Further Channel-Related Reading
2021 Channel Software Tech Stack
How Did I Score On My Channel Outlook For 2020?
Channel Marketers Need To Become Community Marketers — Here's How
Marketplaces Make Their Mark In The Channel
The Decade Of The Channel Ecosystem Accelerates With Massive Software Consolidation
Through-Channel Marketing Represents The Third Stage For Sales And Marketing Leaders
Channel Data Is A Competitive Differentiator
Measure What Matters: Unlocking The Power Of Partner Ecosystems Demands Powerful Measurement
Time To Rethink Channel Incentives And Program Management (CIPM)?
Channel Automation Becomes Table Stakes For Partnership Success
Can You Deliver A Great Partner Experience Without Great Onboarding?
Do Channel Vendors Need Public Relations Anymore?
Channel Reimagines Physical Events, Looking To Reopen Slowly