Advanced CX Measurement Programs: Beyond Surveys; Journey-Centric; Proactive
The latest of our new reports on customer experience (CX) measurement programs, "Three Imperatives For Advanced CX Measurement Programs," shows what distinguishes advanced CX measurement programs from others.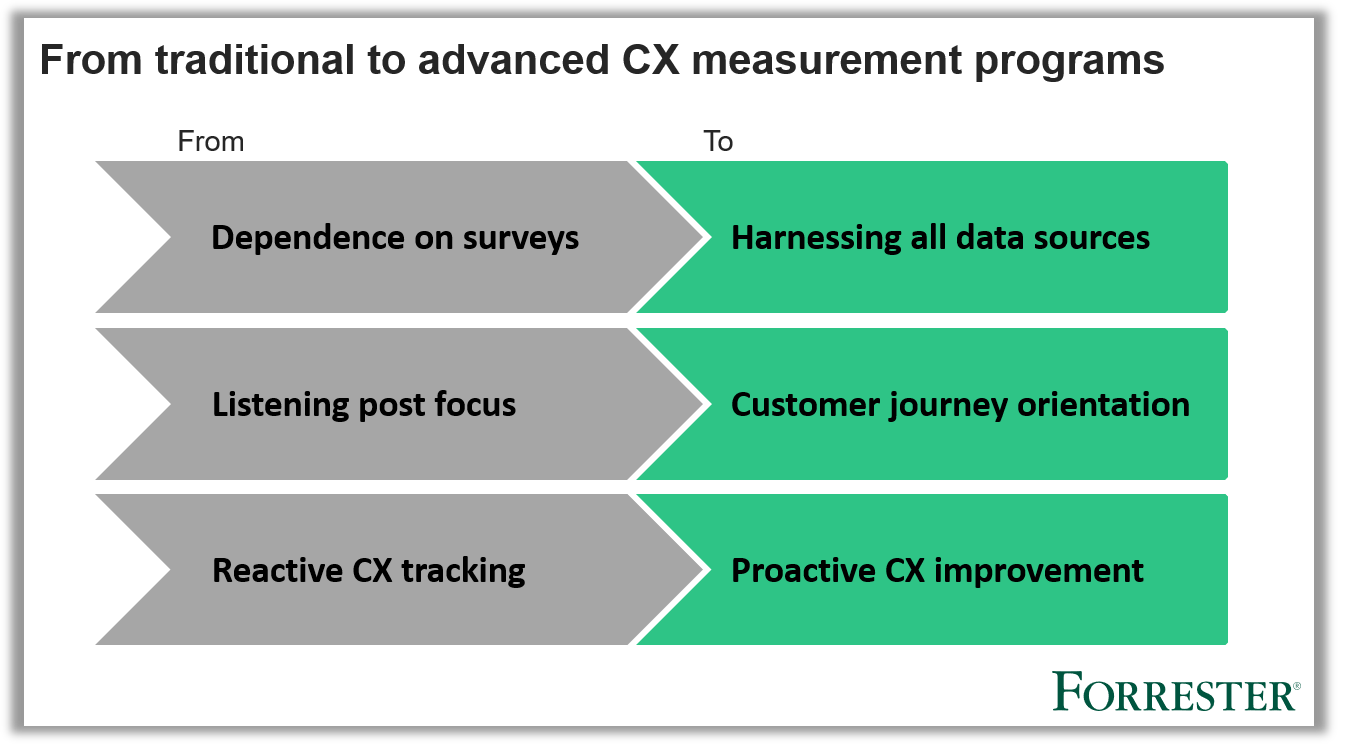 The report features examples and best practices to help CX leaders evolve their programs.
From survey dependence to data mining: Tapping into data instead of just relying on surveys helps CX pros in many ways. Here are just two of the many advantages: First, it lets firms score the CX quality of more customer interactions than is possible with surveys; second, it gives CX pros more actionable data to identify, prioritize, and remedy CX issues across data sources. For example, United Airlines worked with Clarabridge to mine call-center interactions. This helped the airline quickly pick up on the fact that customers were asking questions about masks and fees. The detailed insights in turn allowed the airline to adjust customer-directed communication quickly.
From listening posts to customer journeys: Many CX pros worry most about how to drive action based on listening posts. We recommend that CX pros use journeys as organizing principles, then bring in data — from listening posts and data sources along the journey — to measure whether the journey delivers value for customers and the company. For example, a telco company used journey performance analysis and found that reducing call times led to more follow-up technician visits. This led to longer and more effortful overall journeys. And the increased number of visits by technicians ended up costing the firm between 10 and 20 times what it had saved by shortening call times.
From reactive to proactive CX measurement: Instead of only collecting feedback after business decisions are made, CX pros must ensure that stakeholders use CX insights during their decision-making. You can do that by identifying when stakeholders make which decisions, then assembling insights packages to inform those decisions. In very mature organizations, CX insights feed decision-making even more immediately: For example, a utility company used Thunderhead to connect customers' journeys across the interactive voice response system, website, and call center. Using the data, it identified customers whose self-service efforts had failed and automatically fast-tracked their calls.
I hope this blog was useful to you. Please reach out if you want to share your CX measurement success stories or challenges with me.
Related Forrester Content