How To Build A Mature CX Measurement Program
Maturity In CX Measurement Programs Is Low
Here is what we found when we asked customer experience (CX) professionals about their CX measurement and/or voice-of-the-customer programs:
Forty-two percent say program maturity is low or very low; only 12% say that it's high or very high.
Only 15% say that the ROI of their program is high or very high, and nearly half of CX pros (44%) don't even know the ROI of their program.
Build A Mature CX Measurement Program In Three Stages
To help CX leaders increase their program maturity, we just published three reports full of best practices, advice, and company examples for creating a mature CX measurement program in three stages.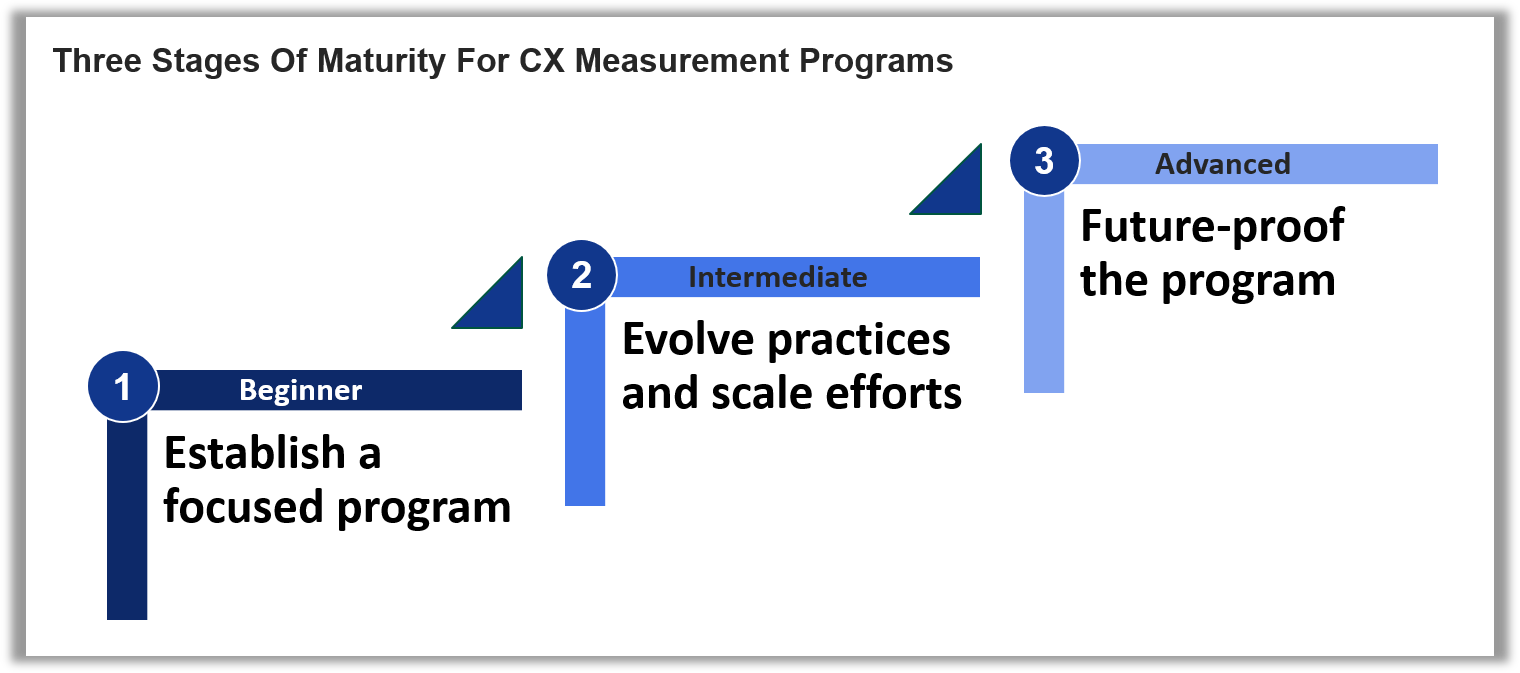 Establish A Focused CX Measurement Program
This stage is for CX leaders who are just getting started with CX measurement. To build the foundation for measurement success, they should first identify where to begin CX measurement efforts, then analyze the current state of that focus area so they can build out a program to track CX and drive action. CX pros must then share these successes to show the value of a disciplined CX measurement program. Read more in our new report, "How To Establish A CX Measurement Program."
Evolve Practices And Scale Measurement Efforts
CX leaders who have established a program must enhance their program's ability to track CX and drive action by upgrading business value calculations through:
Improving and automating surveys and dashboards.
Augmenting the collection and analysis of data.
Upgrading approaches for driving action based on CX insights.
At the same time, they must scale their elevated program to include more lines of business, channels, segments, or products. They should start by picking one or more of these areas to add. For each area, they must roll out the best practices they previously created while also adopting additional best practices that ensure coordination across all parts of the program. Read more in our new report, "Elevate And Scale Your CX Measurement Program."
Future-Proof The CX Measurement Program
To avoid problems down the road, CX leaders must evolve their program capabilities in line with three important trends: Evolve beyond a dependence on surveys, orient measurement activities around customer journeys, and embed CX insights into business decisions. Read more details in our new report, "Three Imperatives For Advanced CX Measurement Programs." Or read my blog, Advanced CX Measurement Programs: Beyond Surveys; Journey-Centric; Proactive.
We hope these reports will be useful to you. Let us know what you think, please. And if you have CX measurement challenges or successes to share, we'd love to hear them.
Related Forrester Content