An Overview Of The Current B2B Revenue Conversation Intelligence Landscape
Conversation intelligence (CI) allows sales teams to translate unstructured digital conversations into actionable insights. Forrester defines conversation intelligence for B2B revenue as:
Tools that use natural language processing to capture unstructured data from spoken, written, and video conversation channels between buying and selling groups. Embedded AI analyzes the data and surfaces insights to guide representatives in adopting best practices, informing sales coaching/enablement, and supporting decision-making.
Conversation intelligence for B2B revenue emerged in 2015 and then exploded in 2020 when COVID-19 eliminated in-person meetings. Since this time, even as in-person meetings returned, CI for B2B revenue has continued to grow into an established product that:
Has traction in high tech but lags in traditional industries.

Conversation intelligence creates more sales interaction visibility than was possible in the past, leading to rapid adoption in high tech companies. Traditional industries, however, such as healthcare, financial services, etc., have been hesitant to adopt CI. IT teams in these traditional industries have data protection concerns, and long-tenured sellers are not as open to the visibility that CI creates. These objections will fade as the value of conversation intelligence outweighs the concerns.

Has customers who have not adopted advanced features.

Prior to 2022, funds were widely available from investors, which enabled conversation intelligence vendors to invest heavily in product features. As a result, they added capabilities faster than users could adopt them. While many companies have bought conversation intelligence, few have taken advantage of its full capabilities. Because of low feature adoption as well as low switching costs, customers have been willing to move to other less capable platforms that offer basic capabilities at a lower cost.

Is becoming an integrated feature within a larger sales execution platform.

Conversation intelligence vendors are rapidly integrating with other sales-facing platforms such as

revenue operations and intelligence

,

sales engagement

,

and

sales force automation

. These tools combine all capabilities into one solution that sellers can use to run their individual book of business. This includes features like cadences, forecasting, workflow, and coaching. While there are still conversation intelligence-only options, they are continuing to merge and will eventually become a feature available as part of an overall platform.
B2B sales is a complex multi-touch process that requires analysis of multiple interactions to provide the insights needed to improve performance. Conversation intelligence for B2B revenue provides visibility to these interactions, leading to:
Improved deal execution and outcomes.

Complete buyer interaction capture.

Enhanced coaching.

Improved deal insights.
To learn more about the conversation intelligence market for B2B revenue, read The Conversation Intelligence For B2B Revenue Landscape, Q2 2023.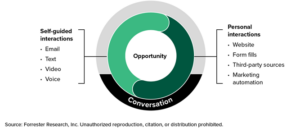 Related Forrester Content