Brand Go-To-Market Series: The CPG Category Is Taking Big Steps Toward E-Commerce DTC Sales
The pandemic has been a pivotal moment for the consumer packaged goods (CPG) category. Before the pandemic, most CPG brands lacked direct-to-consumer (DTC) buy-ability on their website. However, the pandemic spurred numerous CPG brands like Beyond Meat, Bimbo, Del Monte, and PepsiCo/Frito Lay to launch DTC websites. The latest update to our Digital Go-To-Market Review series examines the state of the CPG market.
Of the 29 brands we reviewed, only 14 had DTC buy-ability on their website. While CPG brands don't necessarily need to sell online, DTC sales are an underexploited opportunity, as many consumers prefer to buy directly from brand sites, where they believe the merchandise is the newest and least likely to have problems. For example, online marketplaces can promise access to vast swaths of new customers — but potentially also arm's-length relationships with those customers. Other considerations include less control around placement, plus potential proximity to gray-market sellers for brand goods.
So, what's a brand manufacturer to do? Take control.
To help them do that, Forrester's Digital Go-To-Market Review series evaluates a set of brands in a specific category to see how well they're positioned to thrive independently. In this review, we evaluated 29 CPG brands on five elements, covering a total of 20 sub-elements. Specifically, for each brand, we reviewed its:
Direct-to-consumer strength
Brand visibility online
Distribution and e-control
Organic consumer enthusiasm
Product innovation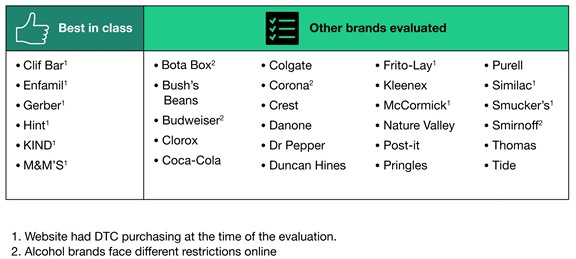 From this review, we rated six brands as best-in-class: Clif Bar, Enfamil, Gerber, Hint, KIND, and M&M'S. To learn more about what makes these brands stand apart and best practices for this sector overall, please see the newly published summary report, "Digital Go-To-Market Review: CPG Brands, 2021."
To learn more about our brand manufacturer research and the Digital Go-To-Market Review series — and what your company should do based on these findings — please email Madeline Cyr (mcyr@forrester.com), me (skodali@forrester.com), or your Forrester account manager.