Design Leaders Reveal How To Build Inclusive And Diverse Design Teams — And Why That Matters
Does your organization want to create inclusive experiences for your customers? Are you following an inclusive design process? If the answer to both questions is "yes," great! But if you're like most companies we speak with, you're missing an essential component for creating inclusive experiences: an inclusive and diverse design team. Having such a team is critical to unlocking the potential of inclusive design processes and delivering on your commitments to creating inclusive experiences.
Having a diverse and inclusive design team brings benefits for businesses, customers, and employees. These teams are better at innovation, recognizing and stopping exclusion, and attracting and retaining top talent. But despite clear benefits, many design teams struggle with how to approach inclusion and diversity, and they lack best practices to create and manage teams that are formed around these values.
What Does It Mean To Have A Diverse And Inclusive Design Team?
We interviewed 17 design leaders to understand why diversity and inclusion in design teams matters and how they approach building and managing their teams. These conversations revealed four key components to getting this right:
Advancing equity. For inclusion and diversity to flourish in a design team, design leaders must continuously advance equity in their teams. This can take many forms, including reducing hiring bias, resolving pay disparities, eliminating obstacles to opportunities, and removing unhealthy power dynamics in the team and the design process.
Creating a diverse team composition. We often see diversity and inclusion framed in the context of inherent characteristics, such as ability, age, gender identity, race, language spoken, or sexual orientation. In addition to those characteristics, design leaders look for other forms of diversity, such as cultural background, education, and work experience. For example, Randy Pagulayan, senior director of research at Xbox, looks for each team member's unique "superpower." That might include anything from being a fast learner to growing up in a vastly different environment that enables them to see the world through a different lens.
Building an inclusive team culture. Create an inclusive team culture where team members hear, share, and appreciate diverse perspectives. That means examining how meetings are run, how decisions are made, how feedback is given, and more.
Applying an inclusive design process. Build practices into your design process to spot and stop exclusion early. This includes tapping more diverse perspectives in design research, when ideating concepts, and when validating potential solutions. Learn more tips in our report, The Inclusive Design Imperative.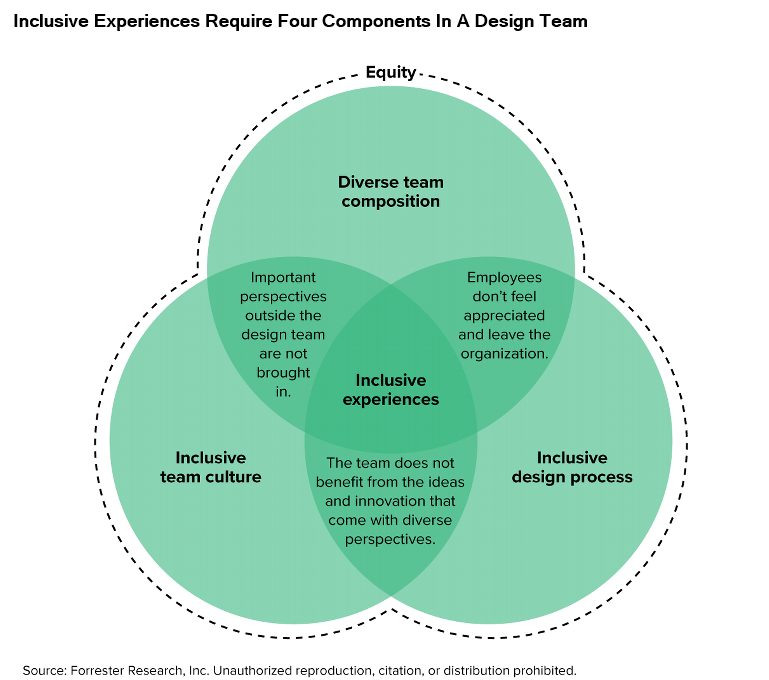 What Are The First Steps That My Company Should Take To Create Diverse And Inclusive Teams?
Design teams, and non-design teams, too, should start by focusing on two areas:
Identify and address barriers within your hiring process. One piece of advice we heard frequently from design leaders is to expand where you look for candidates. Leesa Wytock, EVP of experience design at 21GRAMS, a Real Chemistry company, seeks candidates from outside of the company's industry (healthcare) because "you can't shake up an industry from the inside." Establishing an inclusive and equitable interview process, where candidates are given opportunities to ask questions freely and meet a broad set of team members, is equally important.
Create an inclusive team culture. Design employees will succeed and stay with the company when their skills, background, and inputs are valued and appreciated. One best practice is to understand and respect the needs and preferences of each team member. Monzo employees are encouraged to complete a "working with me" document that gets linked to their Slack profile and expresses how they prefer to work with others. Your goal is to create an environment where team members feel safe, valued, and empowered to contribute.
For more advice and best practices from design leaders, read our report: Prioritize Diversity, Equity, And Inclusion (DEI) In Design Teams To Create Inclusive Experiences. If you're a client, consider booking a guidance session with us to discuss how to apply these best practices in your organization.