China Is Leading Global 5G Innovation
5G holds huge promises for digital innovation worldwide, differentiating customer experiences through connected assets and services, transforming operations for efficiency and effectiveness, and shaping new business models across industries. Forrester believes that 2021 is the year that China becomes the epicenter of 5G innovations globally. In fact, leading Chinese enterprises in a range of vertical industries are already recording substantial business value through their 5G initiatives. Our recent research reveals that:
China is accelerating 5G rollouts into a new chapter. China was mainly at the inception stage before 2021 (see figure below). Its structural economic slowdown pushed firms to accelerate the adoption of emerging technologies like 5G, which was also emphasized by the COVID-19 pandemic. From 2025 to 2030, Forrester expects that China will enter a popularization stage. With widespread 5G infrastructure rollouts nationwide and the maturation of 5G solutions, pioneers and technology leaders will proactively explore 5G-enabled business applications and 5G technology advancement.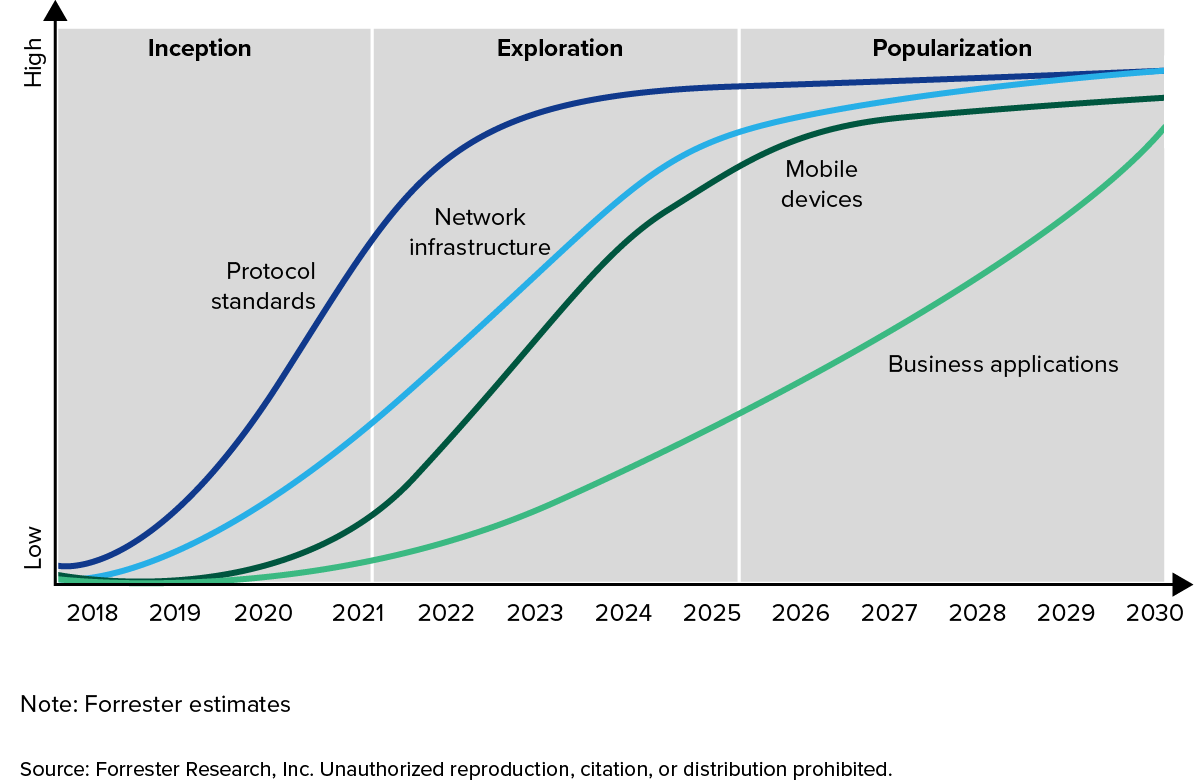 Early business cases are proving the business value of 5G investments. Forrester believes that 5G connectivity supports three strategic business objectives: 1) enhance employee and customer engagement through superfast mobile broadband; 2) support internet-of-things (IoT) solutions with massive machine-type communications; and 3) open new business opportunities with ultrareliable and low-latency communications. On this journey, private 5G networks play a key role together with other emerging technologies like computer vision, IoT, and commercial drones to drive digital transformation.
Decision-makers need to remain realistic to navigate the 5G technology ecosystem. To drive effective 5G adoption, the Chinese government is working with local and multinational technology vendors, leading enterprises, and industrial associations, making strategic investments to establish a technology ecosystem and drive long-term economic growth. However, decision-makers in China must realize that the journey is full of obstacles and inevitable failures. At the beginning of the exploration stage, leading telecom tech vendors like AsiaInfo, Ericsson, Huawei, Nokia, and ZTE will play a key role in driving 5G adoption in representative domains.
If you are interested in learning more, please read the new Forrester report, China Is Leading Global 5G Innovation. And if you'd like to share some insights about your company's strategy for 5G adoption or use cases, feel free to reach out to us directly or set up an inquiry. This will help us with our future research in 5G use cases.
Related Forrester Content