CMOs Drive Growth With Media Inclusivity
After the 2020 murder of George Floyd, brands and agencies swiftly made bold commitments to invest in Black-owned media companies. The goal? To better reflect the diversity of brands' audiences and create a more equitable media ecosystem. While well intentioned, it too narrowly focused media dollars solely on minority-owned media groups and away from other critical types of diverse media.
Forrester defines "diverse media" as:
Media companies that are minority-owned, minority-operated, or content that supports and elevates marginalized voices.
By myopically focusing on just minority-owned media groups, many brands struggle to find the maximum value from their diverse media investments. And with lingering economic uncertainty, investments without a proven ROI run the risk of being cut. The result? A vicious cycle where the diverse media ecosystem remains underdeveloped, struggling to bring brands the scale and efficiency they need to justify their investment.
Brands Need Diverse Audiences To Grow
Demographics are shifting quickly in the US: The country is becoming more ethnically and socially diverse. As a result, the buying power for minority groups is also accelerating, with Hispanic people expecting to account for 12% of all US buying power by 2025. The growth opportunity for brands is undeniable; yet spending on diverse media is still only a fraction of brands' overall media investments — nowhere close to alignment with US Census data, according to Forrester's Q4 B2C Marketing CMO Pulse Survey, 2022 (see figure).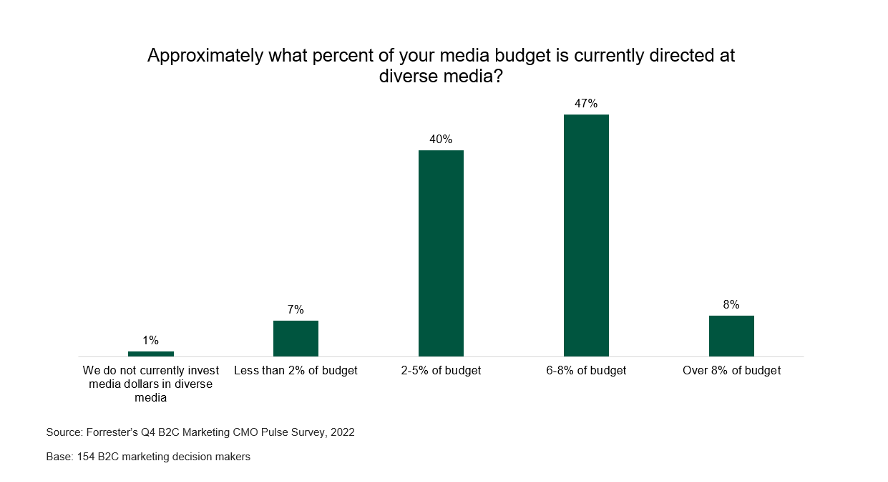 To help brands prioritize diverse media investments, we're excited to share our new report: Investing In Diverse Media Is a Business Decision, Not A Moral Dilemma. This research makes the business case for why B2C marketers should invest their marketing dollars across the entire, diverse media ecosystem while also providing tactical advice for eliminating biases in their media planning processes. This involves:
Balancing investments across the diverse media ecosystem. Not all your investments must be with accredited, diverse media companies. Scale your minority-owned media buys by adding minority-operated media companies, such as BET or Univision, to your mix. These companies not only employ diverse talent but actively elevate and target diverse groups with their content.
Helping diverse creators gain exposure. Elevate diverse voices and engage with new audiences by investing in content creation. L'Oréal taps a diverse team of ambassadors for its "L'Oréal League," where creators participate in a year-long program that exposes them to new corners of the beauty and fashion world.
Introducing new partners to your ecosystem. Familiar, mainstream publishers might boast high impressions but won't necessarily be the best at reaching diverse audiences. To introduce your team to diverse media opportunities, work with your partners to get regular exposure to new publishers. Omnicom Media Group established "infronts" for its clients to expand their horizons beyond their usual roster of media buys.
Check out our full report to learn more. Forrester clients: Schedule a guidance session to chat with us about how to kick-start your diverse media strategy.