CMOs: To Get A Seat At The Digital Transformation Table, Command Your Customer's Experience
Only 16% of CMOs are responsible for leading the execution of their firm's digital transformation. Now is the time to rethink your role.
Too few CMOs actively lead or are deeply involved in digital transformation. CIOs, COOs, CXOs, and CDOs have filled the gap but don't represent the voice of the customer or bring the vitality that the brand needs. Now is the time for CMOs to make sure digital transformation actually delivers a better customer experience.
What Are The Reasons Why CMOs Struggle With Digital Transformation?
They have the highest turnover and the shortest tenure in the C-suite. As a result, CMOs struggle to deliver both short-term customer satisfaction and long-term digital transformation simultaneously. CMOs' frustration is clear.
They don't command the delivery of all brand promises. Some 41% of organizations report that marketing has primary responsibility for customer experience. Even when CMOs are officially in charge of brand experience, they do not necessarily own the teams and resources that deliver the brand promise across touchpoints. Too many new roles have emerged in the C-suite — think growth, digital, experience, and customer officers — that prevent the CMO from acting as the voice of the customer and the conductor of the brand experience across the organization.
They aren't able to keep pace with change — especially in data and tech. See below graphic.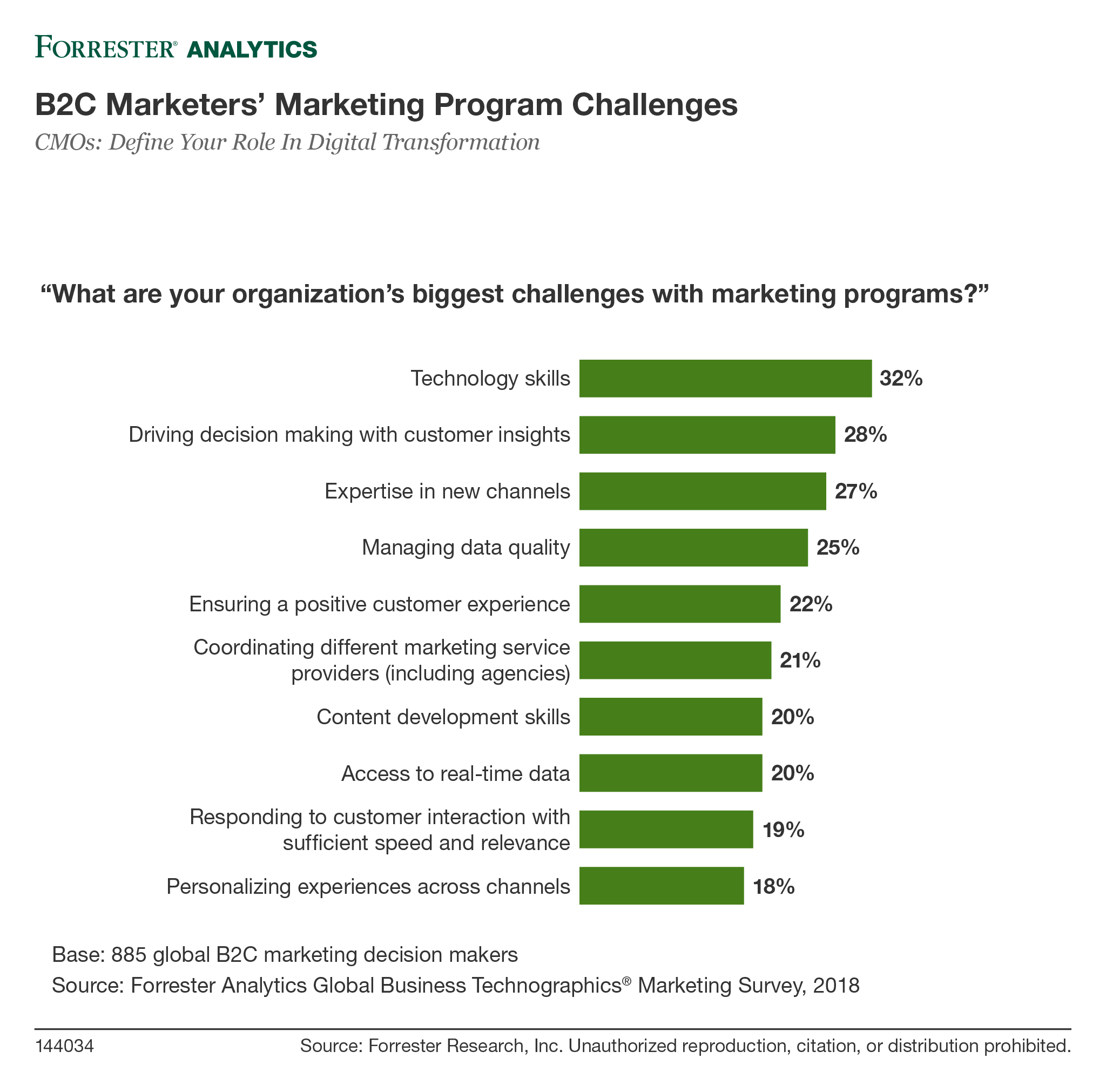 What Should CMOs Do About It?
Start by transforming your own marketing approach. Blend hybrid skills in your team; embrace agility; and invest in creative technology solutions that deliver differentiated customer experiences, not just for digital channels but also offline ones.
As the voice of the customer, you must be the conductor of customer obsession. CMOs must ensure that they have a clear mandate as the customer ambassador. By translating their firm's values into an actionable brand vision, they will bring together internal teams and outside strategic partners to collaborate and exceed customer expectations.
To learn more about this new report, clients can download the full analysis here.
Related Forrester Content