CX Index för Svenska försäkringsbolag 2022: Vad vill kunderna ha?
Forrester har länge undersökt Customer Experience (CX) och hur kunder upplever interaktionen med företag i olika branscher och geografier. För första gången görs nu ett CX index på svenska försäkringsbolag som en del av det europeiska CX indexet.
Varför är CX så viktigt? Och varför just nu?
I vår forskning syns en tydlig korrelation mellan företags tillväxt och lönsamhet som en följd av deras arbete med CX. De företag som historiskt sett legat efter i CX har haft svårigheter med att sänka kostnader, riskminimera och ställa om operationella processer, framförallt i osäkra och volatila tider. Flertalet stora institutioner har haft problem med att mäta hur CX påverkar lönsamheten och på så sätt haft svårt att rättfärdiga investeringar i området och därmed kapat budgeten vid nedskärningar.
I knapra tider med annalkande kostnadsbesparingar tenderar företag att fokusera på att mäta finansiella nyckeltal (likt avkastning på eget kapital, nettovinst och aktieägarvärde) och försumma de CX-relaterade nyckeltalen. Detta kan hämma kundernas lojalitet och vidare få konsekvenser som sträcker sig långt längre än den rådande nedgången. Forresters CX Index med tillhörande forskning kan hjälpa försäkringsbolag att länka samman deras kundupplevda nyckeltal tillsammans med de finansiella talen för att tydligt kunna se ekonomiska fördelar i en förbättrad kundupplevelse.
Av den anledningen publicerar Forrester årligen ett CX index som mäter hur väl företag skapar och behåller en god upplevelse för sina kunder. Under 2022 tillfrågades 11,484 europeiska försäkringskunder som använder någon av de 39 bolag som tillhandahåller bil- och/eller hemförsäkringar i Frankrike, Tyskland, Italien, Spanien, Sverige eller Storbritannien. I Sverige tillfrågades 1,961 försäkringskunder för att avgöra hur de upplever sin kontakt med 7 försäkringsbolag.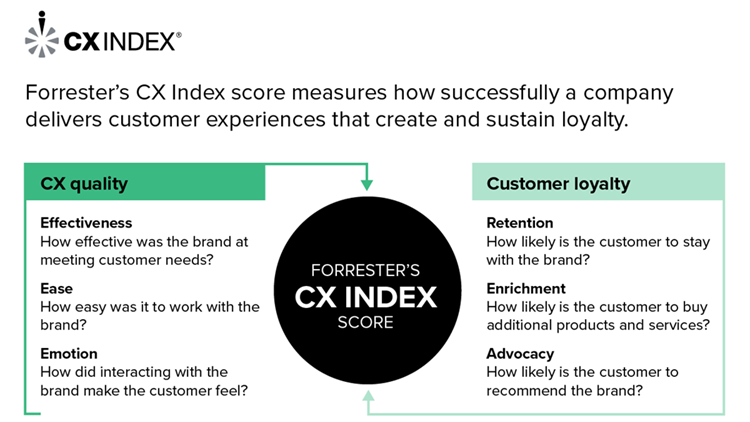 I kölvattnet av pandemin influeras rapporten av en allt mer digital kundgrupp med högre krav på sömlös digital interaktion. Samtidigt befinner sig Europa i krig vilket påverkar omvärldsförhållanden genom ökad inflation och hastigt stigande energipriser. Rapporten omfattar flertalet olika perspektiv, men några huvudsakliga insikter som kan utrönas från rapporten listas nedan:
Folksam är Sveriges högst rankade försäkringsbolag och erbjuder den bästa kundservicen där 66% av kunderna uttryckte positiva känslor. Folksam erbjuder kundservice på 18 olika språk och hanterar årligen mer än 100,000 ärenden på andra språk än svenska. Länsförsäkringar som kommer tätt efter på en andra plats utmärker sig i alla aspekter relaterat till att kunden ska känna sig respekterad och har även lyckats driva innovation och förkorta sin utvecklingstid avsevärt med sitt nyintroducerade agila arbetssätt.
Svenska kunder vill ringa sitt försäkringsbolag. De kunder som enbart utnyttjar den fysisiska kontakten har den bästa upplevelsen i alla tre kvalitetesaspekter, till skillnad från de kunder som har enbart digital- eller hybridkontakt med försäkringsbolaget. Svenska kunder utnyttjar digitala kanaler med sitt försäkringsbolag till större grad än innan pandemin, men de svenska försäkringsbolagen presterar sämst i Europa när det kommer till känslan (eng. emotion) som kunden känner vid hybrid eller enbart digital kontakt. De svenska försäkringbolagen måste accelerera den digitala transformationen samtidigt som de erbjuder en förstklassig fysisk kundkontakt.
Liten variation mellan försäkringsbolag i Sverige och i jämförelse med andra europeiska försäkringsbolag, presterar de dåligt utifrån kundernas upplevelse. Den låga variationen mellan vad kunderna tycker ger försäkringsbolagen en möjlighet att differentiera sig lokalt och kan med mindre förändring utmärka sig själva i CX. Vad kunderna vill ha primärt är snabb och effektiv kundservice där medarbetarna har mandat att ta beslut, snabb ärendehantering och olika försäkringsalternativ baserat på försäkringstagarens ekonomiska ställning.
För en mer detaljerad rapport om svenska eller europeiska försäkringsbolags CX index med bolagsspecifika resultat och mer djupgående analys om vad som väcker mest känslor och lojalitet hos kunderna, läs rapporten "The Swedish Auto And Home Insurers Customer Experience Index Rankings, 2022" eller "The European Auto And Home Insurers Customer Experience Index Rankings, 2022" eller boka ett samtal med oss.