The Future Of Department Stores
Department stores can enjoy a bright future — but to do so, they must change to survive and thrive in the face of fierce competition from brands' direct-to-consumer initiatives. Synchronizing supply and demand to sell inventory at full price is one issue. But the department store's bright future depends on enticing customers through the doors in the first place. European consumers have great affection for department stores, although they too have been lured by the charms of online players. We have recently published new research on the future of department stores. Among other conclusions, we found that department stores must:
Shift from sales to service. The evolution from sales to service will include skilled in-person service, offering compelling, complementary services such as product modifications, gift wrapping, and dispatch. Stores might even embrace credit account sales or white-glove delivery, like what some online luxury retailers offer.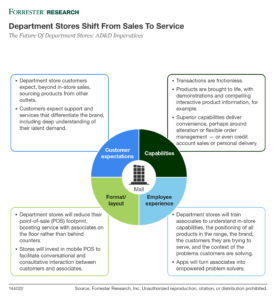 Develop into destinations. Department stores' bright futures depend on blending entertainment and shopping, enabling customers to try locally available products and local services while sharing their experiences on social networks. One example is the Nordstrom Local format, which offers in-store fittings and tailoring — plus manicures and espresso.
Mutate into physical/digital hybrids. Customers expect a department store's systems and associates to recognize them across channels and locations. To do that, customers also expect that a collective corporate memory exists to foster real-time customer relationships. The key: expertise in managing and integrating data from disparate sources.
Implement the right infrastructure. Digital business professionals must invest in automating routine tasks to release store associates from rote, manual processes so that they can instead focus on providing customer-facing advice and consultative selling.
To equip department stores to survive and thrive, read our analysis and recommendations in the full report.